| | |
| --- | --- |
| Posted on October 5, 2018 at 11:15 AM | |
Hi Everyone,
Autumn is officially here, woo! It's been a busy couple of months at marvellous murals as we've moved through the summer months and into October (the best of all the months!).
Art in the Park took place back in August, and Dean visited Kent to help me paint some large pink wild flowers on a metal container at Milton Creek. We used a mixture of spray paint and masonry paint and managed to brighten up this little corner of the park. It was a great day and we saw lots of friendly faces which was lovely.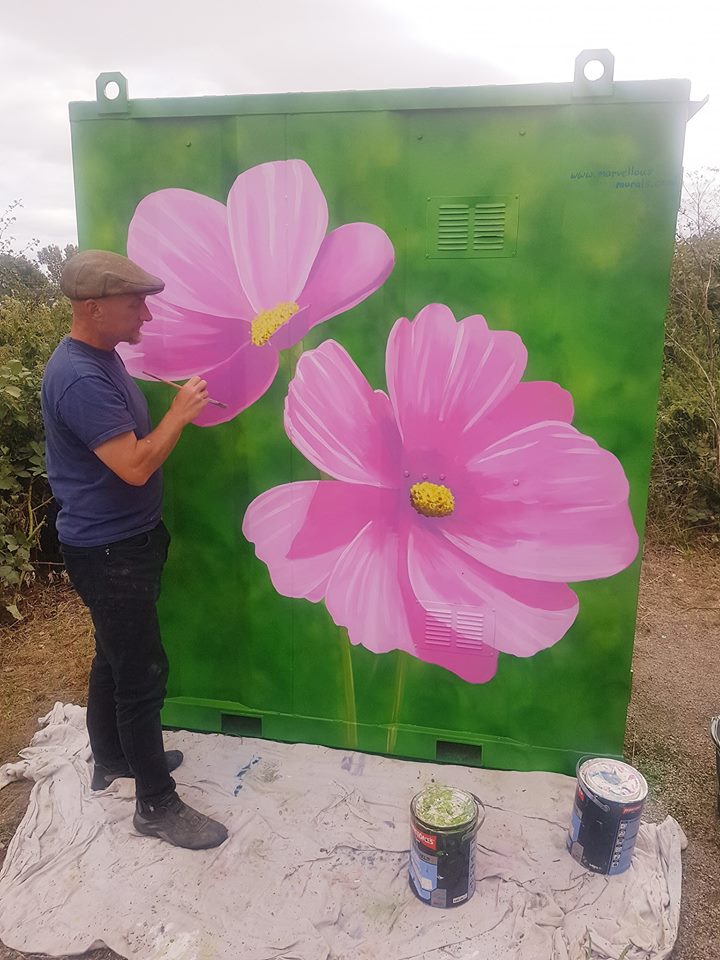 Dean and I then headed off to Wokingham to repair a mural we painted a few years ago. We finished the mural in anti-graffiti varnish when we completed it back in 2016, but unfortunately this only protects against spray paint and marker pen and now scratching. We sanded down the affected areas and repainted as best as we could to make it all match. I then went back the next day to coat the repairs with more anti-graffiti varnish.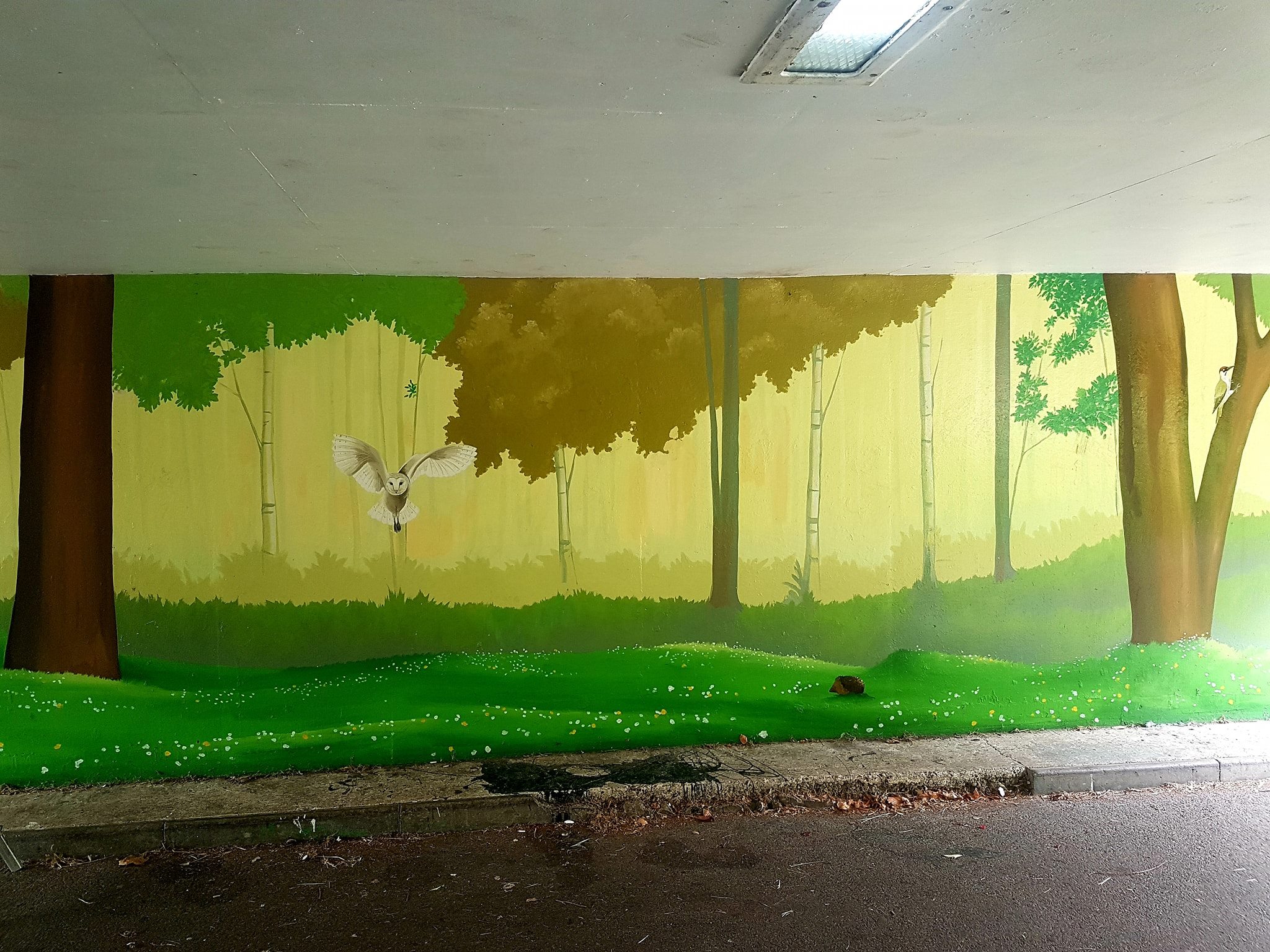 A previous client of ours got in contact as they wanted a mural of theirs updated. Two years ago, before the birth of their second child we painted their nursery with a mickey mouse theme. They didn't want to find out the sex of their baby, so chose to go with something gender neutral. Two years later and their little boy is approaching his second birthday and is mad about Thomas the Tank engine! So rather than re-paint the whole room, we decided it would be more economical if we just updated the landscape to make it a bit more Thomas friendly (painting over the cartoony trees with more realistic ones etc) and to paint over the micky characters with ones from Thomas the tank Engine. This seemed like it should have been relatively simple, but it was actually quite hard to try and make characters fit in the same spaces! Also, the whole wardrobe was sanded down and repainted and varnished. This ended up taking me around 7 days to paint.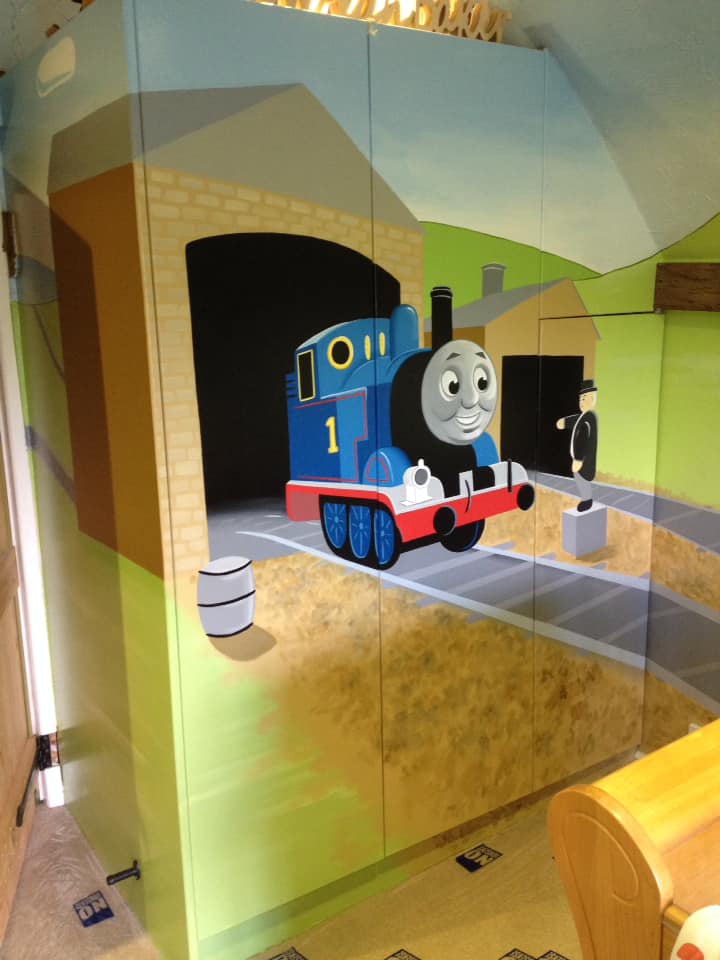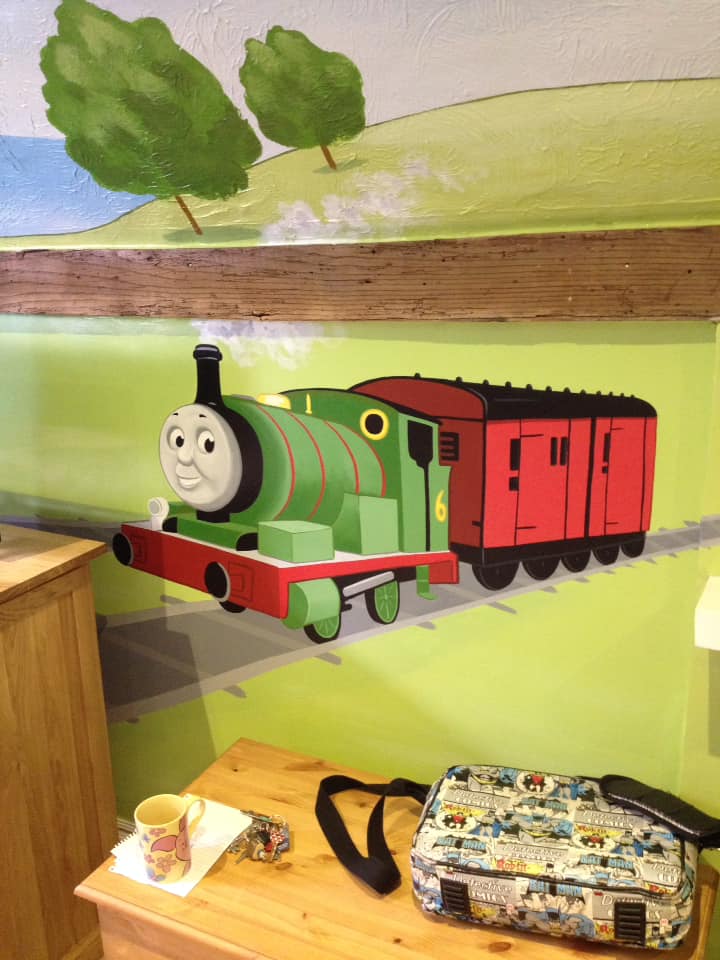 Next I was off to Hampshire to add to a previous mural that Dean had painted. Before I started working for him, he had painted a lovely landscape play room that included all of the pets that the family owned. They had had a shelving unit in place that Dean had painted coloured blocks behind, but after having this removed they wanted the blocks painted over with a continuation of the landscape and a few more pets added. I started by sanding down and priming the wall where the blocks were so I had a more neutral starting point to paint the continuation of the landscape. This took me about a day to paint and then I spent two days painting four more pets – three dogs and a cat. This was a really fun job to do as I love painting animals, and I also got to hug all seven of their current dogs, including a Leonberger and two German shepherds (german shepherds are my favourite dogs as they're what I grew up around). Best working environment ever!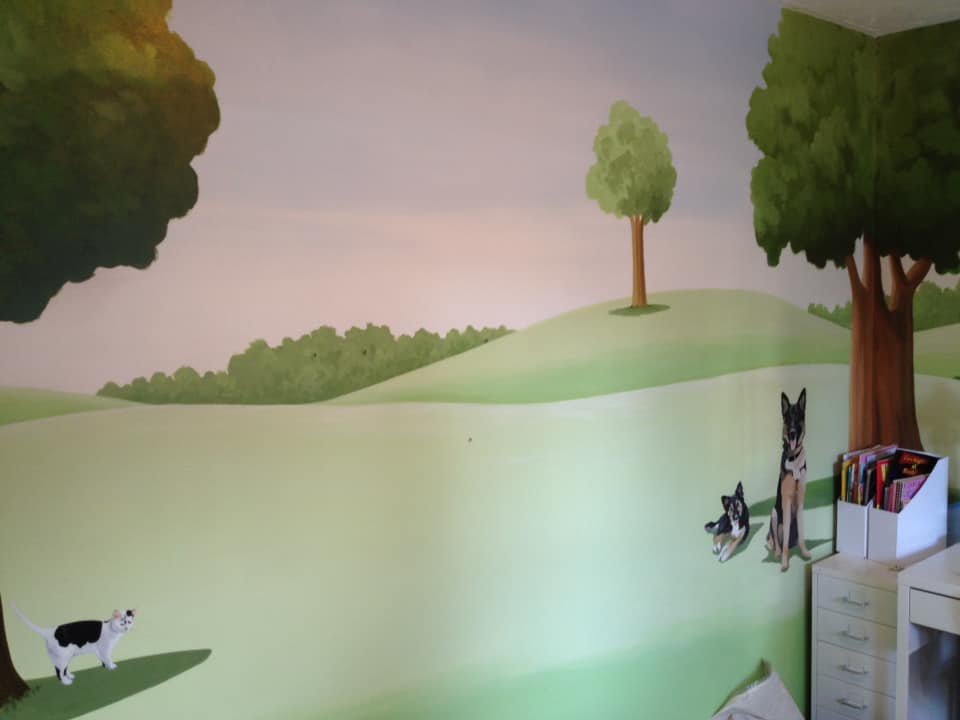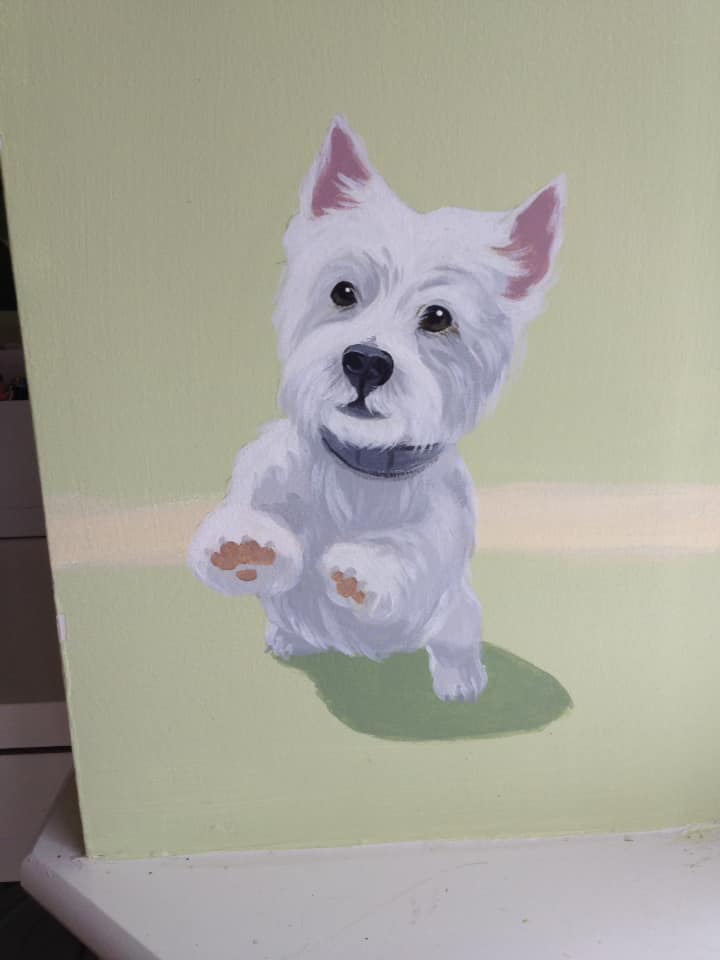 I then had a job working in Selling at the offices for Soft Fruit Direct. They wanted a largemap of the world painted on their back office wall to show the countries that their company dealt with, as well as a large bunch of fruit in their sofa area. I tried to use warm colours and to make the map and fruit quite modern to fit in with their décor and the rest of their office. The map took me three days to paint, including the blue background and the fruit took two days.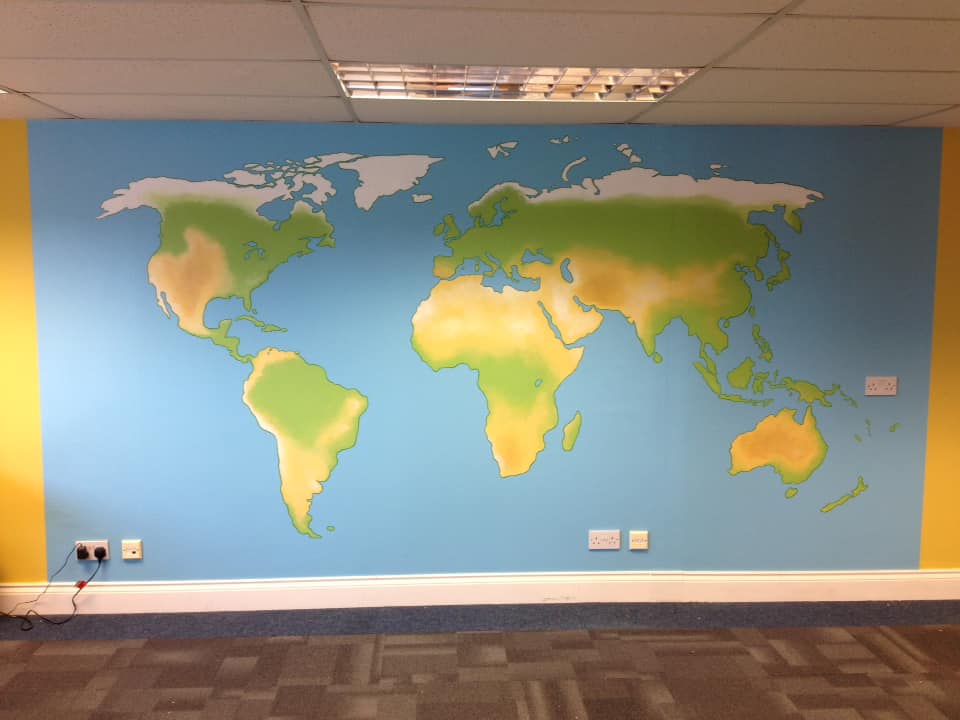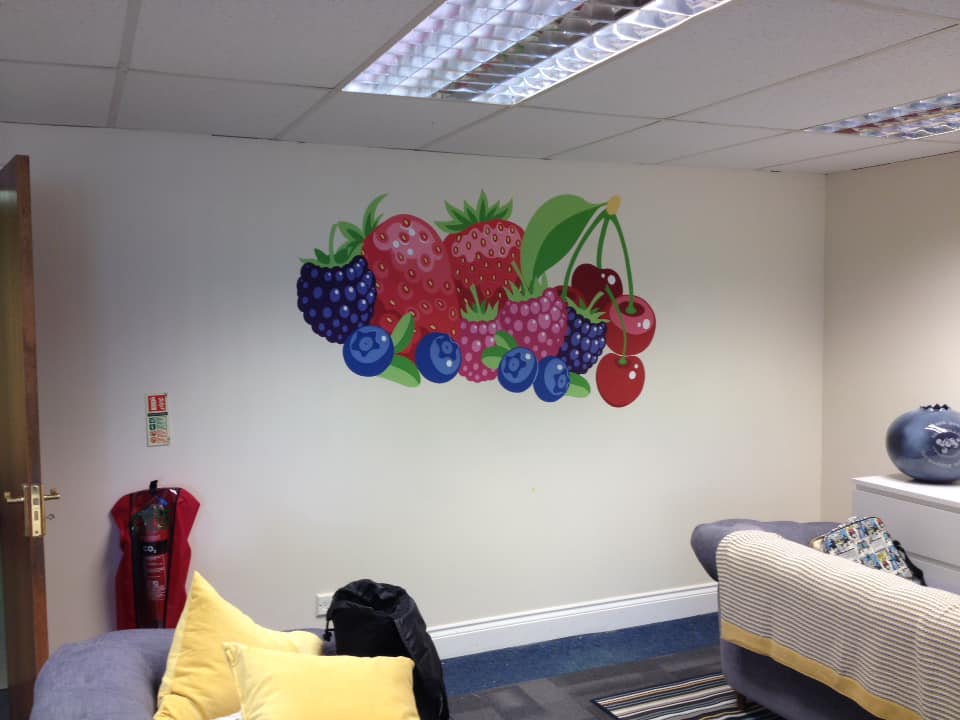 The following week I had a nice little job in Gravesend painting a blue cloudy sky mural on the ceiling of a little girl's nursery. We choose a nice warm sky blue and I added lots of fluffy white clouds. This was a relatively small ceiling and a simple design so I got the mural completed in one day.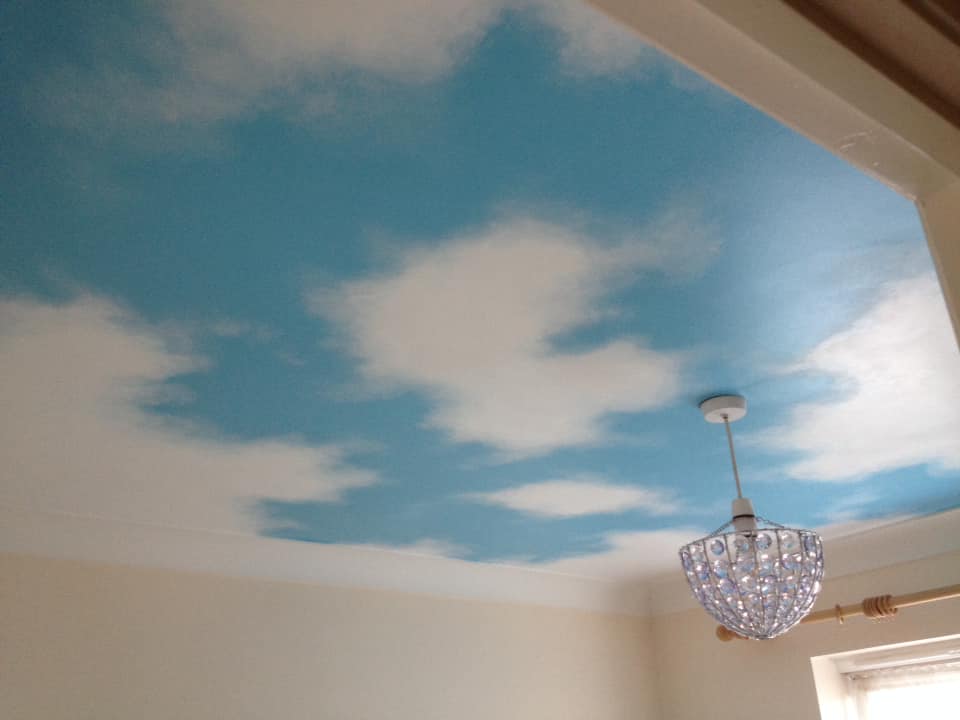 At the end of the week I was back in Sittingbourne, repainting a mural that had had to be painted over due to water damage. This mural was of three silhouettes, two of the lady's children when they were younger and of their dog, walking up the stairs. I painted these in a pale sage green matte emulsion, so keep it quite subtle and modern looking. The owner said that the mural made their house feel like a home again, which was just such a lovely compliment. And they also had a dog that I got to hug lots, so I was happy!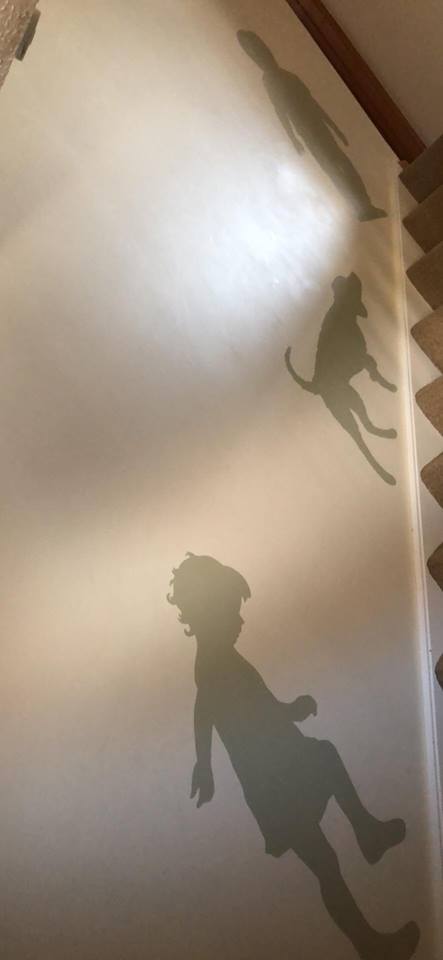 And that leads us up to present day, phew!
For those of you that don't know, I will now be going on maternity leave, as my little girl is due in under two weeks! So I will no longer be working for Marvellous Murals. I will be going back to mural painting at some point in the New Year, but it will be as a self-employed mural artist. I just wanted to take this opportunity to thank Dean, Tracy and their family for everything they have done for me over the past (almost!) five years. Mural painting was never a job that I thought I would go into, but after studying illustration at university and then working in retail and insurance for many years, Dean took a chance on me and offered me a job. It's been hard work, but mostly it has been very rewarding and allowed me to be in a creative field of work which I know makes me very lucky as it isn't something that a lot of creatives get to pursue. Thank you Dean for putting up with me (moods and all) and teaching me new skills and letting me be involved in many great projects, all over the country.
So, this will be my last marvellous Murals blog entry! Thank you to everyone who has ever read one, left a kind comment on social media, supported us at public events, made us a cup of tea or assisted with my time at Marvellous murals in any way. You're all awesome, lovely people.
I wish everyone the best and hope you all have a wonderful Halloween/Christmas/new year!
Thank you, again.
Jaime
Categories: None