| | |
| --- | --- |
| Posted on July 31, 2018 at 8:00 AM | |
Hello everyone,
Apparently, I haven't written a blog since the end of last year… where has the time gone?! It's already almost August!
I have been pretty busy for this first half of the year (evidently) working alone mostly, but Dean has assisted with some larger projects (mainly the ones involving stairs and scaffolding).
At the beginning of the year I worked at Perry Mount Primary in London for three weeks. During week one I painted a pear tree in their entrance room with a simple countryside landscape background and the schools values written onto the branches of the tree.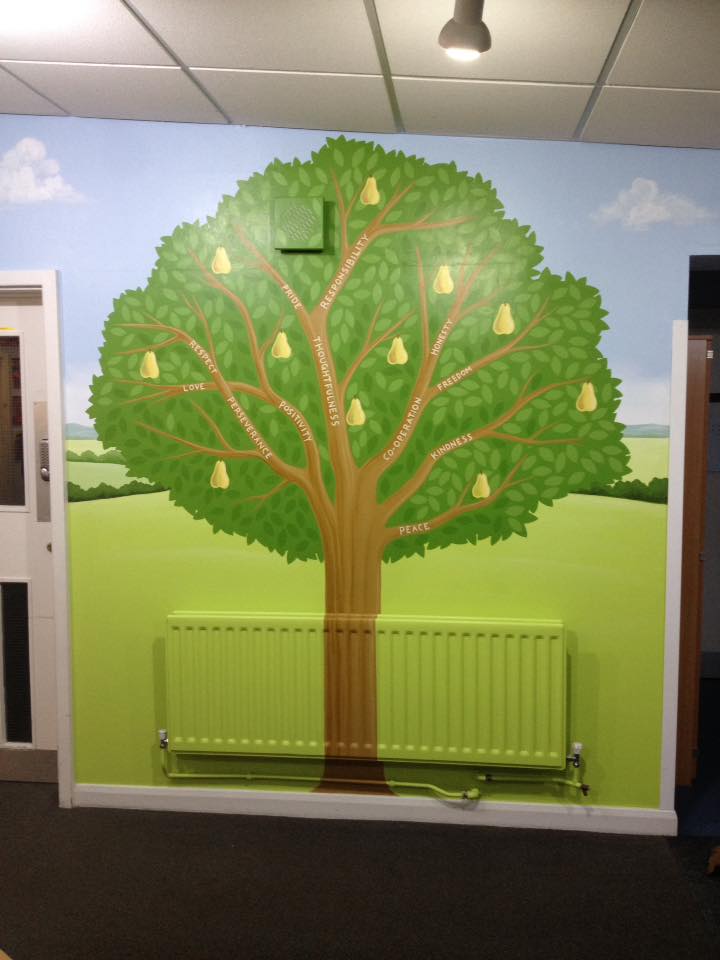 They were so pleased with the finished mural that they asked me to come back for the following two weeks to continue the mural through their main doors and into the entrance hall. I painted the background in the same way as their previous mural, with simple fields and a blue cloudy sky, then I painted lots of storybook characters walking in the landscape as if they were headed into the school. I also painted 'Welcome to Perrymount Primary' on the wall in front of the main doors, so the message would welcome everyone who came into the main part of the school. This was a really fun job, and all the staff and pupils were so nice and complimentary and couldn't wait to see what new characters were getting added every day. On my last day at Perrymount I got asked into their assembly, where I was given a 'Star Pupil' certificate and a round of applause. I am quite a shy person, so I'm pretty sure I tripped on my way to the front of the hall and then proceeded to turn a bright shade of red, but I thought it was a very kind thing for the school to do and shows how welcoming and inclusive they are. It was such a nice school to work at, but the commute to London was something I don't think I could do every day!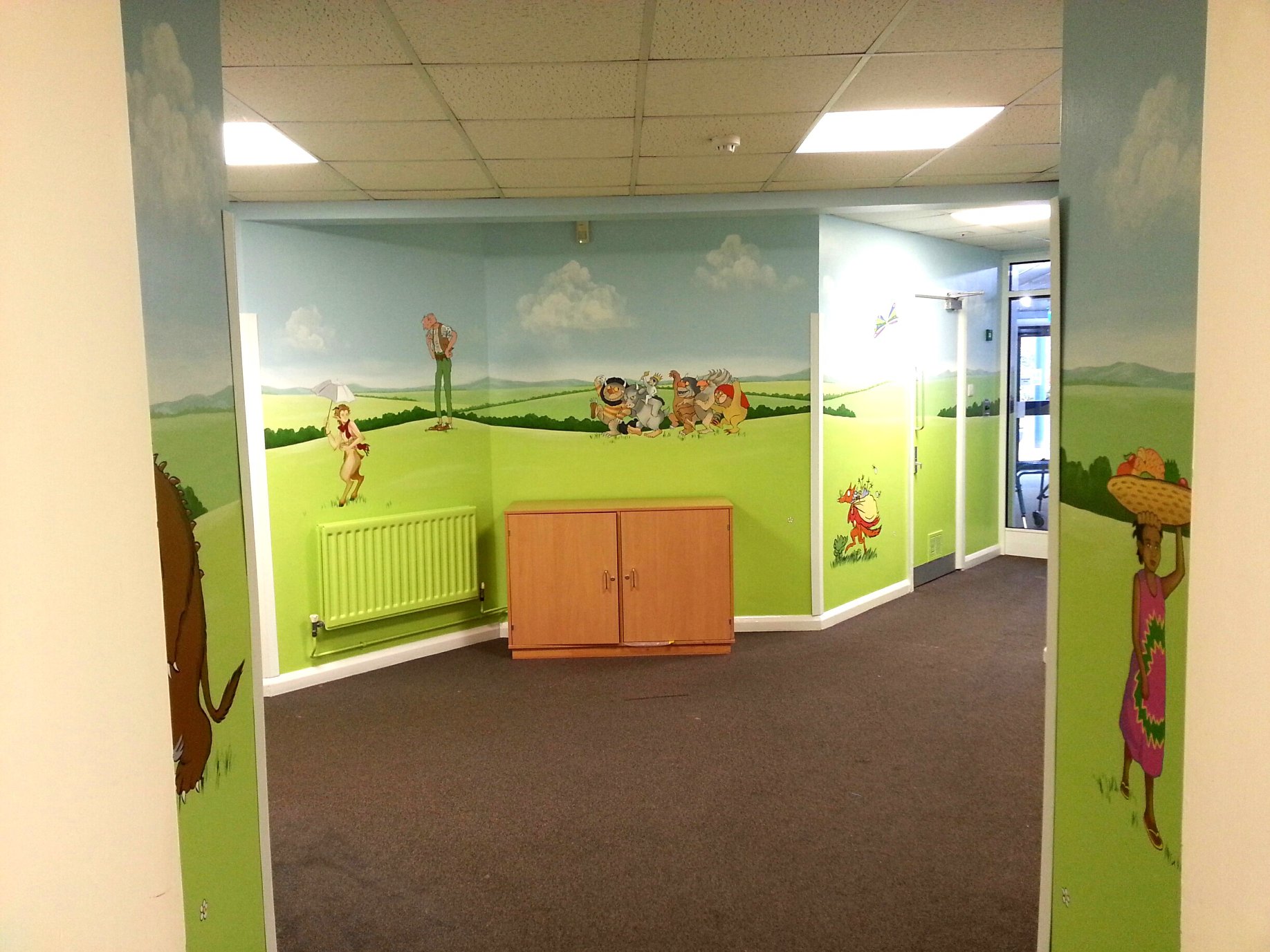 I then had a small project painting an autumnal looking tree for the Garden Cottage Nursery in Canterbury. They wanted this tree painted to that they could hang photographs of all of the children attending the nursery from the branches. I thought this was a brilliant idea and a great way to add some colour to their walls as well as making the mural functional.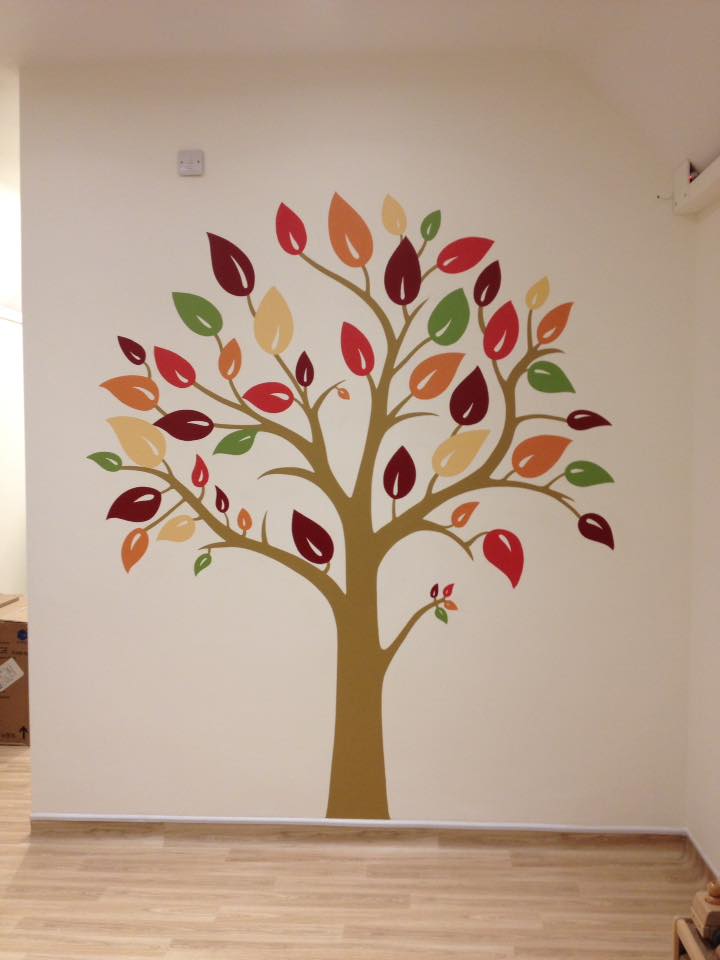 Next, Dean visited from Wales to help me paint a mural for Wentworth Primary in Dartford. They have quite a few famous alumni, including Adam Gemili the Olympic sprinter. He has recently funded the build of a new block and to commemorate this the Head teacher asked us to paint a montage of Adam Gemili going up the stairs in the new building. Stairs are always a bit tricky, so we used a mixture of a projector and the grid method to draw out mural, we then used a stair ladder to reach the highest parts when painting. We also painted a quote from Adam Gemili in the entrance hallway 'Talent is Nature. Character is Choice' to inspire the pupils every time they enter the building.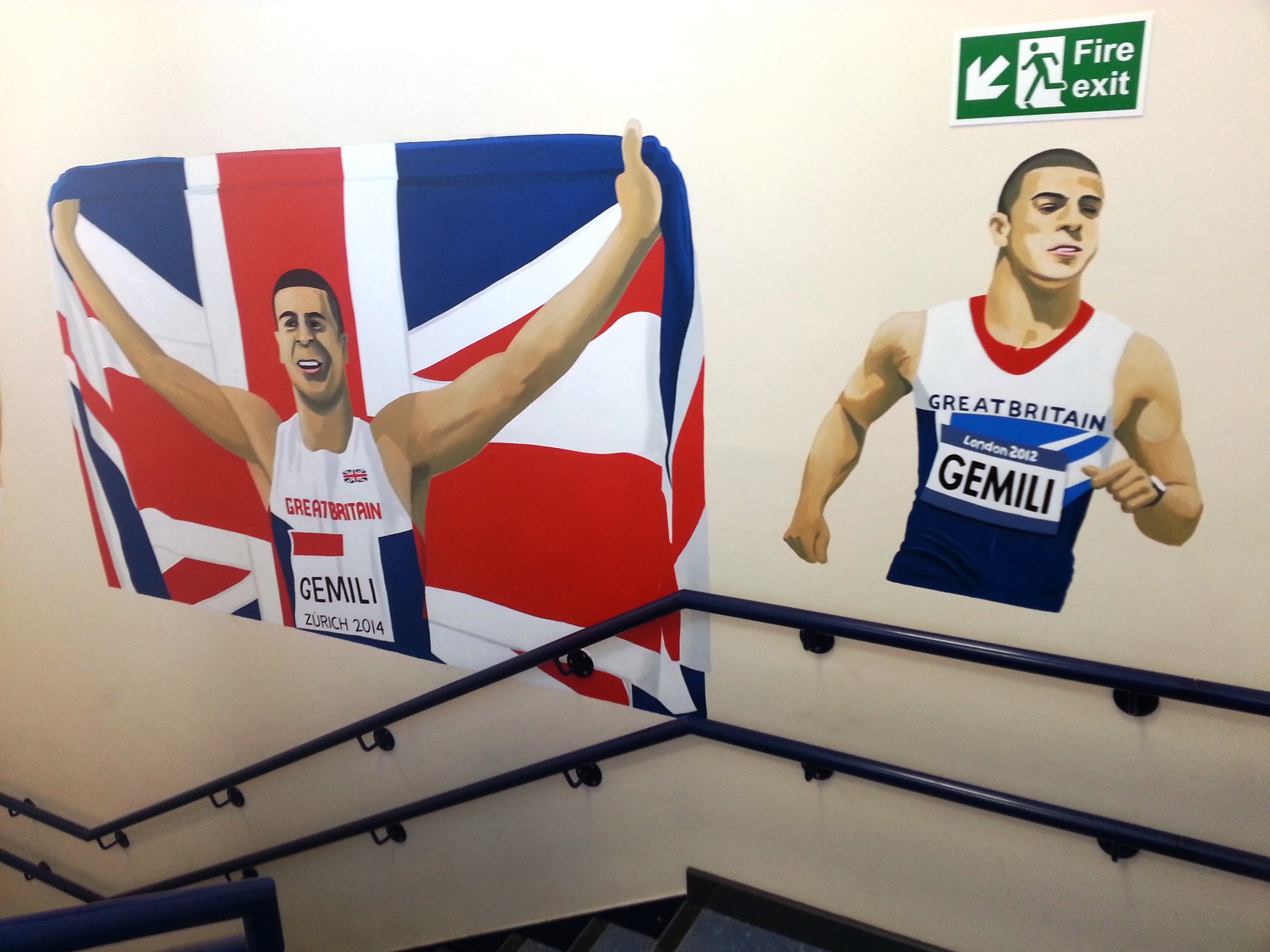 We had a pretty big project come up in March for a council estate called Willingdon Trees in Eastbourne. The council had sixteen gable ends that they wanted painted with floral designs. Unfortunately, the day we were supposed to start work was also the day the large snow storm was forecast in the UK - typical! We drove to Eastbourne but had to turn around and come home as it was just too cold for the paint to dry and with the storm forecast that night we didn't want to start work to have it all get washed away. Once the snow had eventually subsided and the temperatures increased a little, we were able to head to Eastbourne and finally make a start. Due to the size and height of the murals, we needed to use a mixture of scaffolding and boom lift to reach the top of the three story wall. This proved to be pretty testing at times (one day we got a lift stuck in some mud and had to call the hire company to tow us out…
 but with some perseverance and ingenuity (and the hire of about 3 different machines and the use of our own scaffold tower and existing scaffolding from the previous contractors) we were able to get all of the work completed on schedule, despite the snowy set back! It was mighty cold out there though and pretty tiring work with all the scaffold climbing, board moving (to prevent the tyres from getting stuck in the mud again) and shivering, so I was glad when this particular job was finished!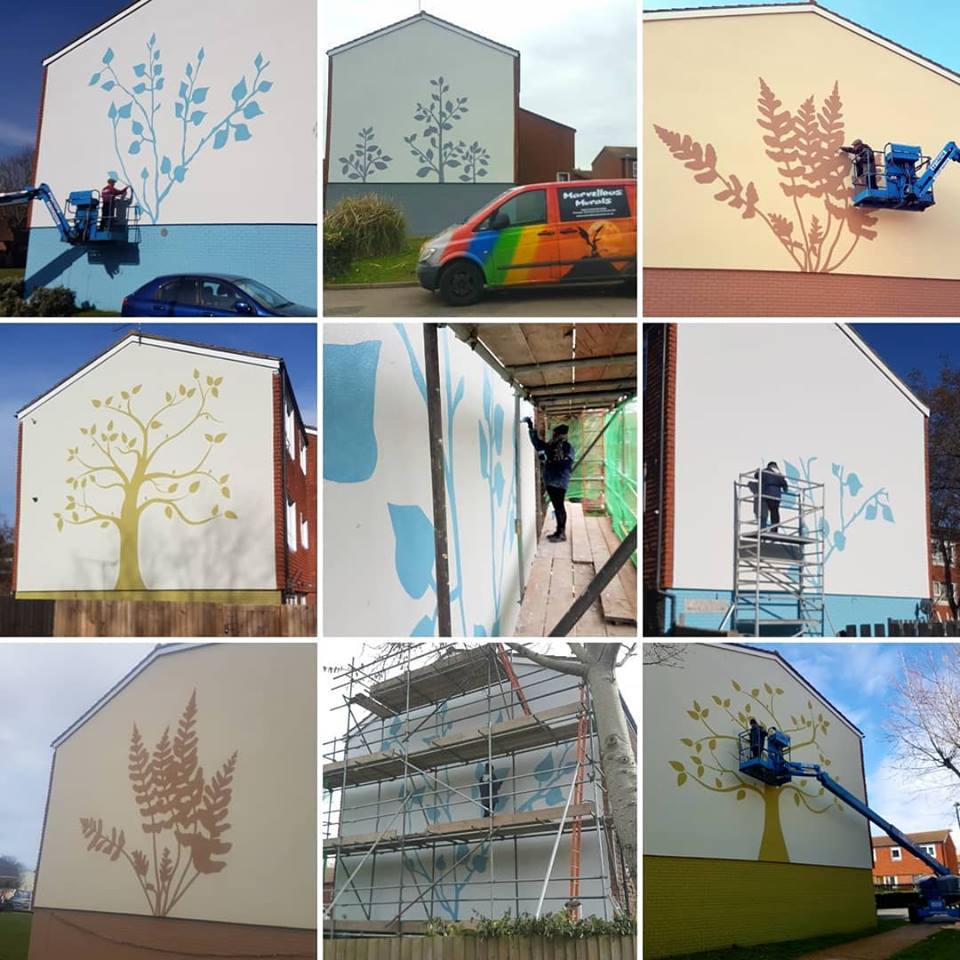 Dean went back to Wales and I made my way to Ipswich to paint the entrance hall of the Itineris office. I had painted a blossom tree mural for the owner last year along with his children's bedrooms, but now he was enlisting my help to brighten up the offices for his marketing and digital company and to make the décor tie in with their new branding. Lucky for me their new branding was all centred around Space – one of my passions! I've always loved science and star gazing, so this was the perfect job for me. We've painted space themed ceilings in kids rooms and I painted a constellation themed mural for Fireball Pizza in Bromley, but this project allowed me to really have fun with the subject matter and let loose a little. I had a rough idea of the colours I wanted to use and the shapes of the nebula, but I'd never been taught how to accurately paint nebula etc so I just had to try things and hope they worked! I watched a few you tube videos but I found the only way I could really paint this sort of mural was to just go with the flow and keep adding and learning as I went along. The room had already been painted black for me, so I started by adding thousands of stars (flicking and also hand painting) which took about a day on its own. Then using a mixture of spray paints, acrylics, emulsion, tissues, brushes, sponges and trial and error I think I came up with my own way of painting nebulas which looked quite realistic but was also relatively quick to do. I then varnished the whole room with 2 coats of heavy glaze to protect the mural as it was in such a high traffic area and there was a lot of woodwork, and this also helped to deepen the colours and give the whole room more depth. The whole hall way took 5 days to paint, including varnishing.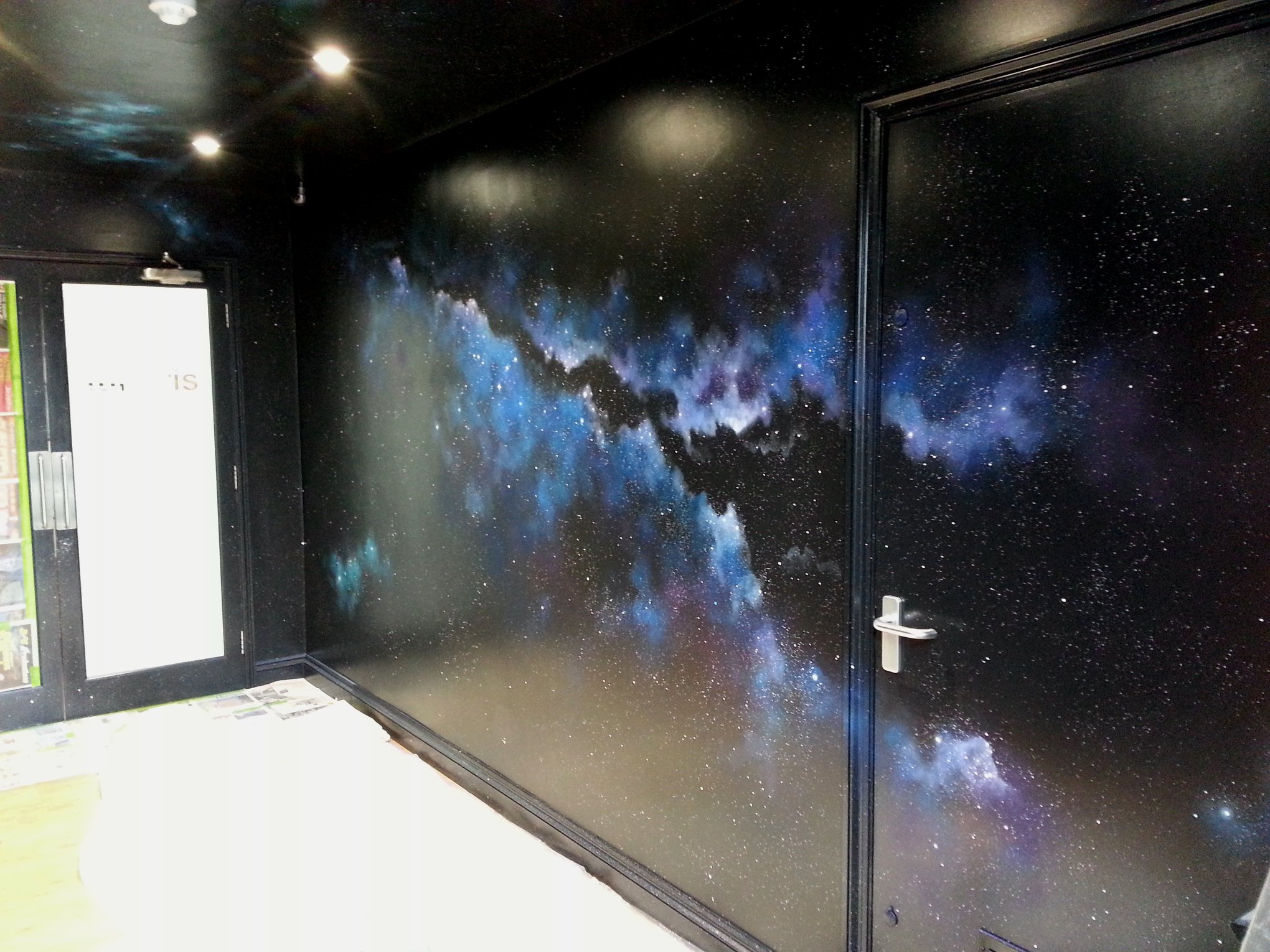 Everyone at the offices loved the effect so much that they asked me back over the next couple of months to paint a boarder of the same design all around the offices main room, board room and mezzanine floor. I also varnished this to give it the same finish as the hallway. These three rooms took me 3 more weeks to complete, but I think the effect is really striking and definitely shows off their branding and gives the whole office that 'wow factor' and means that clients will remember it after they have visited.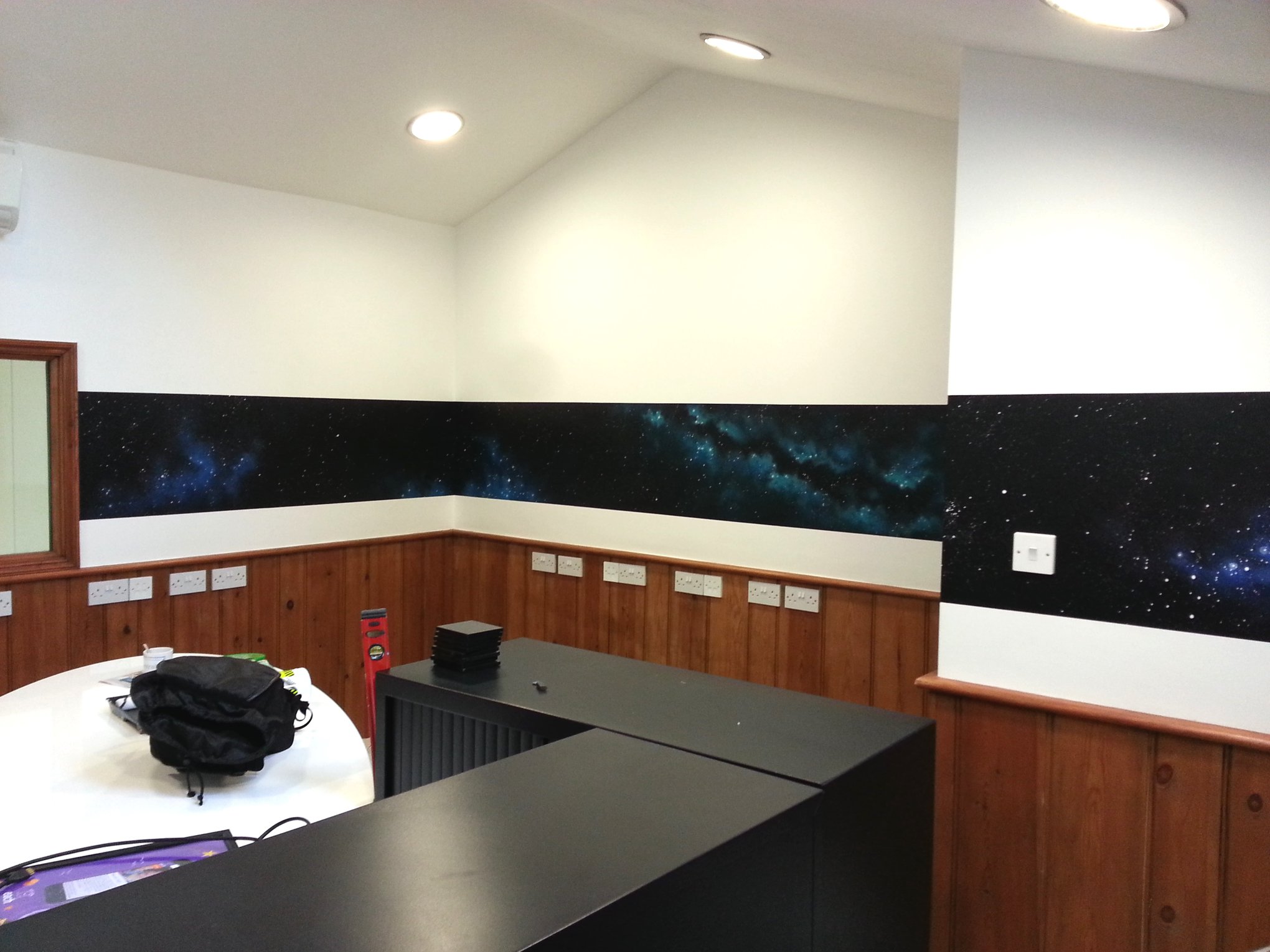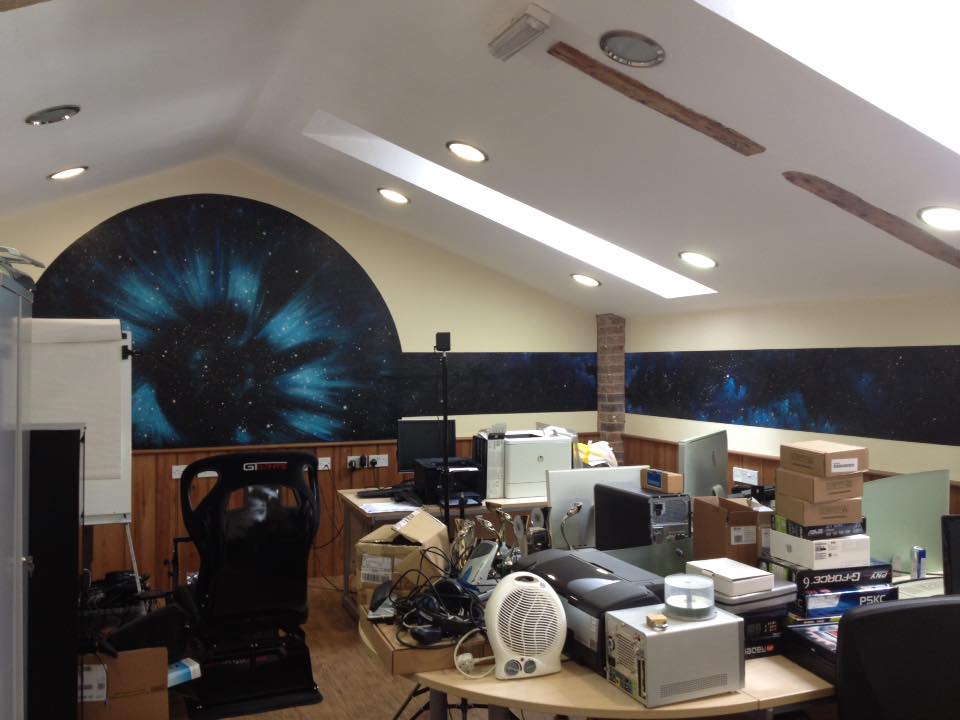 It has been really great working for Itineris over the last couple of months. Everyone there made me feel so welcome. The owner, Tim, is a huge Star Wars fan, so once the office's main rooms were complete he said he'd like something a bit more fun in their bathroom and kitchen areas. I wanted to keep it professional looking but still quirky. Tim really likes Banksy's work, so I came up with the idea of a simple grey scale landscape boarder, with characters from Star Wars made into stencils and spray painted over the top. I thought this was reserved and professional but also a cool nod at his favourite films from childhood and again, something that clients would remember once they had left the building. It was quite difficult working this mural out and then cutting all of the stencils, but I the finished effect is something I am really proud of. We based the theme around the Star Wars film 'The Return of the Jedi' and the Battle of Endor, so I had to make sure that I used the correct Strom Troopers and characters from that film. Including the design, making of all the stencils, painting of the background and spraying, these murals took 2 weeks to complete. I think I have painted every available space at Itineris! But would like to thank Tim for giving me the opportunity to create some really interesting murals and for his staff all being so kind and welcoming (especially when I got in their way or gassed them out with spray paints!).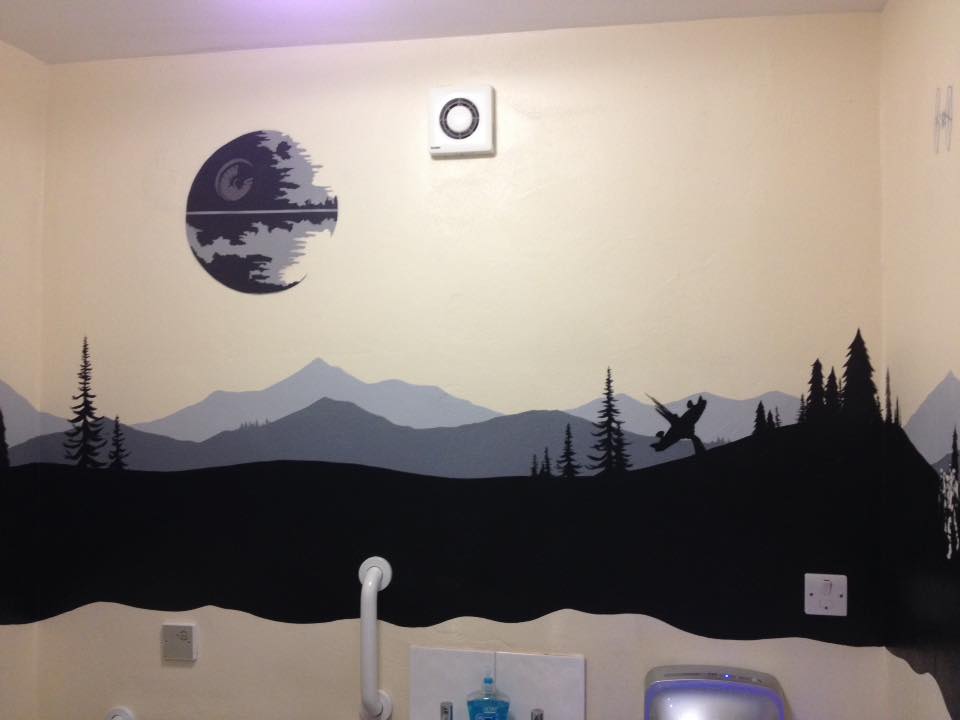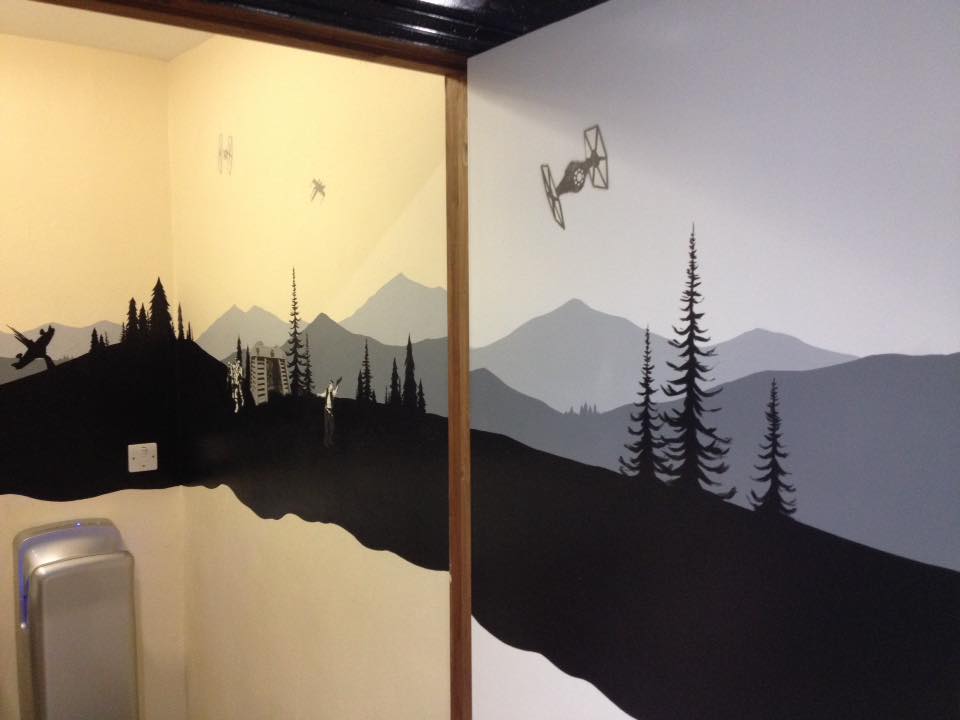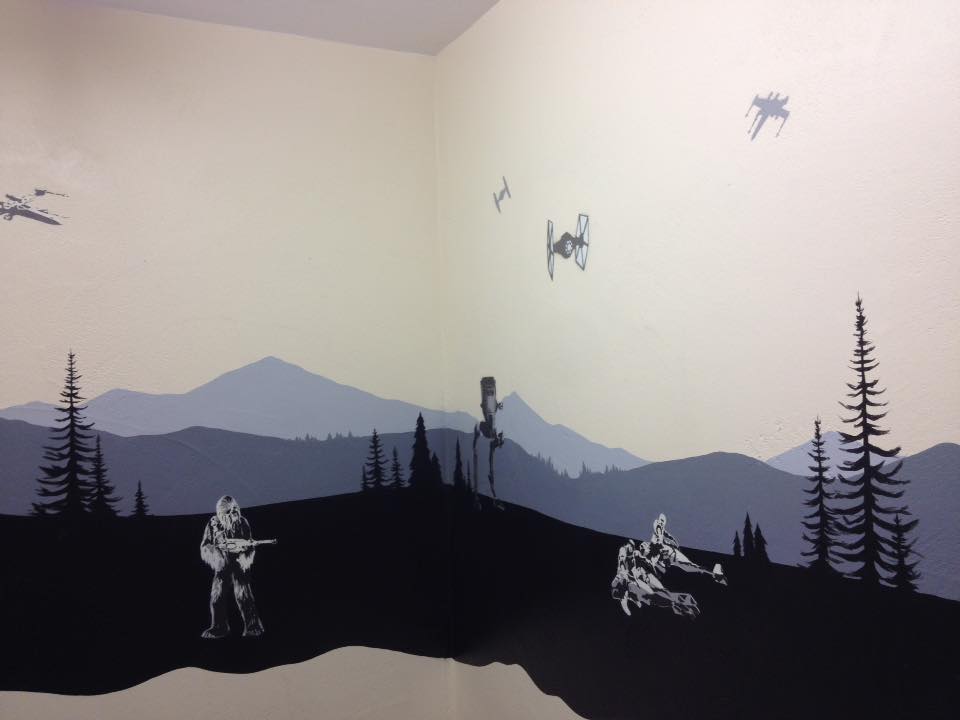 Dean returned to Kent to help me paint a values mural at Riddlesdown Collegiate in Croydon. This was a relatively simple design, but due to where they wanted it painted (on a stairwell) and the size, it posed a few problems for us initially. But with some ingenious scaffolding usage we were able to reach to the top and get this mural completed in three days.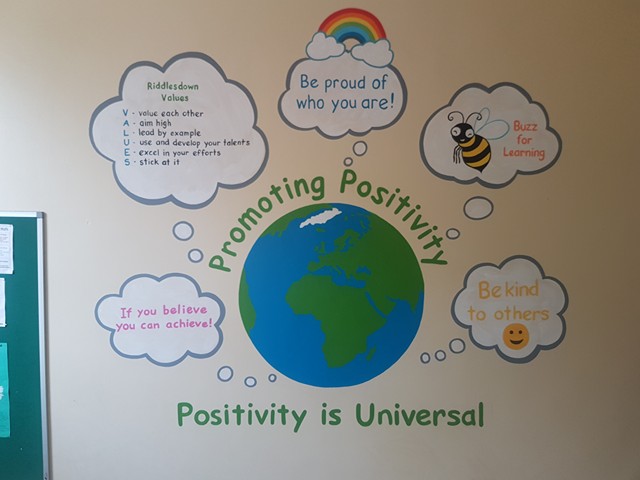 It was off to Bedfordshire for me next, where I painted a Lego DC mural, featuring the emirates Stadium and Donatello from Teenage Mutant Ninja Turtles thrown in for good measure! This usual mural was painted for a little boy, but I think it was also partly painted for his Dad! This is truly the meaning of a bespoke mural – we can create designs that incorporate as many different aspects as you like, to make you artwork incredibly personal and individual. This mural took me four days to complete.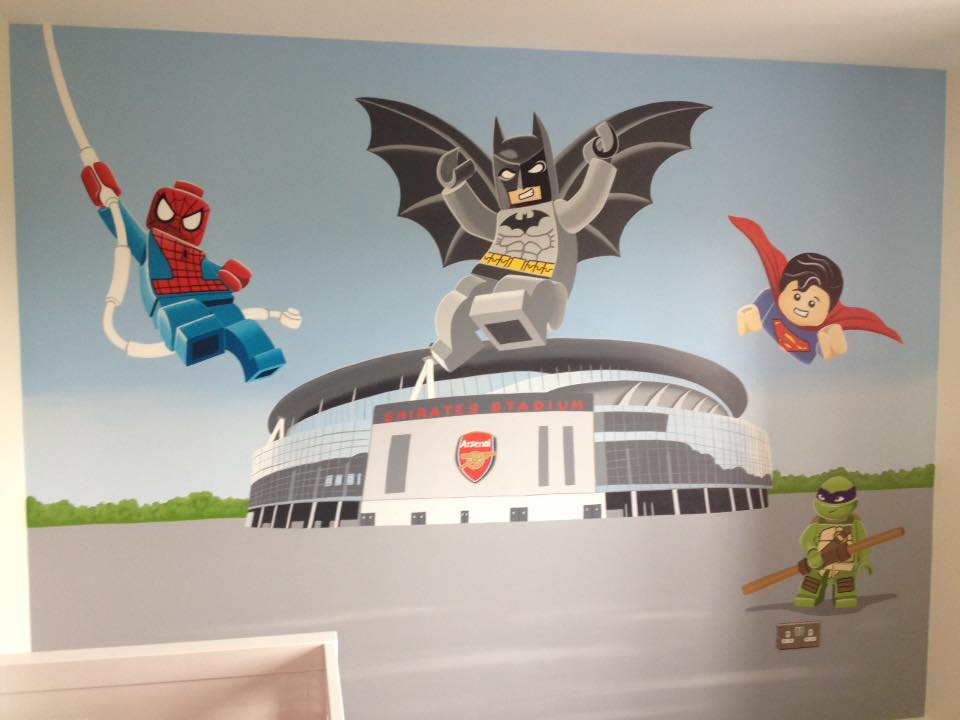 I was a bit closer to home for the next couple of projects. I really enjoyed painting this Giraffe for a young couple in Bromley expecting their first child. They had decided not to find out the sex, so wanted something very gender neutral in their newborns nursery. They wanted a very subtle effect, so I used white matte emulsion on the magnolia background colour to paint the design, and then finished with an iridescent glaze. This added a lovely softness to the mural and made it even more special for their little one. Due to the fiddly-ness of this design and the fact that it needed quote a few coats of paint, this relatively simple design ended up taking me two days to complete, but the finished effect was worth it.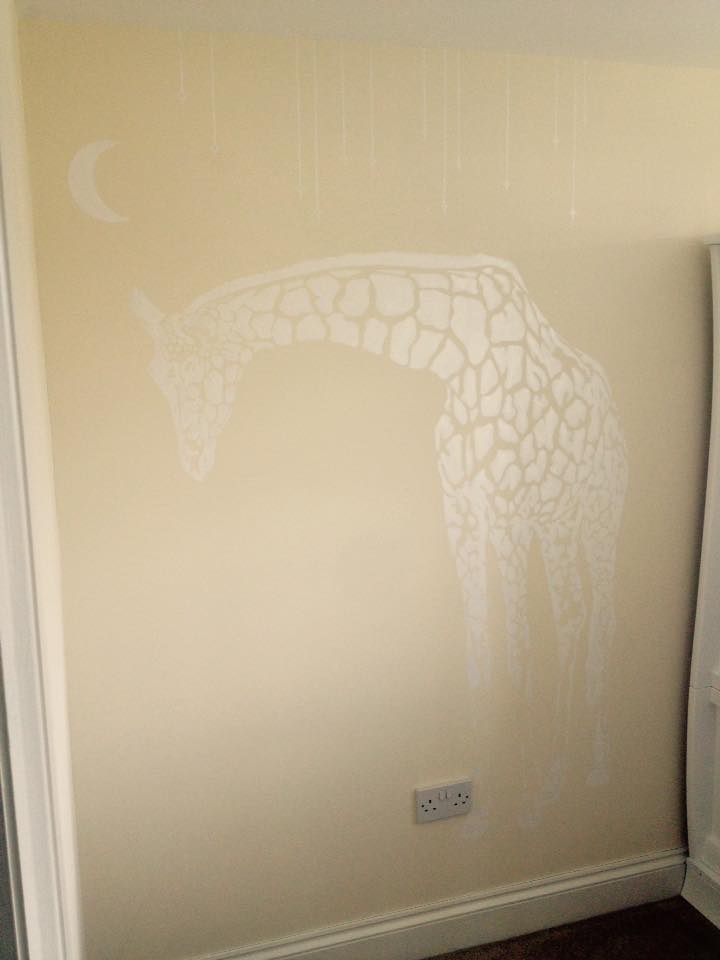 Finally I was in Hempstead to paint this Pokemon themed mural for a very excited little boy. Dean had painted a cars themed mural for his older brother a few years ago, so now it was his turn to have a mural of his favourite things painted onto his bedroom wall. He told me his favourite Pokemon and I came up with this design for him, with a simple background but lots of detail in the characters. I remember watching Pokemon when I was younger so it was great fun to paint this design. This mural took four days to paint.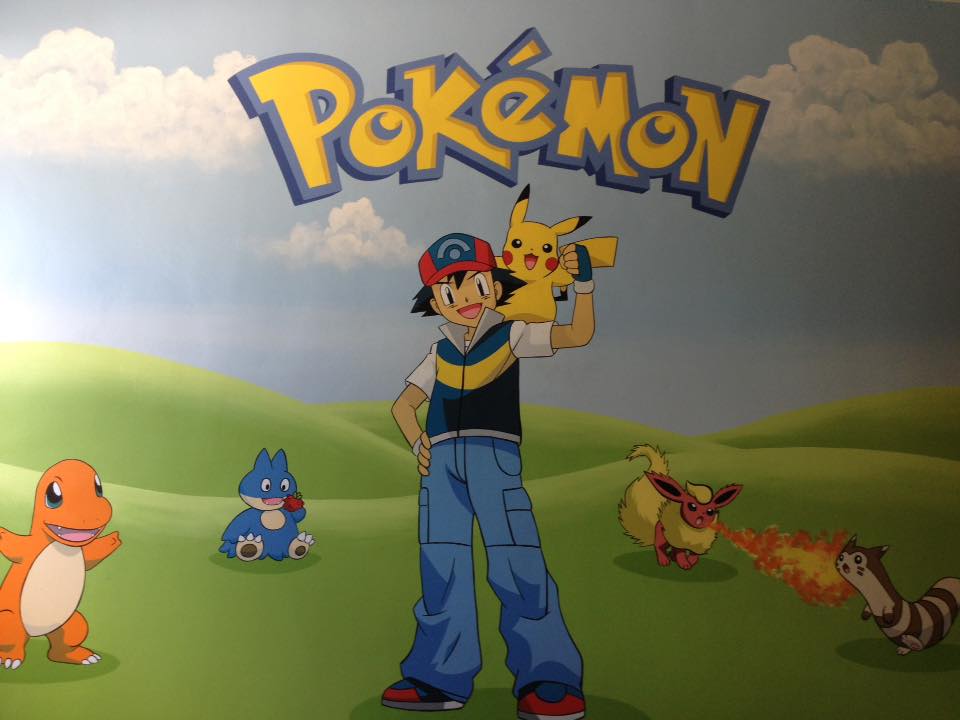 Well, I think that pretty much has everyone up to date with what I've been up to so far this year! Dean and I will be at Art in the Park on the 11th of August painting a metal container with a pretty design if anyone wants to come and say hello.
I will try and update the blog a bit more frequently. So, until next time I hope you all enjoy the summer holidays and this crazy warm weather we're having. I, personally, am more of an Autumn and Spring kinda gal, so I say roll on jumper wearing weather!
Jaime
Categories: None