| | |
| --- | --- |
| Posted on September 19, 2017 at 9:45 AM | |
Hello everyone,
I thought I'd just write a little blog about the last two weeks, during which I got to visit Deans Zoo! We had a job in Pembrokeshire painting a little girls bedroom, which is about a 2 hour drive from Borth, where Dean and his family now live. I drive a 26 year old Nissan Micra and I love her to pieces, but I didn't really fancy making the 6 hour drive to Wales on my own, so as Dean had been visiting Kent that weekend we decided that I would travel back with him and stay at the zoo for a few days before we both made our way down to Pembrokeshire to paint.
The journey was surprisingly traffic free and the views were stunning as we heading further into Wales. I's never seen so many forests, rivers, hills and valleys and was awed by the fact that people have all of this literally backing onto their gardens! At one point we drove up and over a gigantic hill, through heathland with sheep just casually walking across the road and eating grass at the roadside. It was very surreal for someone who lives on a main road in Sittingbourne.
We got to the zoo around 6pm and Deans little girls were excited to give me a tour of the zoo straight away. They have a great range of animals, including lemurs, marmosets, goats, wallabies, ostriches, meerkats, raccoon dogs, huge snakes, rats, bats, bunnies, lions and a leopard. My favourites though were the two huge Bengal Owls that they have. They're so beautiful and majestic. You could get pretty close to all of the animals which was a new experience for me.
The accommodation for my stay was in the static caravan that Dean and his family lived in for a few months before they were able to move into the zookeeper's house. It's next to the lion enclosure, and I was awoken at 6am by the lions calling back and forth to each other – again, very surreal!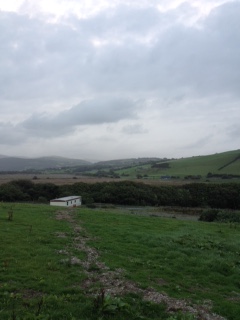 I spent the next day sanding down and painting some new fencing that had been built around one of the enclosures. This is slow work and by about 4pm I'd managed to paint about half. Dean wanted to repaint the kitchen area in the café and as the zoo is open 7 days a week, this had to be done in the evening so it would be ready for use again the next day. We started by removing everything from the kitchen and then cleaning the walls and surfaces. We then sanded down all of the walls and shelves and once everything was prepped we could start painting. Although it was only a small room, it still needed 3 coats of paint and the wood work needed to be painted in gloss, so we were working until about 9pm to make sure it was all finished and could dry overnight, ready to have everything put back in it in the morning.
The next day I resumed the painting of the fence, but due to rain I had to stop. There's a small soft play indoor area for children and the paint work was flaking and looking a bit shabby, so Dean wanted to freshen this up and make it a little more inviting for the public. All the old paint had to be scrapped off and sanded down and all staples, blue tack, drawing pins and posters had to be removed. I managed to get most of the prep work done (and mess hovered away) and then Dean suggested going to the cinema in Borth high-street for the evening. It's in a converted church with a restaurant above, with one very luxurious screen room equipped with super comfy chairs and even sofas and arms chairs at the sides of the room.
We were off to Pembrokeshire the next day, so had put all the paint and equipment in the van before we went out to the cinema. We set off early, as we had to pop into Aberystwyth to get some dust sheets before being on our way. We had a bit of trouble finding the house that we were supposed to be painting in, but eventually found it with a few phone calls to the owner. The house was in the process of being completely renovated with an equestrian centre being built on the land surrounding it. This unfortunately meant no lights were fitted in any of the rooms, there was no heating and no working toilet… but at least it had four walls and a roof, which is more than some projects we have worked on in the past!
The client wanted a Welsh landscape theme for her daughter's bedroom, featuring lots of farm animals and some of their pets. We started by painting the ceiling a pretty sky blue, fading down the walls into lighter shades and then eventually white. I then painted some fluffy white clouds on the ceiling and walls whilst dean working out the horizon and surrounding landscape. It took us about 2 days to finish the background and then we started painting things in the foreground, such as a large blossom tree and some of the bigger animals. Once the main animals were painted, we could add in some little details, such as sheep and pigs in the distant fields and butterflies and insects (and even a little pterodactyl in the distance, as per the client's husband's request!). We even added a few little fairies into one of the built in cupboards as a little extra surprise. The whole room took us 4 long (10 – 12 hours of painting per day) days to paint and the client and her daughter were thrilled with the end result.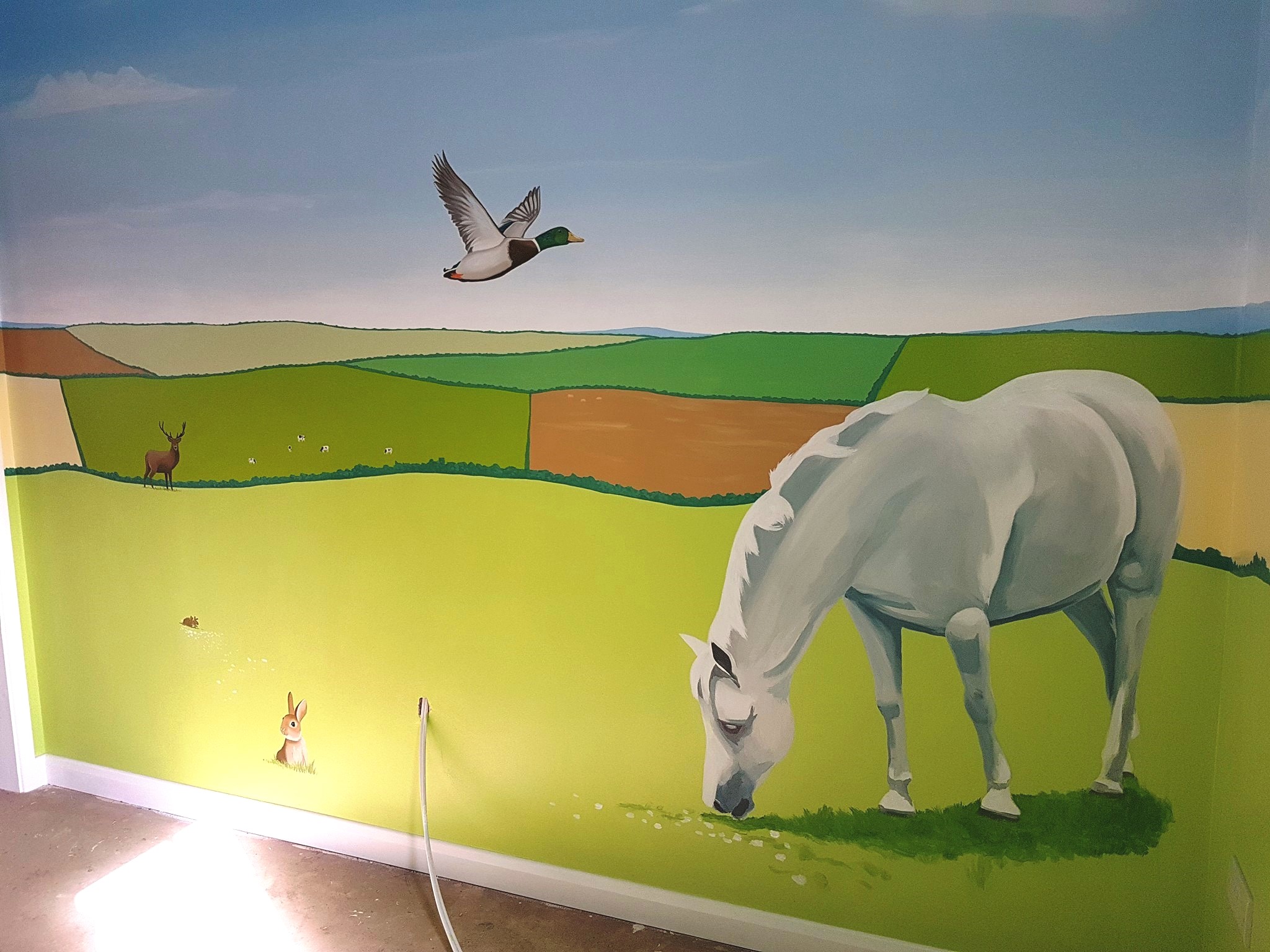 As I was getting the train home (a 7 hour journey) and we didn't pack up until about 6pm, I decided to head back with Dean to the zoo for one final night before making my way back to Kent in the morning. We got back to Borth just in time to see the second of three special features about Dean and Tracy buying the zoo on The One Show. If you haven't seen them you can check them out on iplayer. They're really interesting and show some of the challenges Dean and his family have had to face during their big move, as well as showing you some of the awesome animals they have.
The next morning, I finished painting off the fence I had started the week before so it was ready for the zoo inspection that they were having in a few days and then Dean gave me a lift to the train station. The train journey between Aberystwyth and Birmingham has some great views, and I spent most of that leg looking out of the window admiring the views and listening to the Harry Potter audiobooks. The journey was mostly uneventful, until I got to London and one of the ticket people pointed out that my ticket was in fact dated for the next day. They weren't the most helpful, but after a little while I was able to convince them that I wasn't trying to swindle them and they let me get on the final train home (I think the fact that I almost burst into tears helped sway them… apparently being away from home for 9 days makes me a little emotional!).
The rest of the week was spent visiting potential clients and putting together designs. I also had to pop back to Kent College to touch up a few parts of the murals I did for them a couple of weeks ago, as the builders had been a little heavy handed.
Next week we are painting the side of a house in Faversham for a couple who are celebrating their wedding anniversary and wanted to get each other something a little different, so check the facebook page for updates if you're interested to see our progress!
Thanks for reading,
Jaime
Categories: None