| | |
| --- | --- |
| Posted on July 25, 2017 at 7:05 PM | |
Hello,
This month has been another busy one! At the end of June, Dean and I were back in Ipswich to paint another blossom tree in the home that my sister and I previously painted a large blossom tree that spanned two floors. The client felt as if the wall opposite the one we previously painted, now looked a little bare, so asked us to paint a smaller blossom tree tie in with their other mural. This smaller tree was completed in two days and helped to make the whole space seem more in keeping with the theme, rather than just having a large feature wall. The client wanted all walls to have something painted on them, even if it was just some fly away blossom or a little bird. This made the mural seem a lot more immersive, even though it was actually very subtle and used a limited colour palette.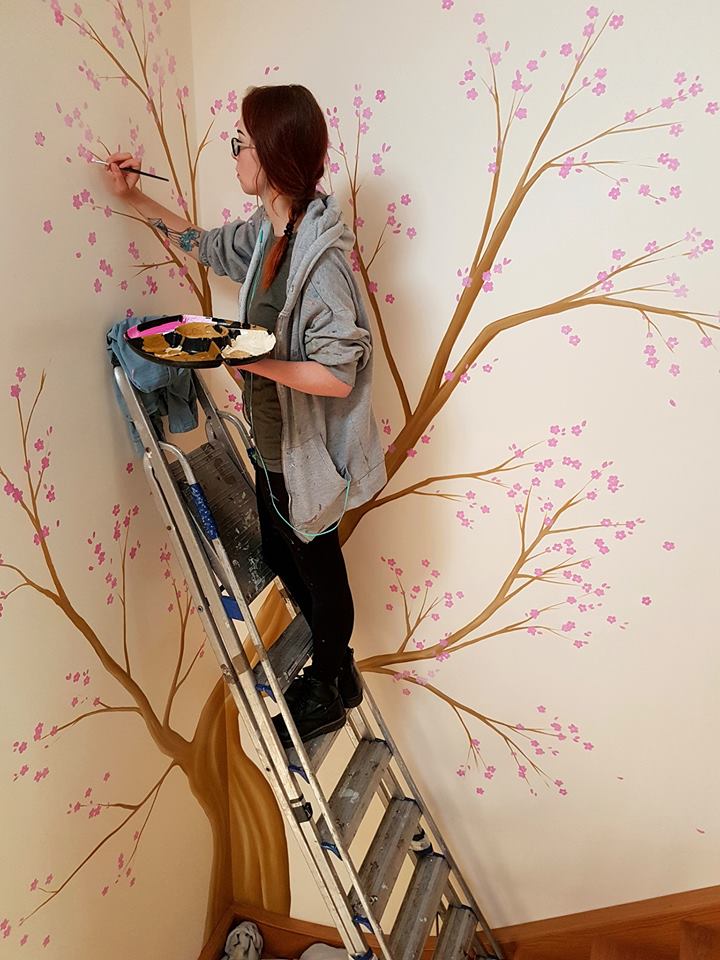 The client also wanted a Lego heroes and villains room painted for his five year old son. Dean roughly drew out the background and the characters but then had to head back to wales on zoo business. This was a good start though, and I spent the rest of the week painting in the background (sooo many straight lines!). I was hoping to make a start on the characters by the Friday, as the little boy was very upset that he didn't have a Batman yet! But the background took a lot longer than I had anticipated, so by 7pm Friday evening I was only just finishing. I made the drive back to Kent, then after a weekend of Alice in Wonderland afternoon tea (there's a new café in Herne Bay which I would definitely recommend!) and seeing my family, I headed back to Ipswich for another week to complete the room. Painting the characters is the most fun part, so I started off with Batman (obviously) as he was the largest character and I wanted to give the little boy a nice surprise for when he came home from school! I then moved around the room (spending probably a little too much time on each character, but because Lego and Batman are two of my favourite things I wanted everything to be perfect). After all the characters were painted there was a little bit of detail left to do on the background (outlines, some shadows and finishing off the Bat Symbol) and then after a week of long hours and stressing because I didn't think I was going to get it done, the room was finally complete. The little boy and his parents were really happy with it and couldn't wait to put on his new Lego Batman duvet covers (and for me and my big tins of paint to be out of his room!). They bought me a Lego Batgirl key ring to say thank you, which was so nice of them. They originally didn't want to have Batgirl painted, but after finding out she was my favourite (well, joint favourite with Batman, but she is an awesome crime fighting girl with ginger hair… so how could I not like her?) they said they would like me to include her to remind them of me.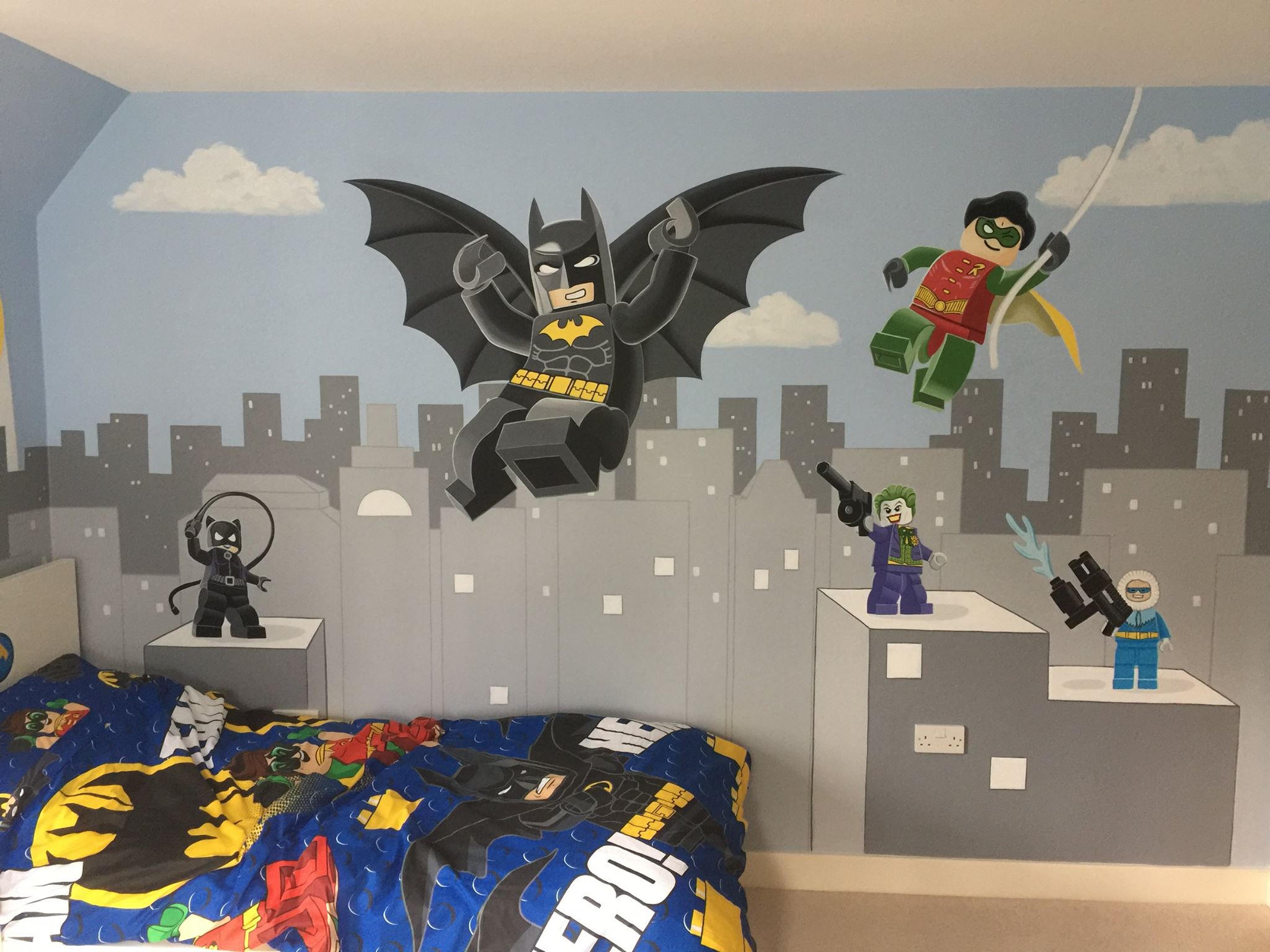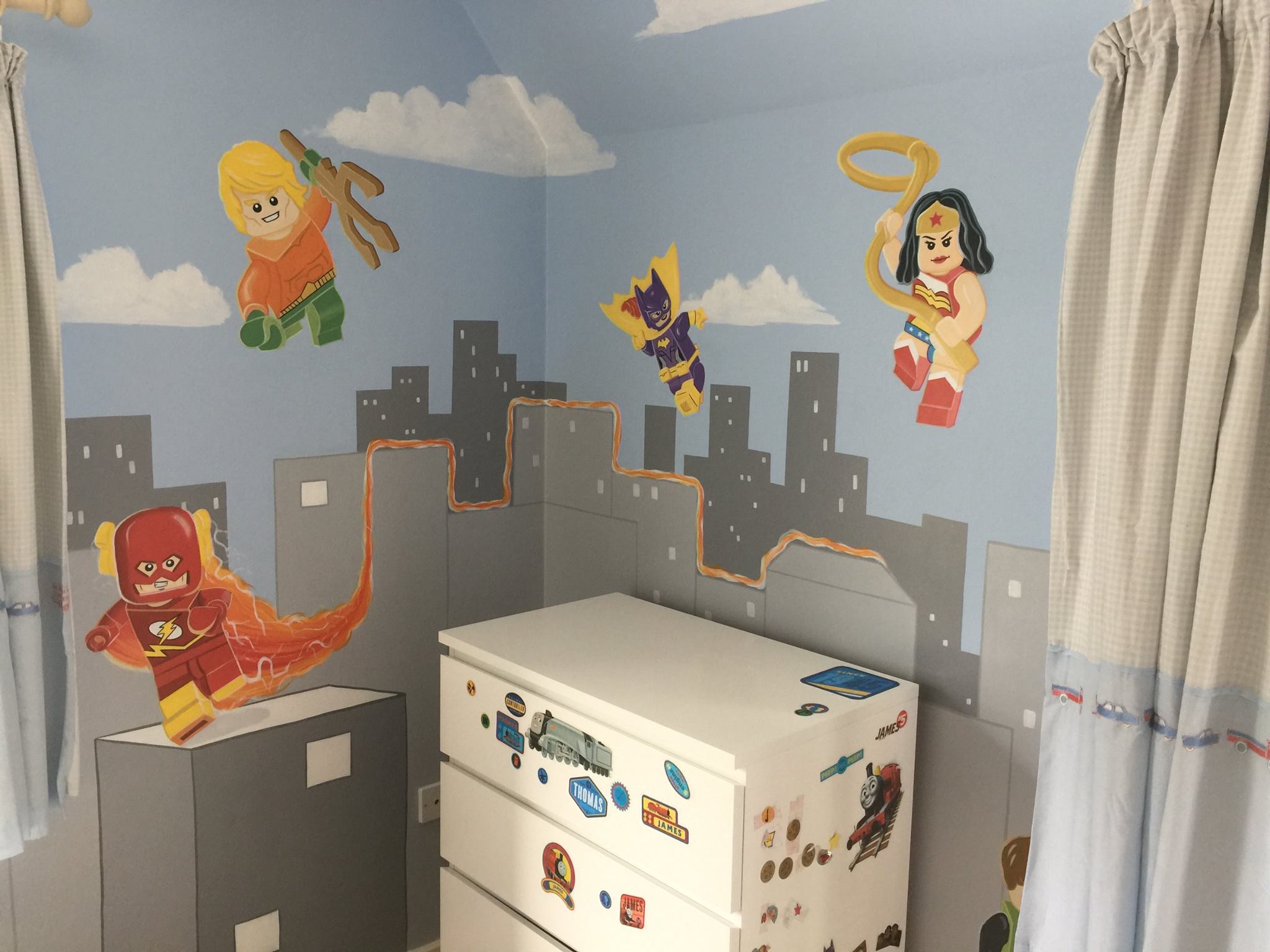 After Ipswich I had a week back at home where I caught up on emails and designs and painted this sign for Dean for the zoo.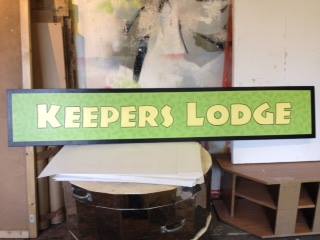 Dean headed to the Coloured Earth Festival in Gloucester on the 15th and 16th of July where he had a great time chalking this brilliant anamorphic tiger.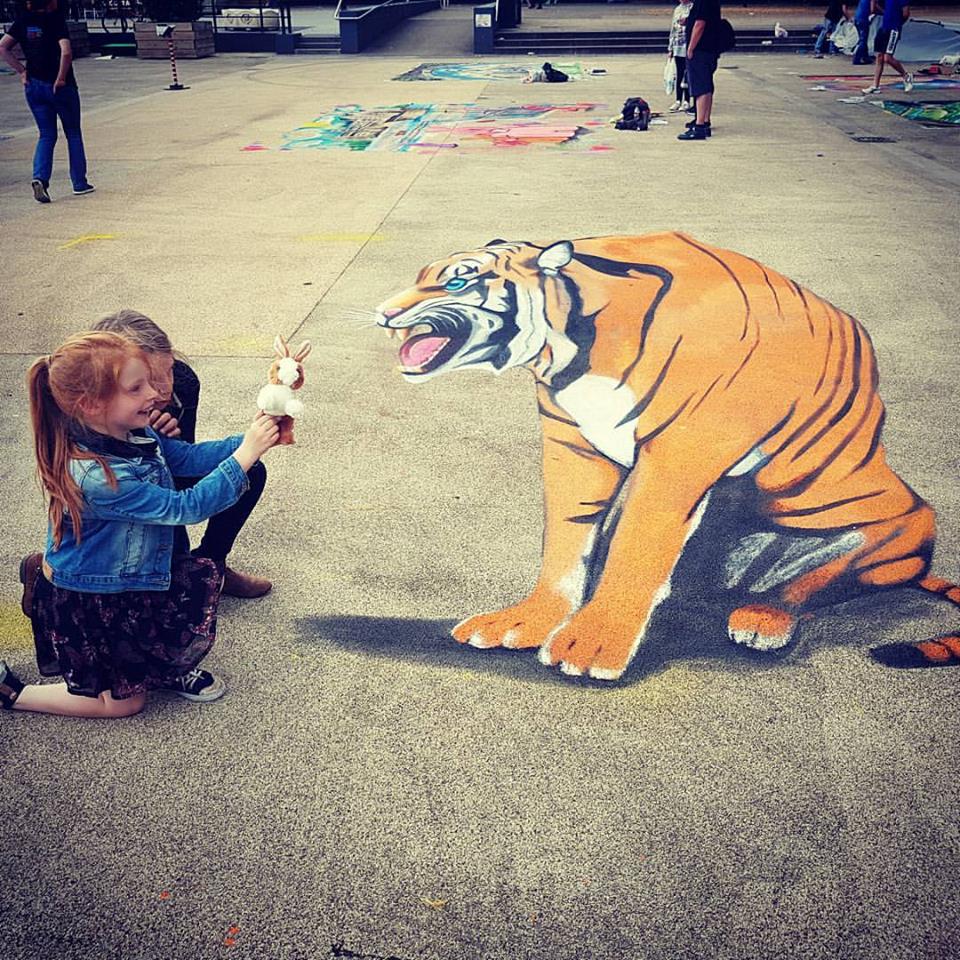 We then had a job in Manchester, painting an exterior wall in the playground of St Richards Primary School. The wanted a woodland scene with lots of animals as the school was in a built up area on the outskirts of Manchester, so the children didn't get to see much wildlife. Dean had all the masonry paint so he drove up from Wales (after a long weekend of chalking) and I got the train up from Kent (as I worry that my little Nissan Micra would not be able to handle a 6+ hour drive, though she would give it a good go!). The train journey was uneventful as you hope all train journeys would be and Dean met me at the station and we headed to the school. The wall was already primed and cleaned for us, so we could get straight to painting. We started by roughly marking the horizon and the sun and then I made a start painting in the sky and grass whilst Dean drew out the trees and foliage. Once the base colours were down I could start painting in the animals and Dean added details to the background and painted in the tree canopy. I painted lots of animals that the children had suggested we include, such as a badger, some rabbits, a fox, squirrels, birds, insects and much more. The weather was kind to us for most of the week, but on Thursday we had a little rain in the mo9rning which set us back a little, despite this though, we were still finished a day ahead of schedule as we had factored in a little more time in case we lost too much time to the weather (you never can be sure, even in July!).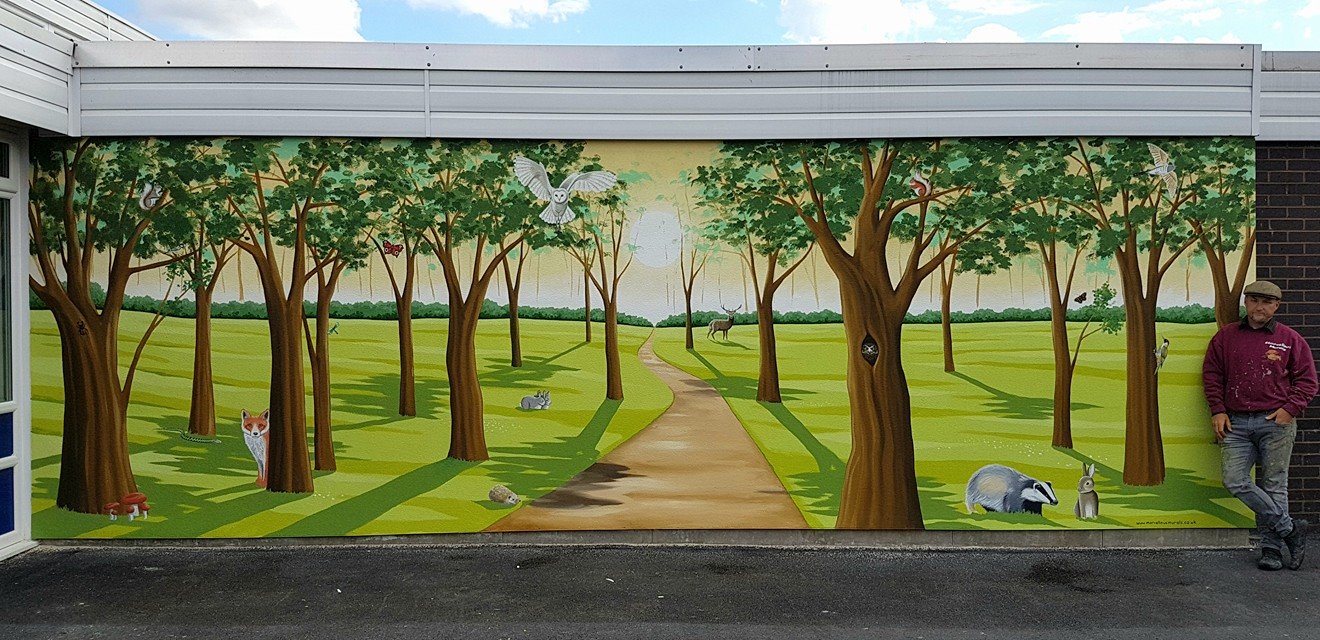 This week we are painting the outside of The Fountain of Ale pub by Sittingbourne station, weather permitting of course!
This weekend I will be in Westgate with my sister for the Arts and Crafts fun day on the 30th of July at Westgate Gardens. There will be lots to see and do and Sophie and I will be chalking all over the park and will encourage people to join in! It starts at 10am and runs until 4pm.
In the next month I will be revisiting the Fireball Pizza Company in Bromley to work on an exciting new project and will also be painting some murals for Canterbury College, so don't forget to check our Facebook page for updates and to see what Dean and I have been up to!
Thanks for reading,
Jaime
Categories: None