| | |
| --- | --- |
| Posted on June 21, 2017 at 7:10 PM | |
Hi All,
It's been another couple of months of adjusting, whilst Dean has been finalising his move to Wales and I've been getting used to a lot of working alone (meaning I've made my way through an astonishing number of podcasts and audiobooks – perks of the job!) and learning how to have a more active role in the business.
Dean returned to Kent mid May to help me paint the large soft play area at Demelza House. They wanted lots of bright colours and a football theme, so we started by painting huge splashes and patches of bright colours, to completely cover the lower section of the wall (they are hopefully fitting a false ceiling in the future, so didn't want us painting too high if it was going to be covered eventually). These needed a couple of coats of paint to stop them from being patchy and then once they were dry we could start blending the edges with spray paints. Once the background was complete, we used some stencils that I had made the week before to spray paint football shapes of various sizes randomly onto the wall. This made the space fun and vibrant with lots to look at. Once this was all completely dry I gave the whole mural two coats of clear glaze to help protect it for cleaning and from bumps and scratches. The mural took us two days to paint and once day to varnish. Everyone at Demelza house said what a difference the mural made to an otherwise dull room, in such a little amount of time.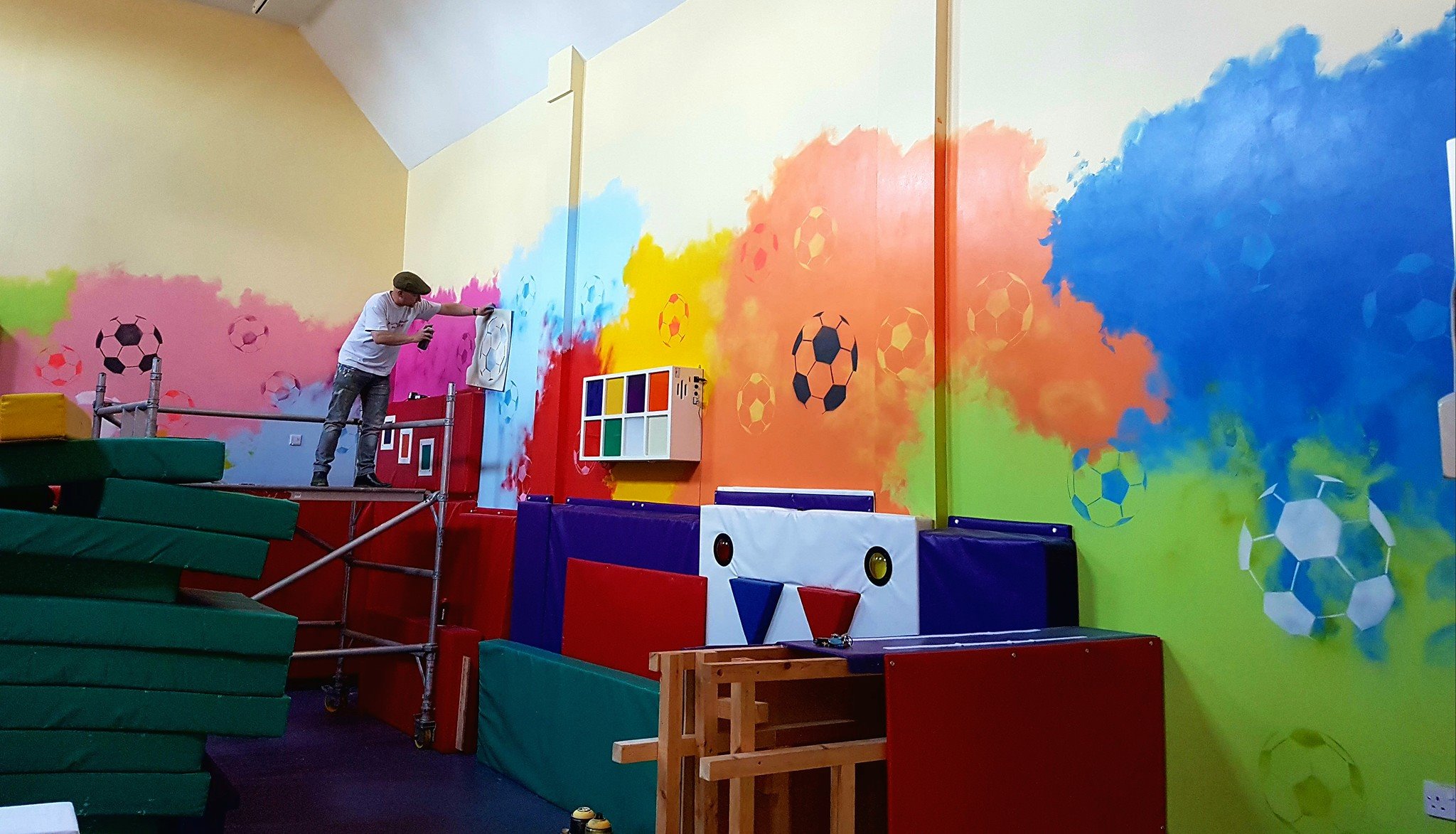 Dean headed back to Wales and I went off to Ipswich for my first job away working on my own. I was to paint a Peppa Pig Themed room for a previous client (the lovely family that My sister and I painted a blossom tree for inspired by the film Paddington, in their entrance hall). As I had worked for the client before this made me feel a little more confident. After the three hour drive to Stowmarket, I chatted with the client to find out exactly what they wanted and went through some reference pictures and some layout ideas. Once this was all finalised I could begin to draw out the design, starting with working out where the hills and landscape were to go and then drawing the characters in situ. The room was recently painted a very pale pink, so we decided to keep this as the background colour and use it for the sky, rather than repainting in a pale blue. The clients daughter was very happy about this as pink is her favourite colour.
Once everything was drawn out I could begin to paint in the landscape. Once the hills were painted I could start to paint in details in the distance such as the trees and then work forward to start painting in the landscape details in the foreground. The last thing to paint was the characters, with Peppa and her family on one side of the room and a group of her friends on the opposite wall. I was working long days to make sure I got all of the mural completed in the week (and because being alone in a hotel room in the middle of nowhere isn't exactly the most interesting of activities! There's only so many episodes of Parks and Recreation that you can watch!). I added the finishing touches to the mural on Friday evening, and then started on the long journey back home.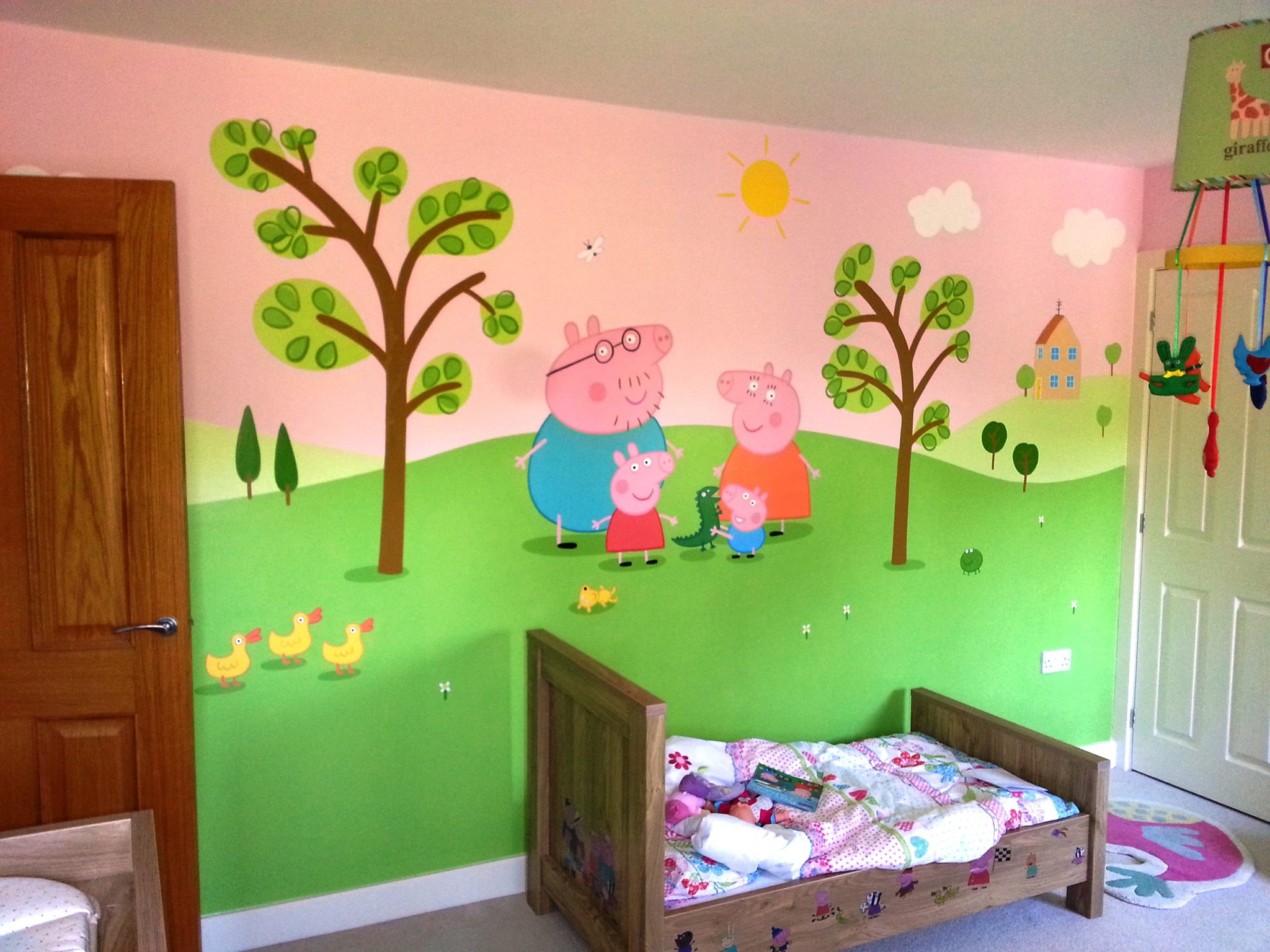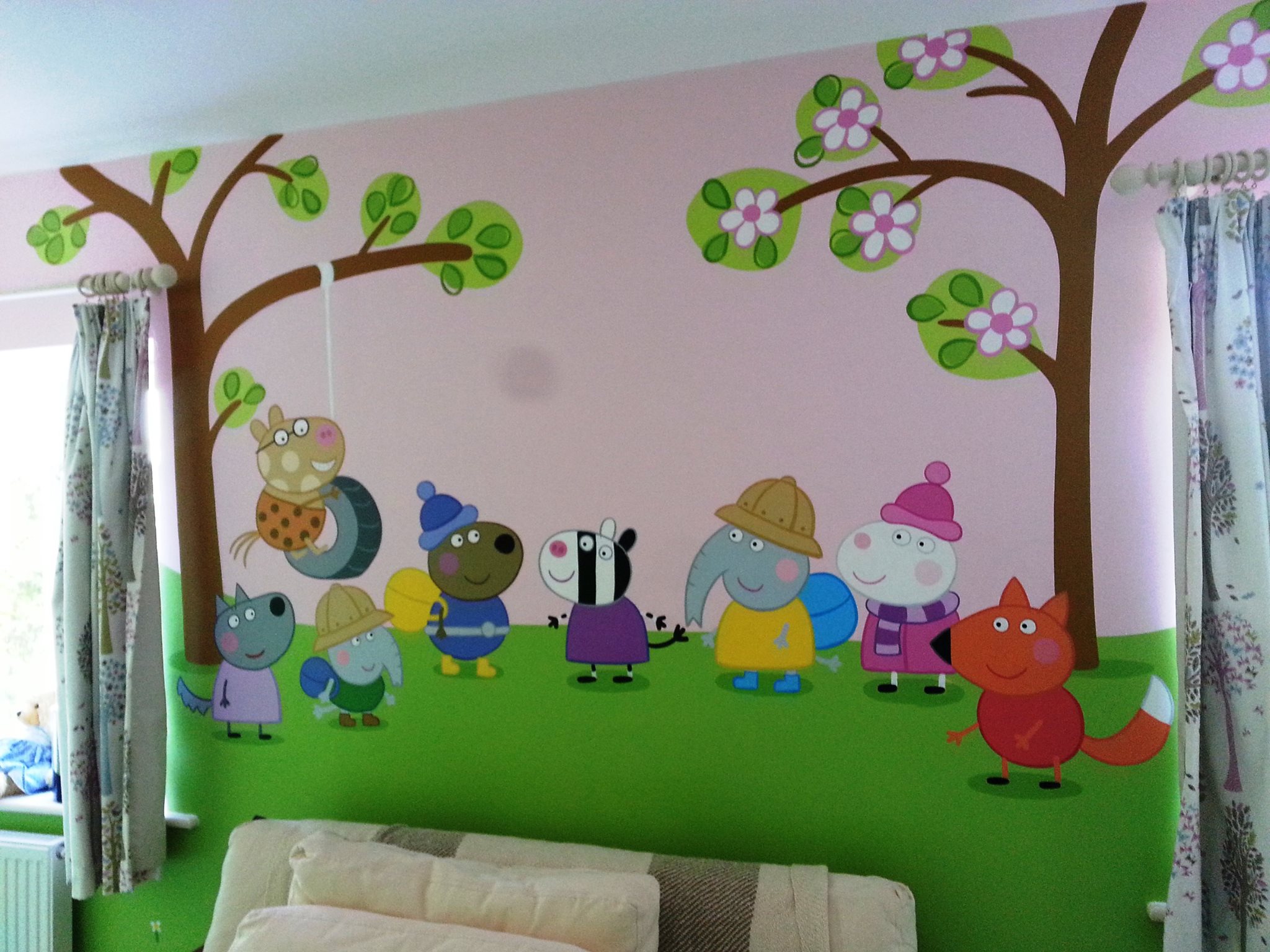 The following week I was painting some murals for Deans daughter Robyn. She is expecting her second child in August, so wanted a pretty grey themed patchwork mural above where the baby's cot will be. This only took me a day to paint and we used the same paint that had been used to decorate the furniture in the room, so it all matched.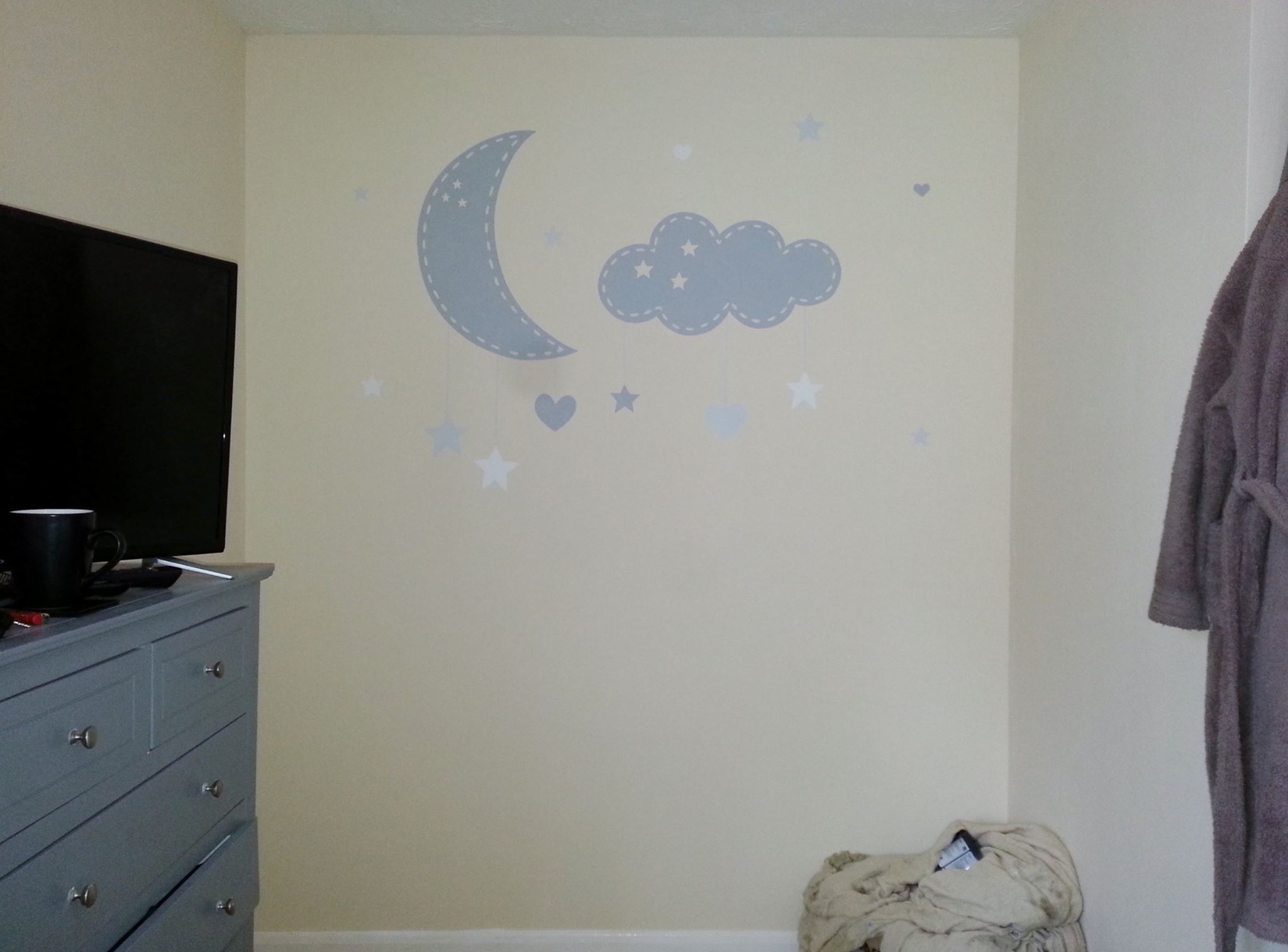 Her little boy Alfie is mad about superheroes and dinosaurs, so in his room we decided to paint the incredible hulk smashing through the wall and then a T-rex Battling a swinging Spider-Man on the wall next to it. These murals took me five days to paint and there was a very happy little boy at the end of the week!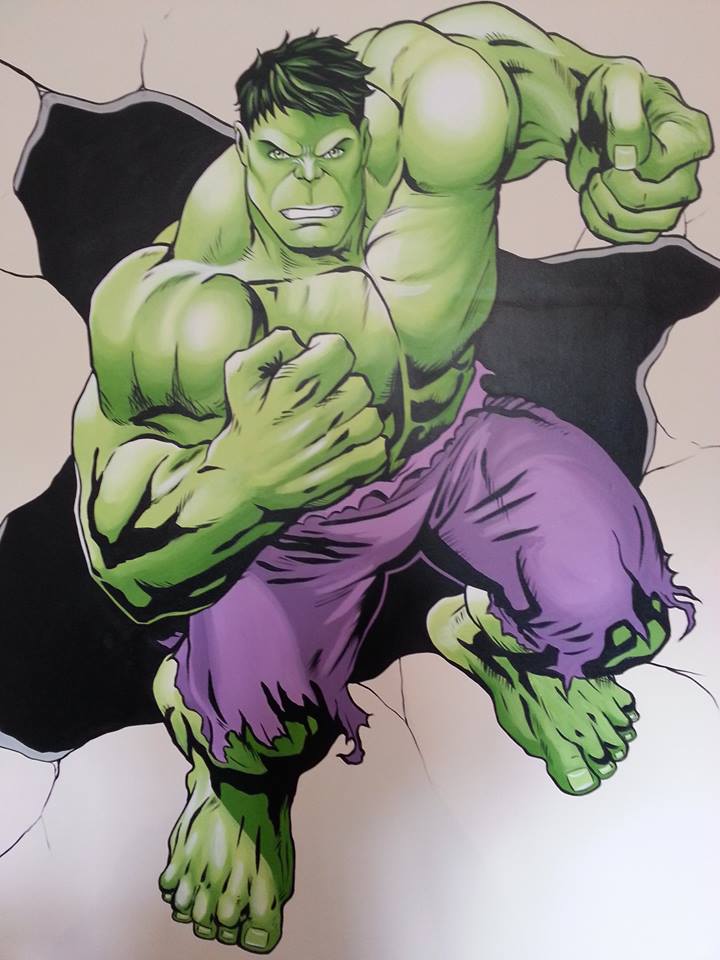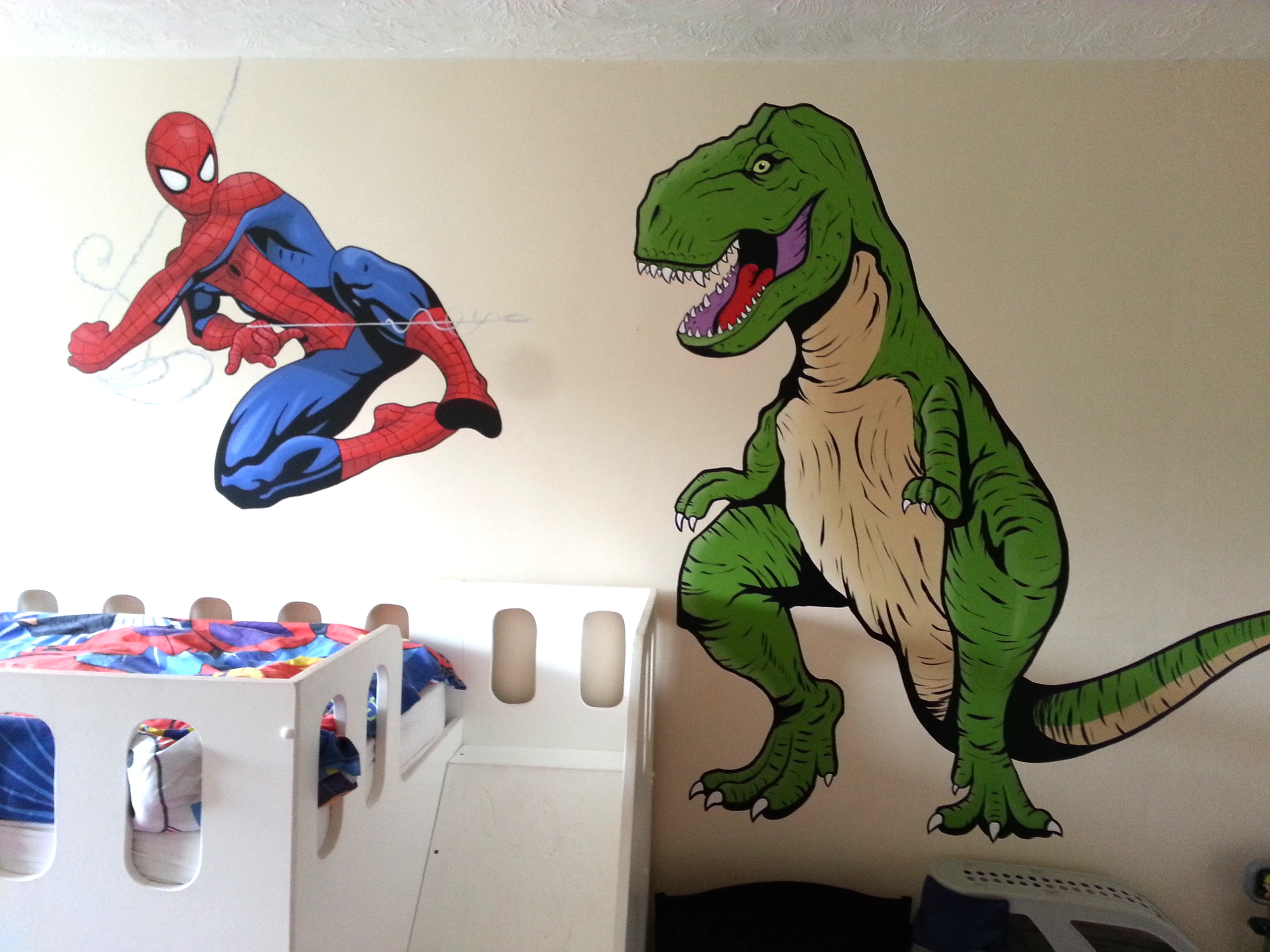 After this I had a job painting the ceiling for The Fireball Pizza Company in Bromley. We have painted some murals for them before (some gargoyles eating pizza and ice cream and a B-Movie style dinosaur under a sky of fireballs, both on boards that were mounted on the walls of the restaurant), but this time they wanted the ceiling to be painted with a night time sky, featuring lots of stars and some moody nigh time clouds. The owner had recently painted the ceiling a deep blue colour, so I was able to come in and start painting the stars and clouds straight away. Clients sometimes chose to paint the background colours beforehand, as this saves us time and helps to keep costs down. I started by roughly working out where the clouds were going to go and then I started painting in the thousands of starts to adorn the sky. This is done with a mixture of flicking watered down paint to create the smaller stars and then going back over and hand painting in hundreds of larger stars to give the illusion of distance to make the sky look more realistic. Once this was done, I started to paint the clouds, using a range of colours from black, to grey, to white to make the clouds look three dimensional and as if there is moonlight reflecting off of them. In the background of the Gargoyle paintings we had painted a full moon, so I painted the clouds as if the light shining off of them was radiating from this moon. We were going to add glow in the dark paint to the stars, but due to the dim lighting in the restaurant this didn't really show up. Glow in the dark paint can look really magical when used on a night sky mural, but the room needs to ideally be completely dark to get the full effect. It took my three says to paint the stars and clouds and the client was really pleased with the finished look, so it made the neck and back pain from standing in weird positions up the ladder, all worth it! The restaurant has such interesting décor, it was a pleasure to help add to their overall theme. If you get the chance to visit at Halloween, I would highly recommend it, as they go all out with their decorations and this year I think with their newly painted sky, it will make it even more dramatic!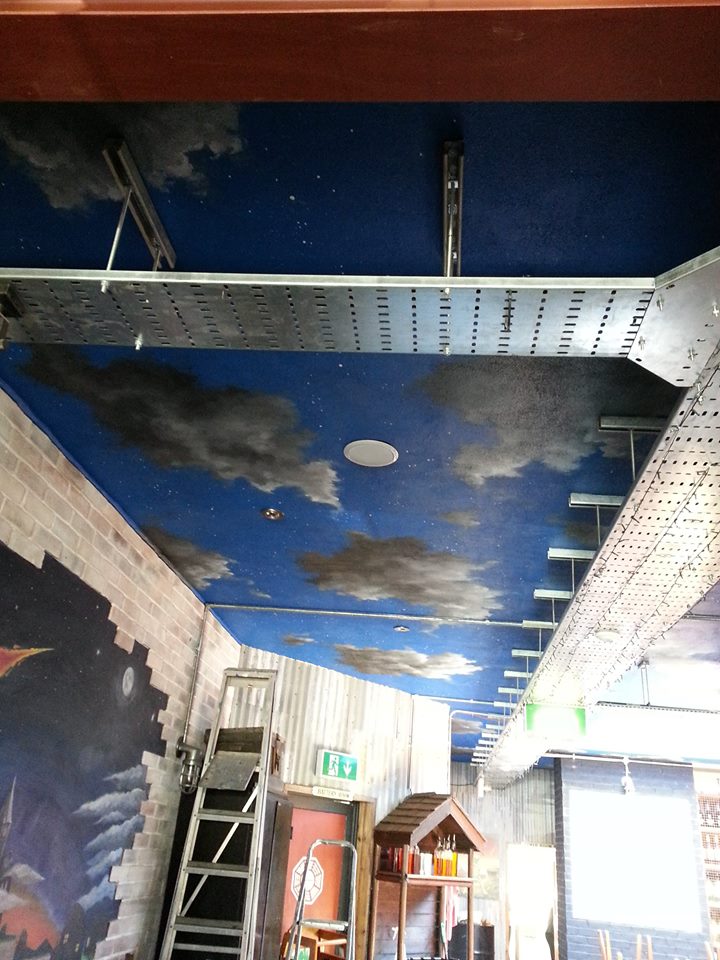 We have some school work coming up in the next month which Dean will be helping me with and also an exciting project involving Canterbury College as well as a Lego Batman room (!!!) and the outside of a pub.
As always, if you or someone you know is looking to have a mural painted, please get in touch, no matter how big or small the design! We can design murals to fit all budgets, with discounts for local work or repeat custom.
Until next time,
Jaime 
Categories: None