| | |
| --- | --- |
| Posted on May 4, 2017 at 9:35 AM | |
Hello,
Well, it has been an odd month or so here at Marvellous Murals. Dean made the move to Wales at the beginning of April with his family and it's been a bit of a learning curve for me, still in Kent. I think Dean's settling into the zoo life, though I imagine it's been a bit of a shock! But I've no doubt that over the next few months they will get firmly into the swing of things.
A few years ago Dean painted a lovely colourful bee mural at Milton Creek Country Park. Unfortunately this recently suffered some fire damage, so after the affected panels were replaced I went to Milton Creek to repaint the new panels and to freshen up the rest of the mural (as it was painted onto wood it was never going to have the same longevity as the murals that we paint onto walls). I painted this whilst there was a fun day at the park, so there were lots of people enjoying the sunshine and I got many lovely comments from children who were very interested in what I was doing. I tried to make it as much like the original mural as I could and after a day it was all touched up and good as new.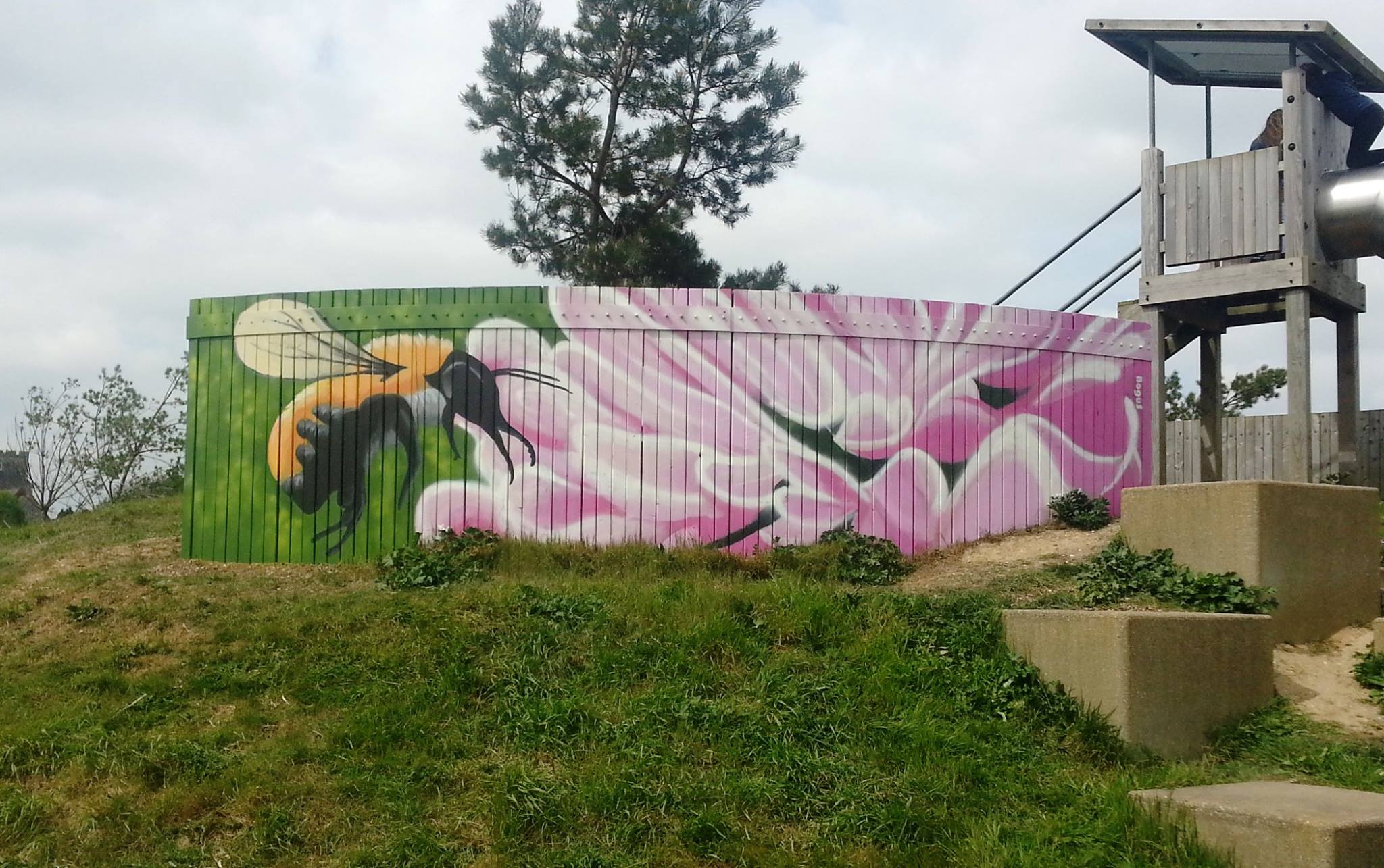 Next we had a job up in Ipswich for a family who wanted a large blossom tree painted in their home, spanning both floors. They took inspiration from the tree in the film Paddington, but wanted it adjusted to fit in the space that they had and for the colours to reflect the spring time colours in their garden (rather than the deep red of the tree blossom in Paddington). My car radiator hose decided to blow up a few days before having to travel to Ipswich, and due to it being a bank holiday I was unable to get it fixed. Luckily my very talented little sister, Sophie, happened to have a week off between changing jobs and so kindly offered to drive and to help me paint the mural, meaning it would only take four day rather than the eight it would have taken me on my own. Sophie is an amazing digital artist and has contributed to the hugely popular Romantically Apocalyptic online comic, so I knew she'd have no problem helping me out. The family we worked for were extremely welcoming and happy to let us paint what we thought would look best. After a little planning out the design we began to start work, chalking out the outline of the enormous tree that covered two floors and almost three walls on each floor. Once we were happy with the rough shape of the tree, we mixed up a paint that was similar in colour to the wood used throughout the house and began to apply the undercoat. This took up most of the first day, but once this first coat was applied it gave the clients and ourselves a better idea of how the finished mural was going to look. On day two we applied a second coat to the trunk and branches and also started to extend some of the branches around the first floor hallway. I began to add texture to the tree whilst Sophie finished painting in the thinner branches. On day three I started to add the blossom (we started with a vibrant pink that imitated the blossom trees in the clients garden, then toned this down with two more shades of pink to give a natural looking variation of colour) and Sophie started to paint some pretty nightingale birds in the down stairs hallway. The client wanted some birds added to spread the design out across the other walls, so we chose to paint nightingales as they are often found in Suffolk and their soft brown colour fit in well with the brown and pink colour scheme. Once Sophie had finished painting the birds she helped me with painting the hundreds of individual blossom flowers. I think by the end of the third day our eyes and hands were a bit blossomed out, so after a big meal, a walk in the countryside and a good sleep in our Travelodge, we returned for the fourth and final day to finish painting the blossom and to touch up anything that needed it. The client was very happy with the finished mural and would like us to return again in the near future to paint another smaller tree going up their staircase and to add a few more birds and wildlife to really bring the countryside into their home! Sophie won't be helping me next time as she recently started a new job as a Veterinary Nurse in training (artistic talent and brains!), but it was a great privilege to get to work alongside my sister for a week and to share the creation a piece of work that made our clients very happy .
Last week I painted a Jemimia Puddle Duck mural for two little twin girls for their bedroom in Sheerness. The room was painted a pretty pale pink which was perfect to paint the mural on top of, so I could get to work straight away. We decided to paint a whole scene from the Beatrix potter books rather than just the character, as this added a bit more colour to the room and made the mural more of an eye catching feature. It took me one day to draw this out and paint it. The little girls loved the finished mural and their mum was very happy too!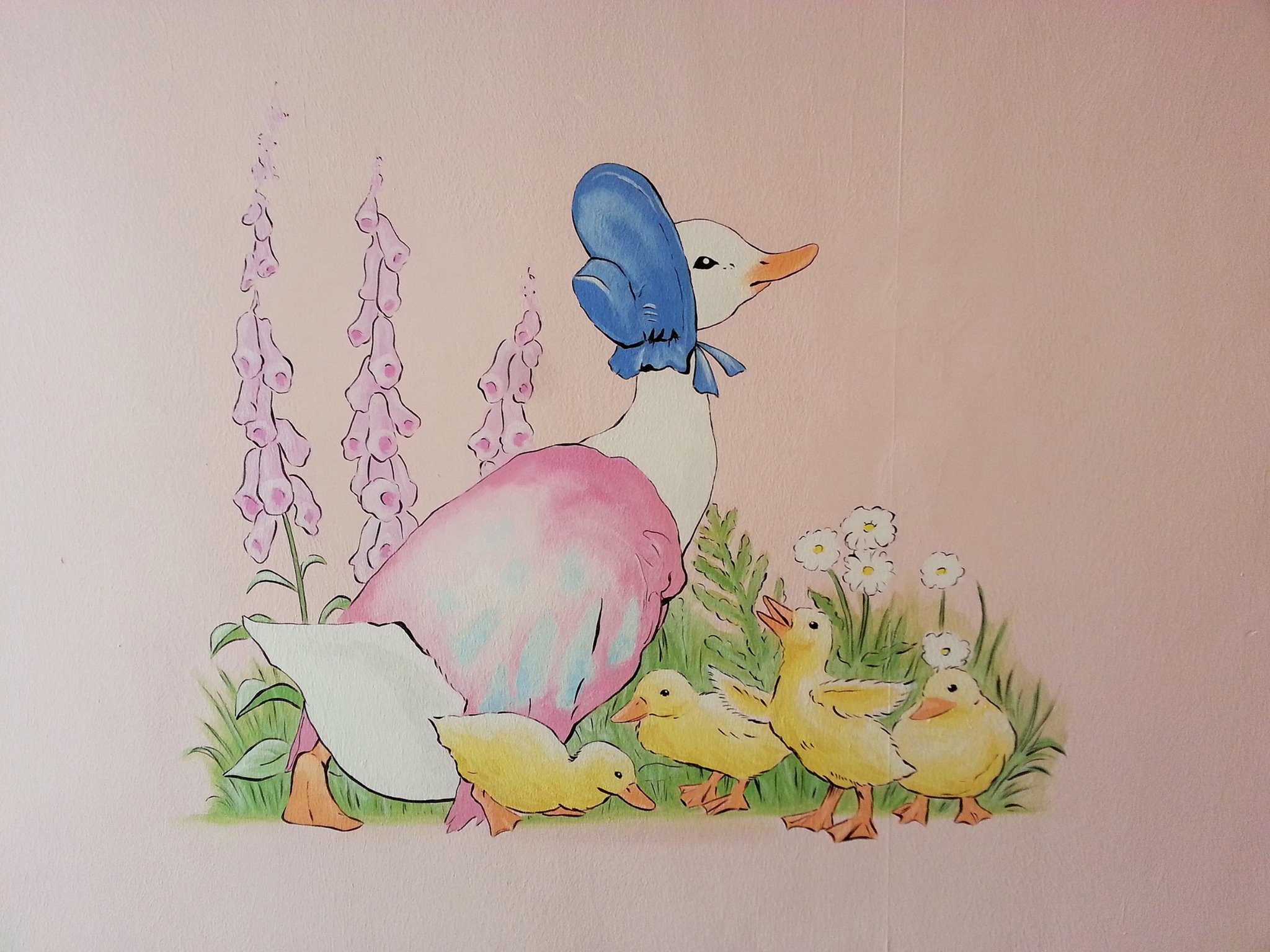 On the horizon we have a project for Demelza house and some school murals and private homes to paint. Dean, once settled into the zoo, will be back painting murals in Wales (and I'm sure their zoo will be covered in magical murals very soon!) and he will also be travelling back to Kent to help me and to other parts of the country, so if you would like something, please get in touch!
Until next time,
Jaime
Categories: None