| | |
| --- | --- |
| Posted on April 10, 2017 at 11:20 AM | |
Hello again,
It's been a bit of an unsettled time here at Marvellous Murals, as Dean and his family are currently in the process of moving to Wales because they bought a zoo! Dean will be mostly located in Wales from this point, but will still be popping back to Kent from time to time.
In March we managed to finish off the garden underpass mural that we started last November in Wokingham. We had to put a hold on things just before Christmas as the weather was not on our side and the temperature dropped so much that we couldn't apply the anti-graffiti varnish. We waited until Spring and once the weather had begun to improve, we headed back to Wokingham to check on the mural and to complete the last section, before coating with anti-graffiti varnish. Unfortunately, over the previous few months a lot of graffiti had been drawn over our work. This was initially quite disheartening (and the very sort of thing that can be washed straight off had we had the weather to apply the varnish) but it actually only took us about a day to undo the damage and repaint little bits here and there. Once this was done we could complete the last section of the mural and paint the handrail coming down the stairs. We then spent a few days applying two coats of anti-graffiti varnish to ensure that any future damage can be easily removed. It was a great relief to get this mural painted and varnished, as it had been a bit of a tricky job for us and it was so nice to see it complete and brightening up a dreary underpass.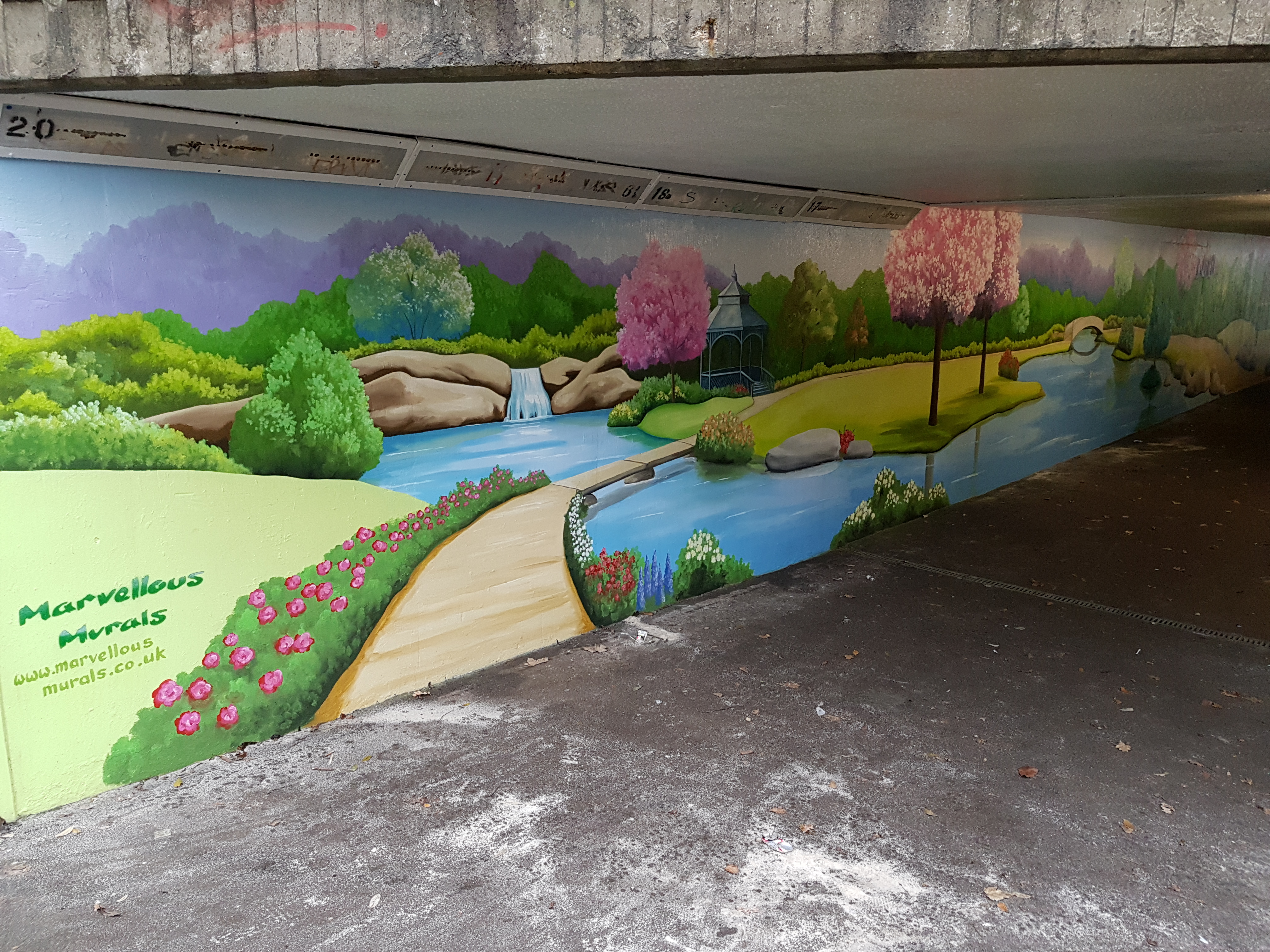 Next we did some sign writing for Smokey Joes, a bar in Maidenhead that we have previously done some other work for, for their refurbishment. They wanted the bars name/logo painted on a large exterior wall on their rooftop. There was quite a lot of measuring and adjusting to initially draw the design onto the wall in chalk. With signwriting you have to make sure that the spacing between letters is equal, and that all lines are the same thickness etc or it throws off the whole font. Once we had the basic outline complete we could start masking taping some of the straight edges (which is a whole other feat in itself, let me tell you… Especially on a slightly windy day!) and then we began to paint on the wall in black masonry paint. Due to the fiddly-ness of lettering, this took us two days to complete, but it looked very effective and is a great use of otherwise unused space.
In the week before Deans move we painted some lettering at Riverside school in Rainham. We have done a lot of work for this school and they always make us feel very welcome. This time they wanted the school motto and values written in the school reception, around the top of the room and above the main entrance to the class rooms. Dean helped me to project and draw these out on the first day, but then he needed to do some packing, so it took me a further two days on my own to complete. Again, lettering is very time consuming as you have to ensure that you have a steady hand and that the letters are all straight and the same thickness! They also need about three coats of paint, especially if painted in a colour like burgundy as reds always tend to need a few more coats than the other colours. I quite like doing lettering though; I find it very satisfying to finish but also a little excruciating to paint!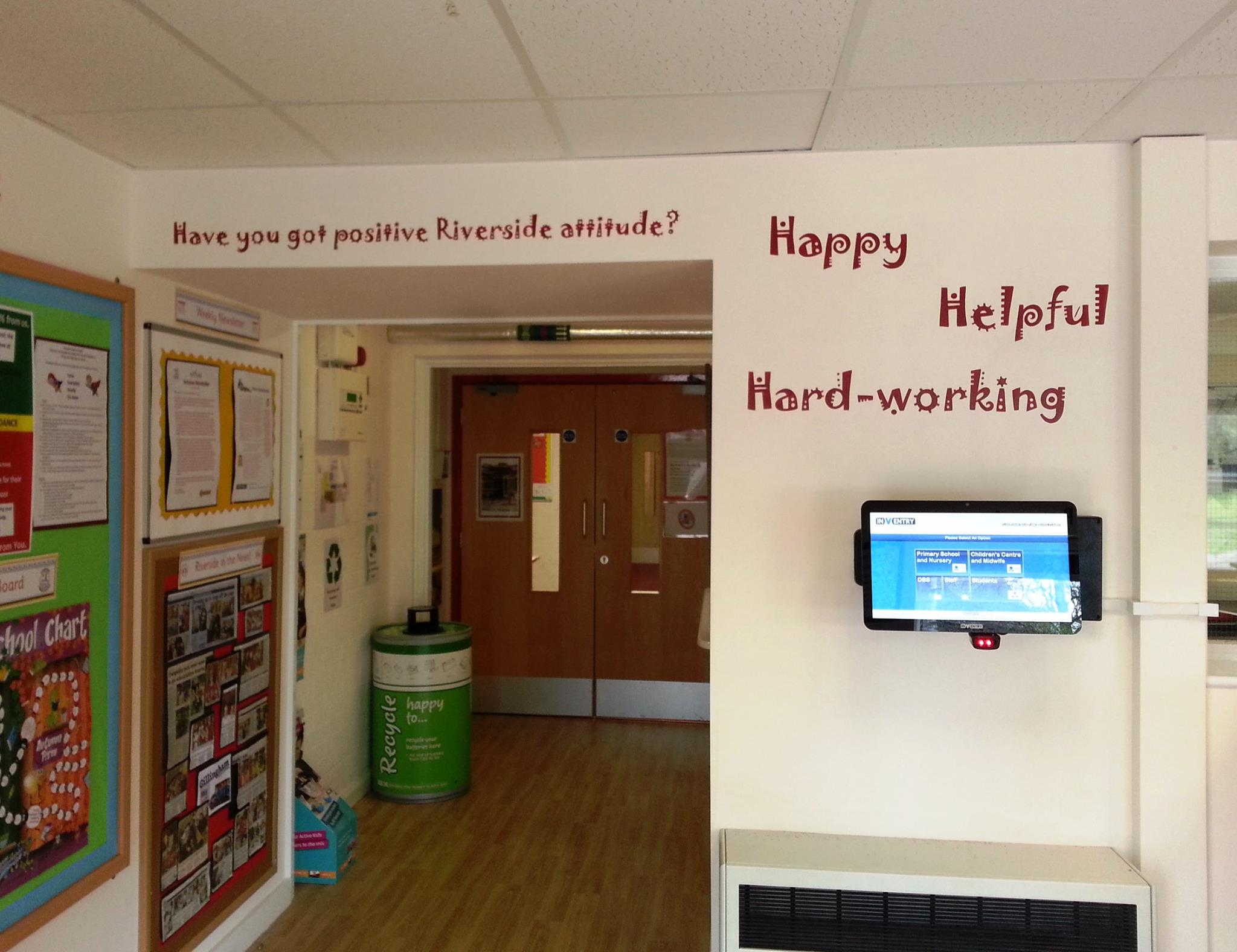 The day before April Fools day, Dean and I created a piece of 3D chalk art on a large piece of paper for the Forum Shopping Centre in Sittingbourne. They wanted what looked like an archaeological dig that happened upon a Roman statue. To create works of art like this you have to draw the subject slightly elongated so that you can stand at a certain point and it will look 3D. We did this by projecting the roman stature face at an angle and then drawing the 3D hole free hand, by directing all lines towards the viewing point. Once this was finished it was placed in the middle of the shopping centre on the floor with hazard tape and barriers around it to set it up as an actual archaeological dig. It looked very effective and was shared over social media with lots of people taking their picture by it.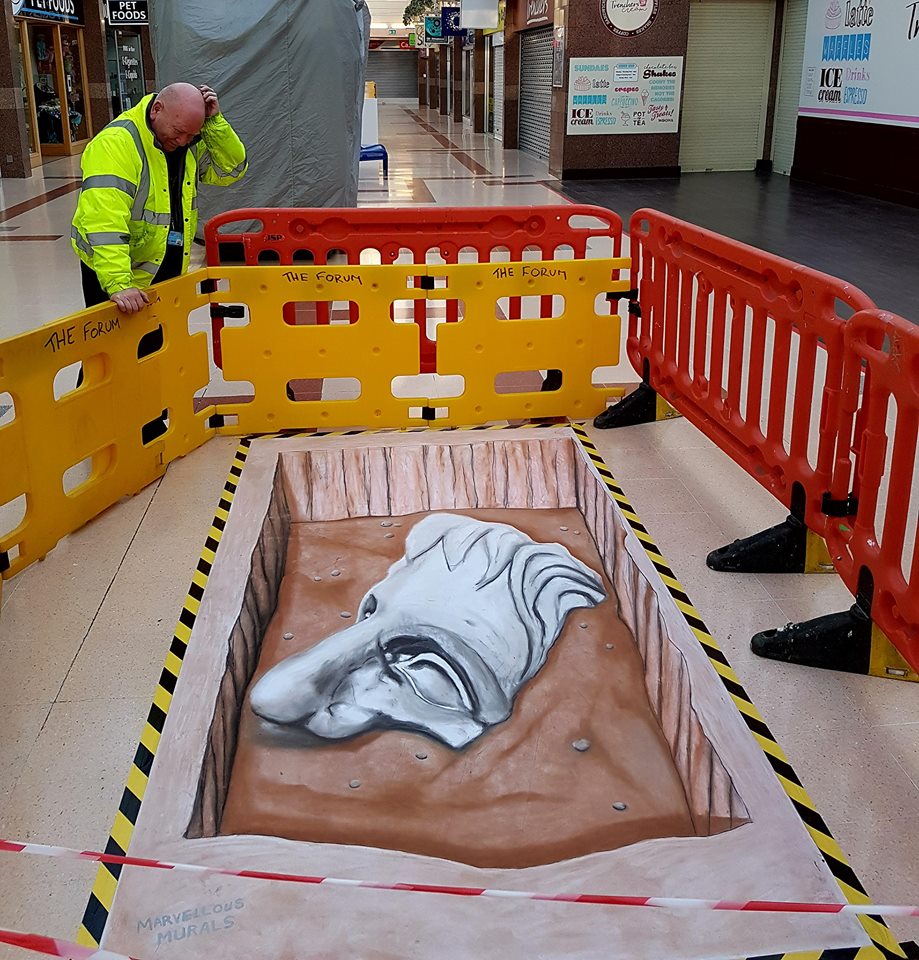 Deans last official day in Kent was on Monday the 3rd of April (I say official, but he'll be back and forth), so last week I was doing a nice job on my own for a lady in Sittingbourne whose son was mad about American Muscle cars and she wanted me to paint a Dodge Charger in his bedroom as a surprise. It took me two days to paint, but her son was very pleased with the finished result (even if I was painting right up until half an hour before he walked through the door!).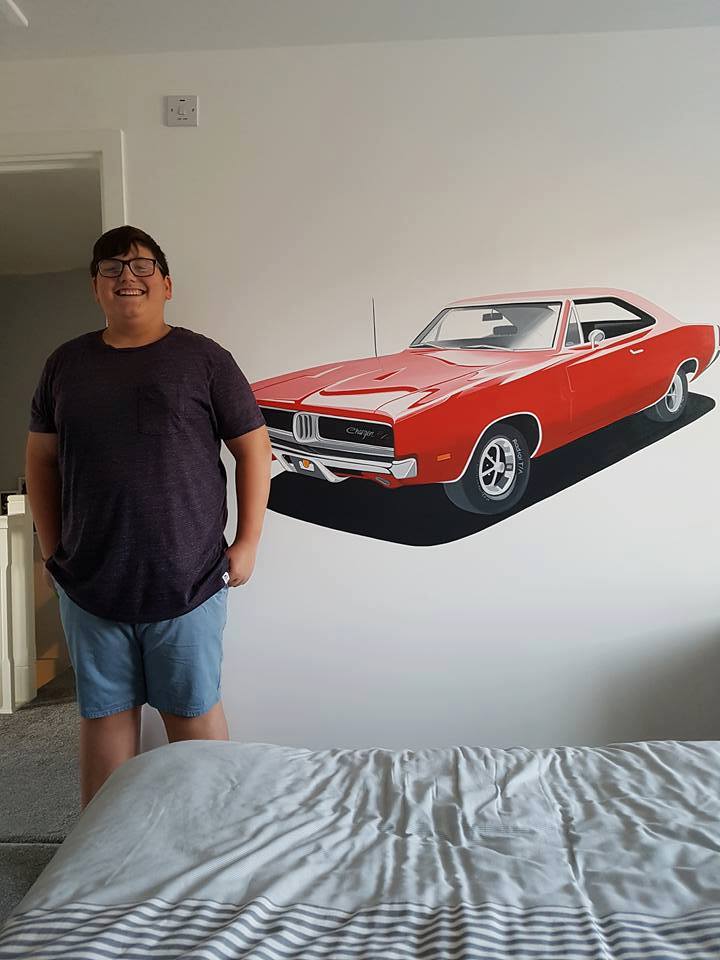 We are currently taking bookings for the summer, so if you, or someone you know would like a mural, then please get in touch! Some murals will be painted by myself and Dean, though we will be working separately now to cover Kent and Wales and all places in-between! If you haven't already, then please join our Facebook page to keep up to date with all our mural goings on and you can also find us on Pinterest!
I hope you all have a lovely Easter
Until next time,
Jaime
Categories: None