| | |
| --- | --- |
| Posted on August 30, 2016 at 10:40 AM | |
Hi everyone,
It's been a busy couple of months since I last wrote – I can't believe it's almost September! The year is just flying past.
After the Bowie Tribute we painted at the beginning of July, we went straight on to painting a bus stop in Queenborough. The bus stop was looking pretty tired, with flaking paint and vandalism, so we were asked to brighten it up and to make it relevant to the town and its surrounding history. Firstly we had to sand it down and clean away all the cobwebs (my least favourite) and then using two different shades of blue metal paint, we painted the top half of the bus stop a pale blue inside and out and the lower half a deeper blue, again, inside the bus stop and on its exterior. Once this had been given two coats Dean added some texture to the sky and sea with spray paint and I went to Milton Creek Park to prepare some wooden poles for painting at Art in the Park the following week. Next we made some stencils, a few for the waves and a large stencil for the fishing trawler. As this was so big it was quite flimsy, but with a lot of tape and strategic hand placement we were able to spray the design onto the bus stop. Including making the stencil this mural took us four days to complete.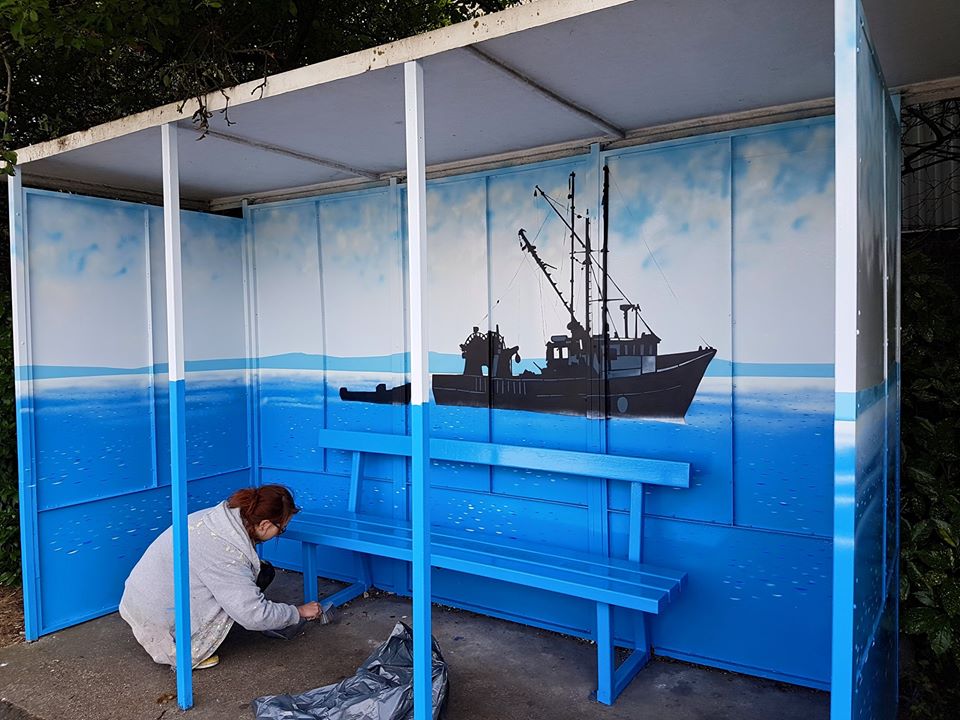 Next we painted a trompe l'oeil garden scene onto a garage wall in Horsham. There were lots of bright colours in this which really brought the dull garden space alive. The weather was a little temperamental but we managed to get this mural completed in four days.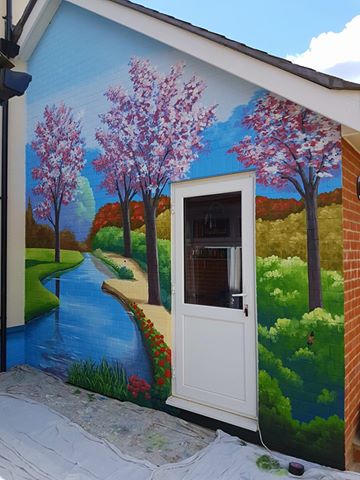 The Sheppey Promenade Arts Festival took place on the week beginning the 18th of July. There was a lot of miscommunication between various groups, meaning we started the mural and then got asked to stop until relevant permissions were in place and then we were able to start it up again a day or so later, but this meant that the design wasn't quite as detailed as we were hoping, but at least we got it into a state of completion in time for the end of the festival. It is painted on the back of the leisure centre near Sheerness Sea front and celebrates the first powered flight in the UK by a British pilot, John Moore-Brabazon, May 1909, Shellness, The Isle of Sheppey. If you find yourself down by the sea side, why not go and take a look.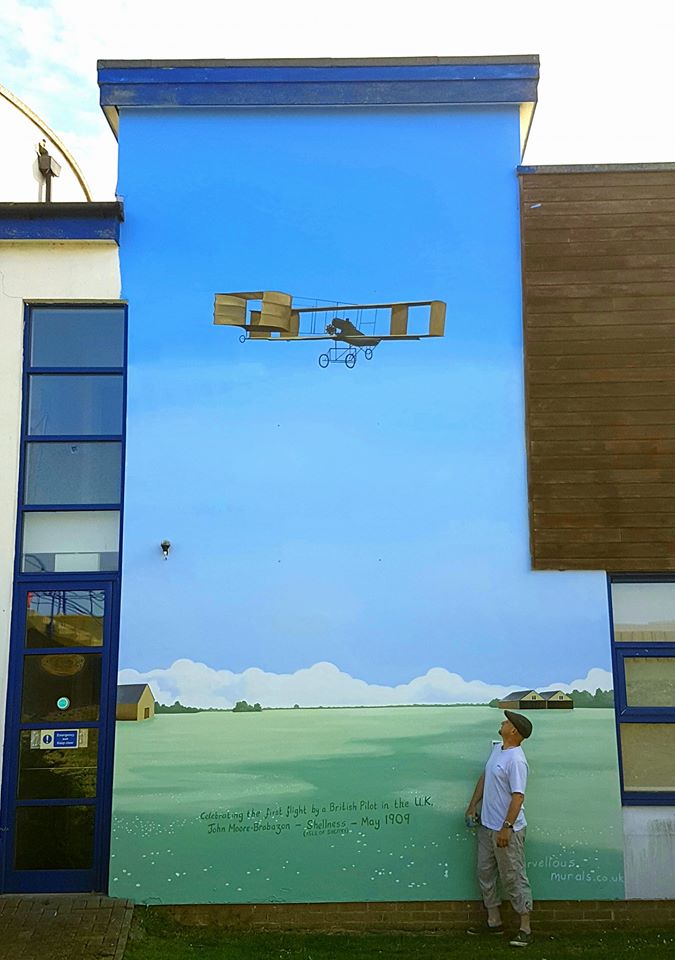 At the end of July we went off to Oxfordshire for nine days to paint a whole room mural for a little boy, based around the theme of Disney Cars at night time. We started off by deciding where all the main features of the room would be placed and how this would all work together and where the characters would be situated. Once this was sorted, we began to draw it out, roughly sketching out the background. I began by painting the ceiling and top section of the walls a deep blue. Once this had two coats we could start adding the stars! This is a mixture of flicking, splatting and hand painting thousand of stars which can be relatively time consuming, but the results always look very impressive. Once this was done, dean started painting the scenery and back ground, including a Japanese street at night, the town from Disneys Cars the movie all lit up with Neon signs and the Tow-Mater sign . I painted the desert floor which was a little tricky when it came to painting straight lines over the bumps in the wardrobe doors. Once this was done I started work on the characters. This room took us nine long days to complete but was so worth it to see the little boys face light up when he saw it finished and his room was cleared of dust sheets and paint cans!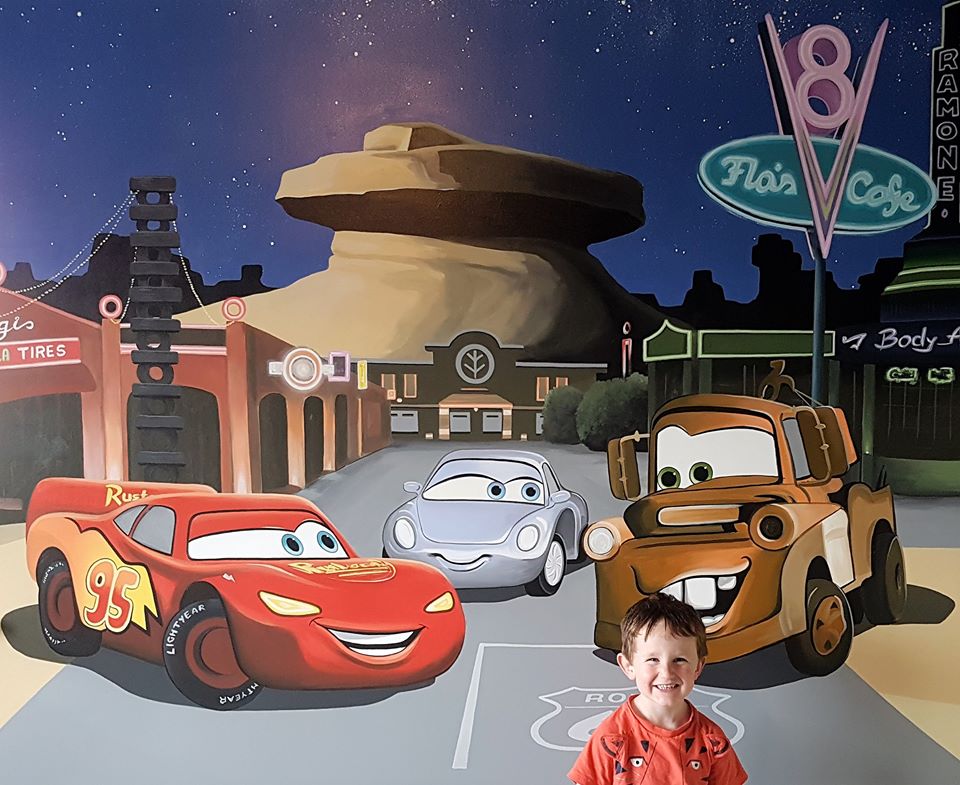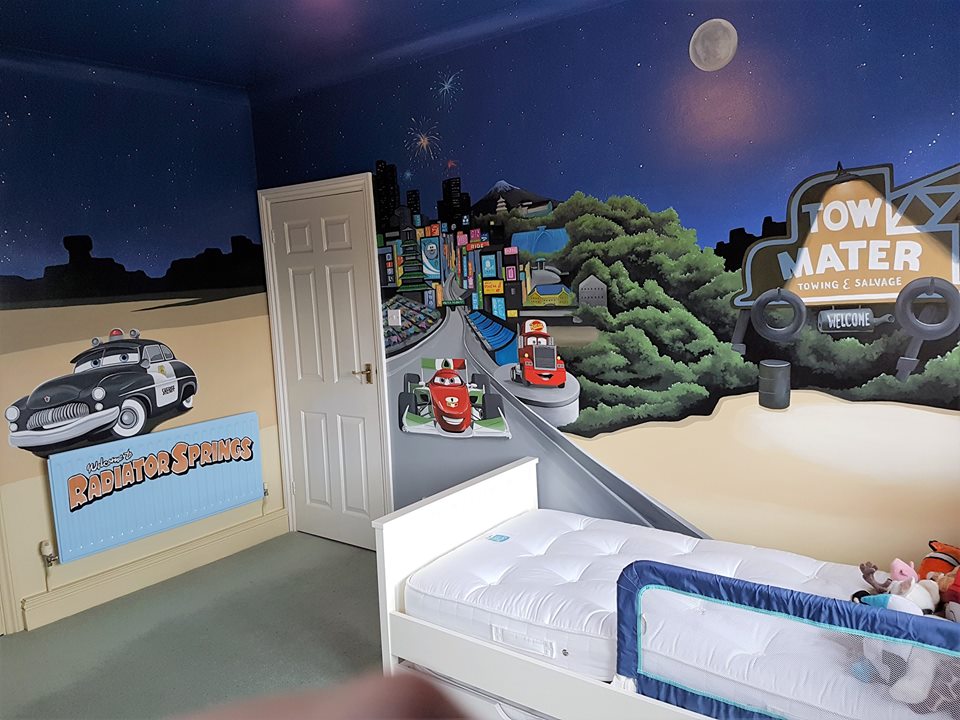 Next up was a pretty mural for a little girls nursery of the iconic Disney Castle with a rainbow over head in a field of giant roses. Dean focused on the castle while I painted the roses and we got it completed in three days. I was really worried about the roses whilst I was painting them as I hadn't ever painted flowers of such a large scale before. Lots of people had nice comments to say on the facebook post and that really helped boost my confidence.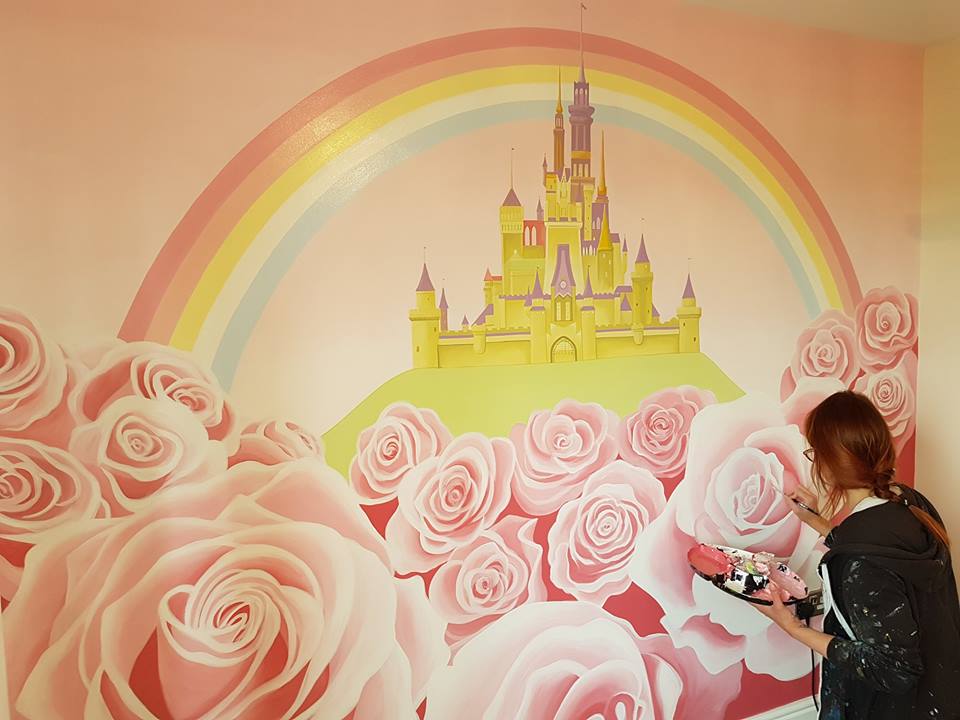 Our friend Sioux Peto was organising a children's festival at Murston Old church, so we went along to paint brightly coloured children's character designs on some dull grey concrete bollards at the entrance. This really brightened up the space and a fun day was had by all who attended.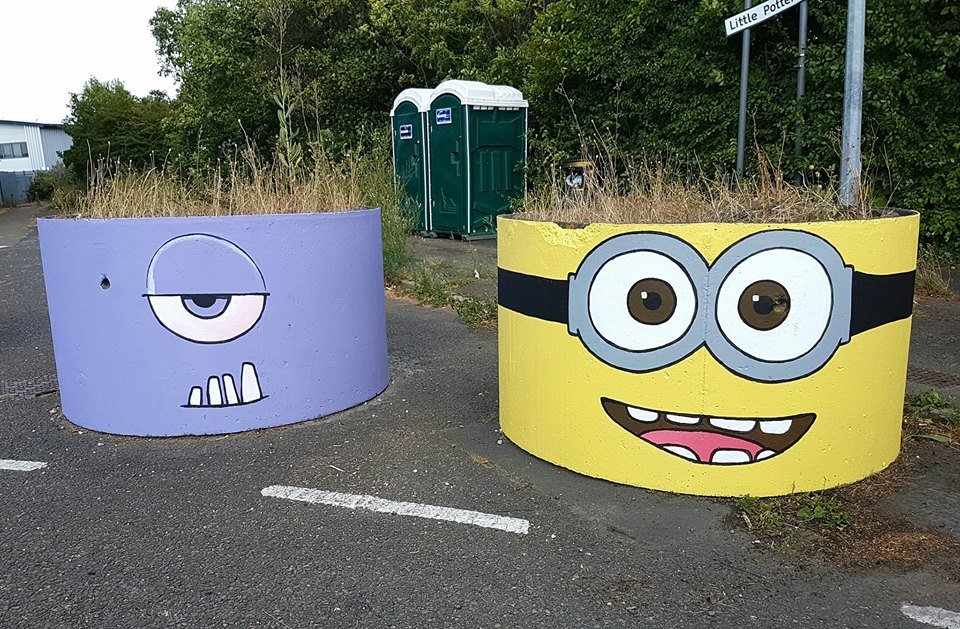 The most recent job we have completed was painting murals at Loxford Primary School in Ilford. They wanted foive murals painted before the children came back from their summer break. We had some help from the talented Nazine (who has chalked the Nightmare Before Christmas themed art work for the past two years at Chalk It Up! Sittingbourne Chalk Art Festival, with her two sisters – which they will be adding to in a couple of weeks time) to ensure that we got the work completed in time. Dean started on the Solar System mural and also drew out the We're Going on a Bear Hunt mural whilst Nazine and I painted a children from around the world themed mural near the entrance to the school. This took us two days to complete, by which time the scissor lift (these murals were going up to 50ft so we needed a little assistance!) had turned up for Dean to make a start on the Jack and the Bean Stalk and BFG Murals. Meanwhile, Nazine and I painted the Solar System mural. This was fun as I love space and the planets and I also really enjoy hand painting stars, despite it being pretty monotonous! This took us about three days to paint. The Jack and the Bean stalk and BFG murals were pretty much left to Dean, whilst Nazine and I painted the We're Going on a Bear Hunt Murals. This was actually five murals that depicted one image from different pages in the popular childrens book and went along one side of a long corridor, ending with a big painting of the bear in question! It took us two weeks to get all of the murals completed, which isn't bad going for five murals, two of which are over 30ft.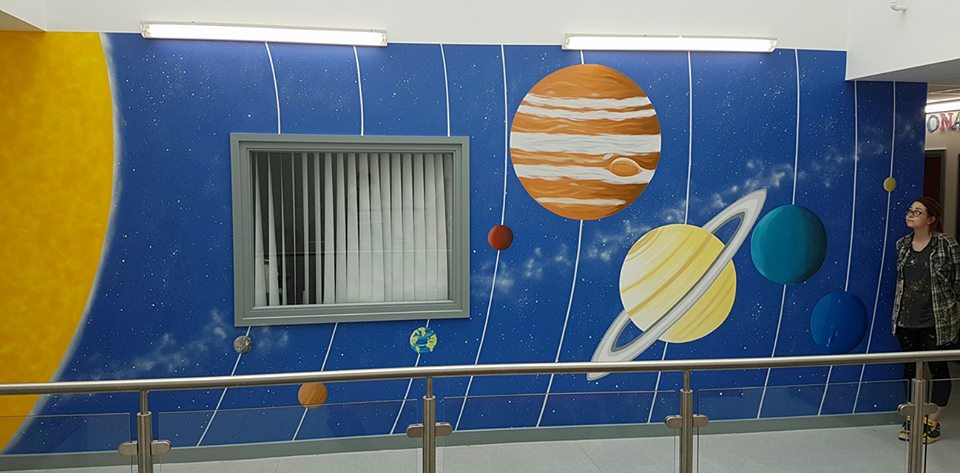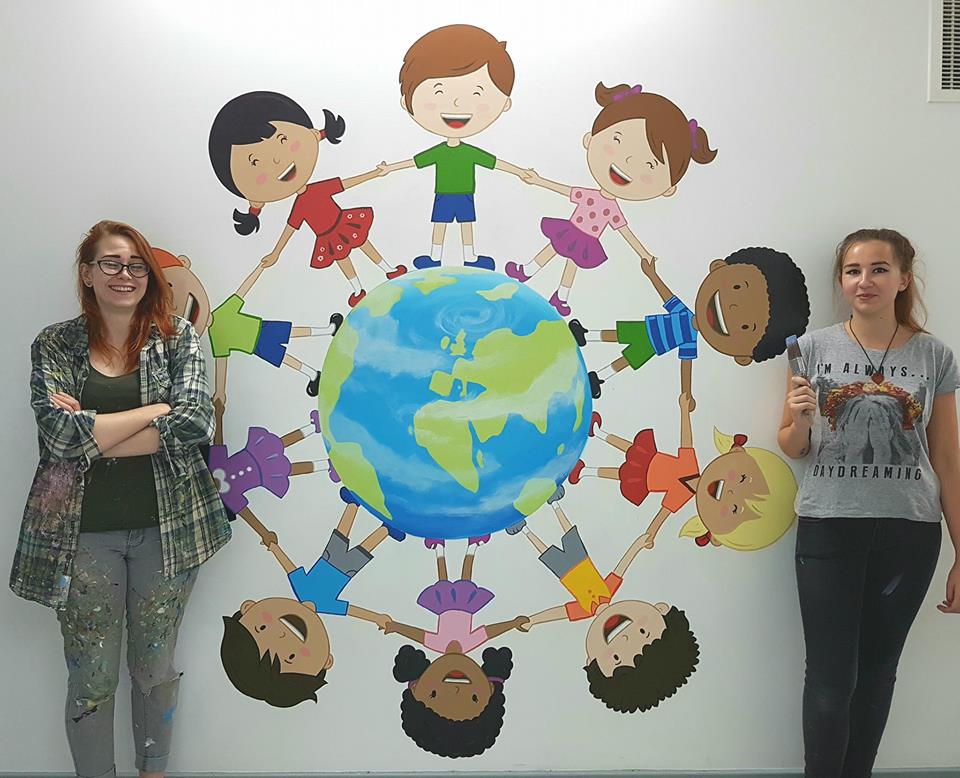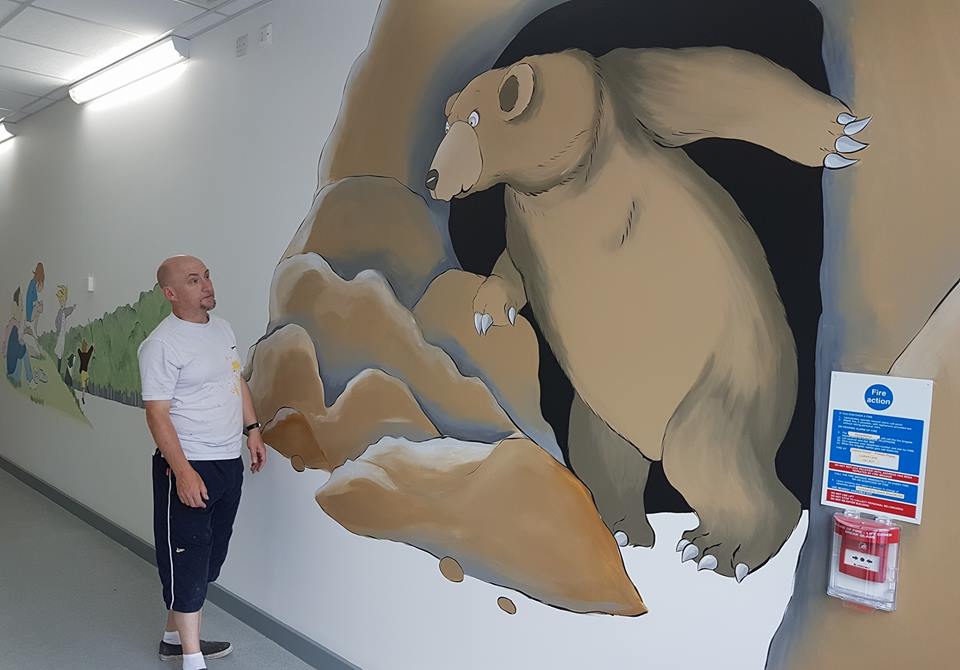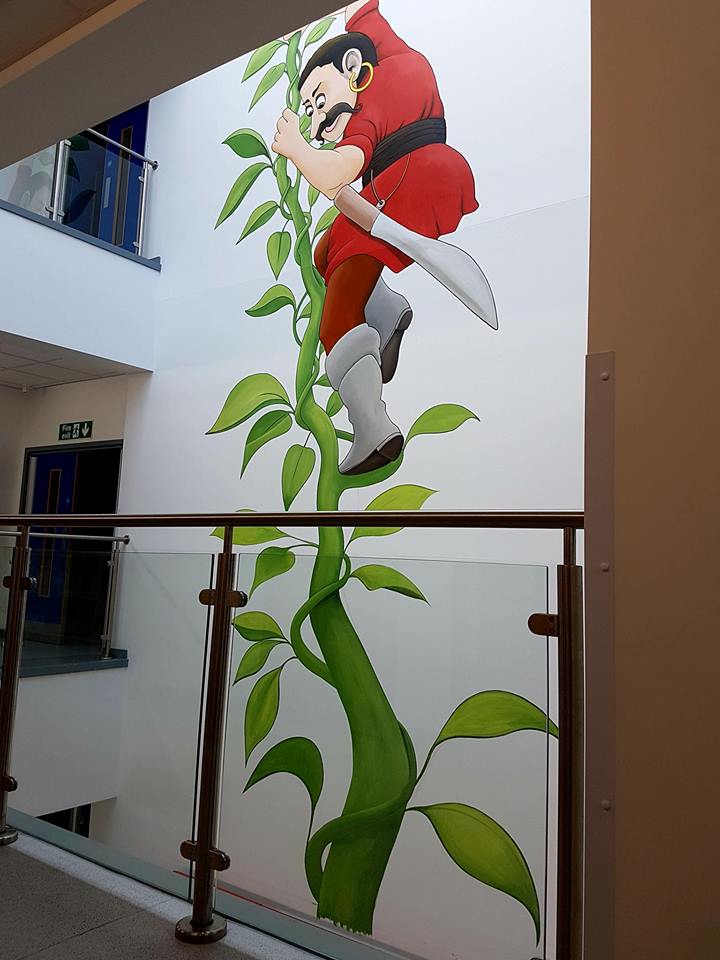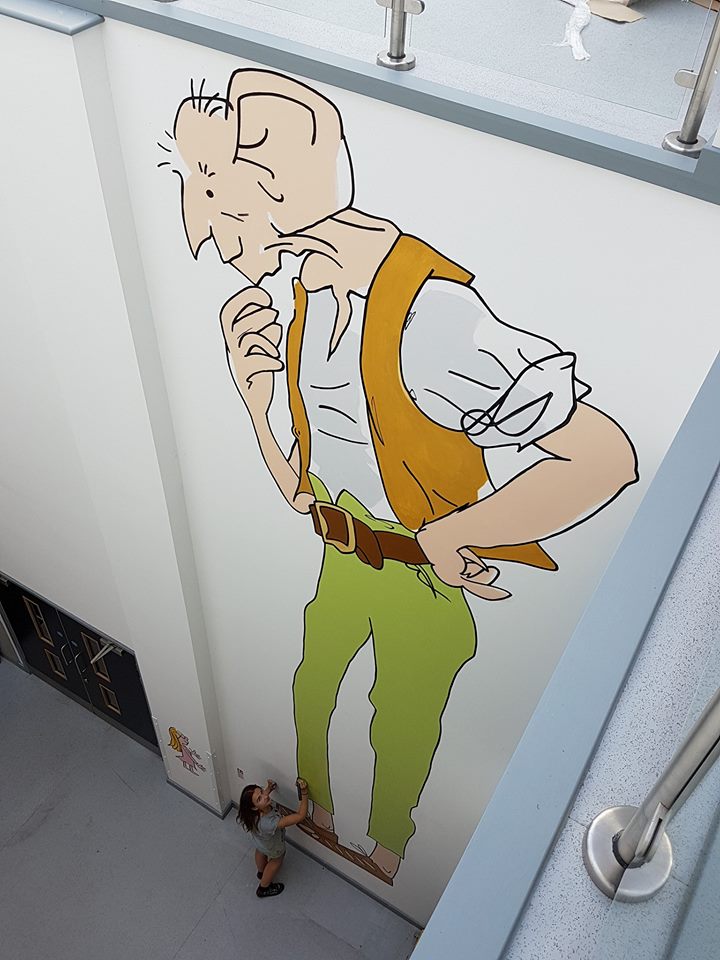 This week we are doing a mural painting workshop with Young at Art at Nucleus Arts and then we are setting up for an Exhibition that Dean is a part of at the Pie Factory in Margate. If you get a chance, come down and see all of the awesome work that will be on show.
Not long now until Chalk It Up! Sittingbourne Chalk Art Festival 2016. You can still be involved if you would like to try your hand at chalking, just go to the link and sign up for your own bit of wall or floor space on the day with all materials provided. Or, if you would rather be an observer, the festival will be running from 10am-4pm On Saturday the 10th and Sunday the 11th of September, which lots of things to see and do! We hope to see you there.
Thanks for reading,
Jaime.
Categories: None