| | |
| --- | --- |
| Posted on July 5, 2016 at 6:45 AM | |
Hello,
Well, it's been a busy couple of weeks! To begin with we finished off the 'family tree' that I mentioned at the end of the last blog. The owner was really happy with the results as the colours matched her decor perfectly and the quirky design and idea to hang family photos over the tree added a personal touch to their home.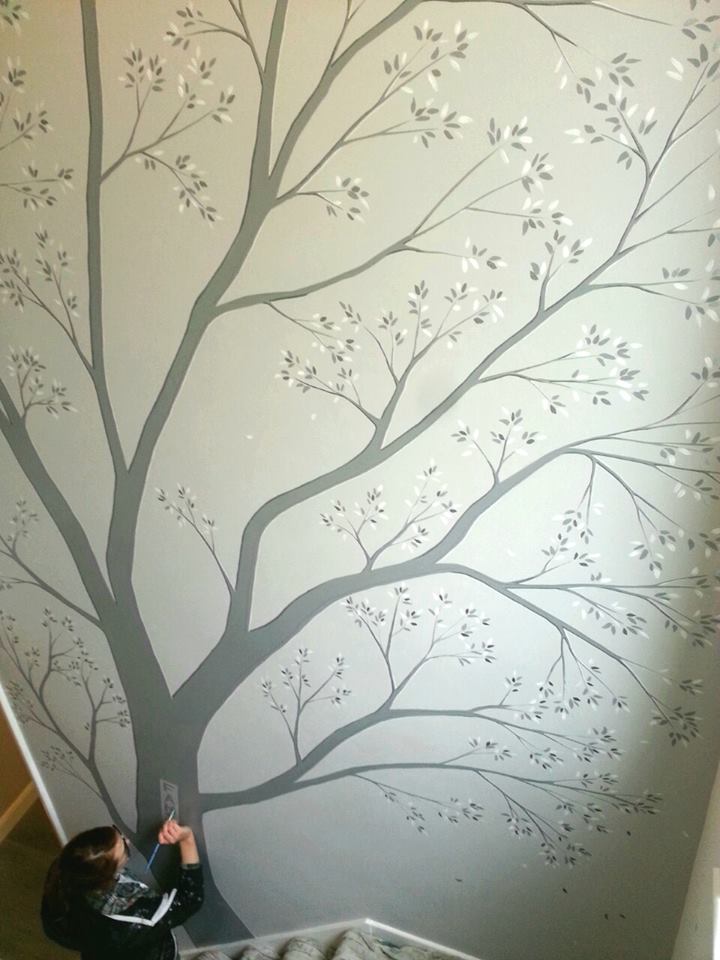 Next we went to Blackfen School for Girls, where we helped a sixth form art class produce a community mural based around the idea of Growth Mind-Set. In the weeks leading up to the week of producing the actual mural, we had a couple of sessions and workshops with the pupils. We started by telling them a little about street art and about ourselves and how Marvellous Murals works as a company, explaining the idea of working to a brief for clients and also how to get funding and to pitch an idea. They then had to do some research of their own and give a talk to the heads of their school pitching the idea of a community mural in their school and how they would work to the brief set and the ways in which a mural would benefit the school. We then had a few more sessions with them working through their design ideas, suggesting how to make the most of their designs and what ideas to focus on. Each student had to come up with four concepts of a design based on growth mind-set (growth mindset by the way, in case you're scratching your head just like I was, is the idea that people should believe that their most basic abilities can be developed through dedication and hard work—brains and talent are just the starting point. This also encompasses ideas such as failure being essential for success). Once the students had developed their strongest ideas these were then put to a vote throughout the whole school and the community would chose the final image to be made into a stencil and sprayed onto the mural. The school also held a vote to decide on an inspirational line of text to go above the mural, furthering the growth mindset theme. After having Three or four lessons with the students, we then went into the school for a week to prep the wall, hold a stencil making workshop with each of the students, and finally help them with producing the background for their artwork and to spray the stencil. Whilst Dean worked with the students to cut out their final stencils, I rubbed down the wall and gave it an undercoat of white masonry paint. Some of the sixth formers came and helped me with this, just to get a feel for the entire process (though after about two minutes of painting white onto a lumpy wall, most of them gave up with exclamations of being bored... but you know, at least they tried!). I then sectioned the wall off with masking tape into twelve metre squared sections, one for each of the students. Once this was done, the students started to come down and work of the backgrounds for their squares. Some wanted single block colours, where as others wanted colour gradients and texture. This was mainly done with masonry paint, with some of the texture being achieved with spray paint. As their teacher wanted them to have a hands on experience, I was just there to oversee the work and check everything was being done safely, to help if required and to give advice. This was very strange for me and I felt extremely lazy just watching other people do the work! Once all the backgrounds were completed I touch up anything that needed it and then dean started to come down with the students and their finished stencils. Due to the size of the wall, only one square could really be worked on at a time otherwise people would just get in the way of others, so this was a relatively slow process, with some pupils having multiple stencils and colours, but everyone was really pleased with the end results. There were a lot of positive comments from passers by, which I thing encouraged the students and gave them confidence that they may have been previously lacking. It's a scary thing putting something you have designed and produced into a public forum. I remember the first time I exhibited some of my work, you just feel so exposed and self critical, especially if the media is new to you, so the kind words of their peers would have really helped the students in this formative and perhaps first time experience. Once the main mural was completed, and we had added some finishing touches, Dean and I made stencil for the writing at the top and then sprayed/hand painted this onto the wall. All the students were really proud of themselves and each other and it was really lovely to be a part of their experience and to help them feel more confident about art and their own abilities. I think they got a lot out of the whole process, not just the practical final week but also the theory leading up to it.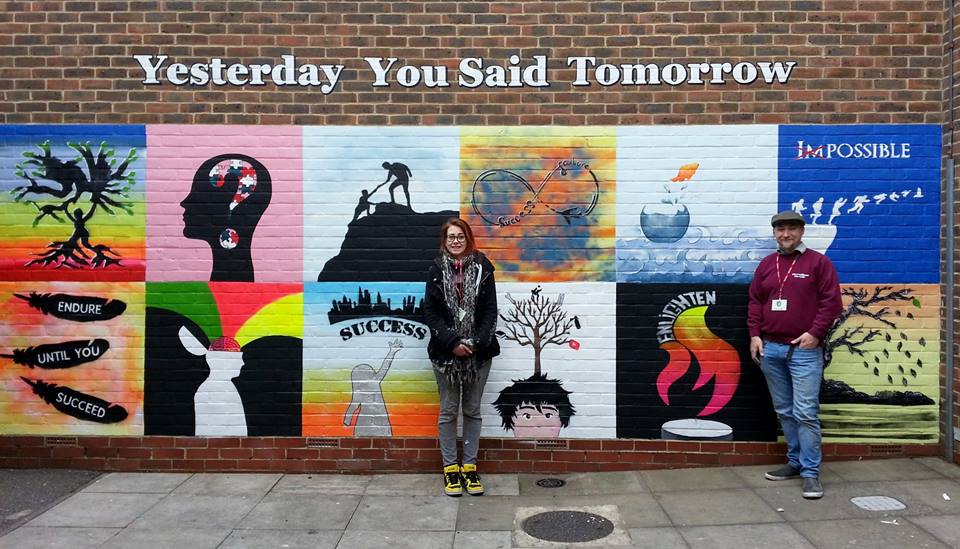 Next we had a nice little job painting some decorative names in a playroom for a little girl and boy. Their parents wanted the names to be a piece of art, rather than just text on the wall, to add personality and fun to the room. For Noah, they wanted bright colours and strong shapes and for Imogen they wanted pretty but not too girly, something that would last them through to their teens. I painted Imogens name, whilst Dean Painted Noah. These took us two days to complete due to the amount of detail in each name. We also finished them both off with some pretty gold glitter.
Our next job was a big one. A huge one in fact. The size of a house. The gable end of a house in Whitstable to be exact. We were painting something for the Whitstable Biennale. A lovely lady called Katie had offered up the side of the house she rented as a possible location for a mural for the arts festival. The wall was in particularly bad shape, with a crumbly render that had been carved into by hundreds of youths with names, and words and pictures you might not choose to have on display by a children's play park. We had gotten permission from the land lady and the council, so then the only thing to address was... how were we going to reach the top? And also, how were we going to get this done in a week? Well, the answer was with a hired boom lift, our trusty scaffold, some creative ladder usage, and some help from a brilliant artist called Rebecca who also lives in Sittingbourne. We started by rubbing down the wall to get any loose sand off of the surface, we then applied a stabilising solutions to help hold the wall and to prevent the mural from crumbling off over time. Once this was dry, we could undercoat with white masonry paint. However, at this point, we had not received the boom lift, so we could only paint up as far as the scaffolding would take up! The next night, Dean returned to project the image onto the wall and to paint a rough outline so we had something to work with. We decided to paint a mural of a little girl fishing for oysters, as Whitstable is famous for it's oysters. It would be called 'The Oystermans Daughter'. Next, it was just a case of undercoating big sections and getting a first coat of paint on the wall which we could then work detail into. The boom lift arrived on the Tuesday, so we could then stabilise and undercoat the top section of the wall and then draw the outline onto it to begin painting. I went up in the boom lift twice. I think I've mentioned before that I used to have quite a problem with heights (notably when I got frozen to the spot and burst into tears whilst on the viewing platform at the Eden project. Not a highlight of my life thus far...) But I think I've come pretty far. Well, I thought that until I went up in the lift, and my legs turned to jelly. It was really quite high and wobbly, and I could stand the sensation for about 10 minutes at a time, but I was thankful to be on solid ground after wards. Dean spent most of his time up in the lift and I'm not really sure how he did it without vomiting, but someone had to paint the very top of the wall! As he worked on the highest point, I painted the pebbles at the bottom, which was far more comfortable and better for my heart. Gradually over the next couple of days with Rebecca's help, the mural started to come together and lots of people commented on how it had brightened up an area that sorely need it. Dean added the finishing touches and called it a day at 7pm on the Saturday, just before a huge storm rolled over the coast.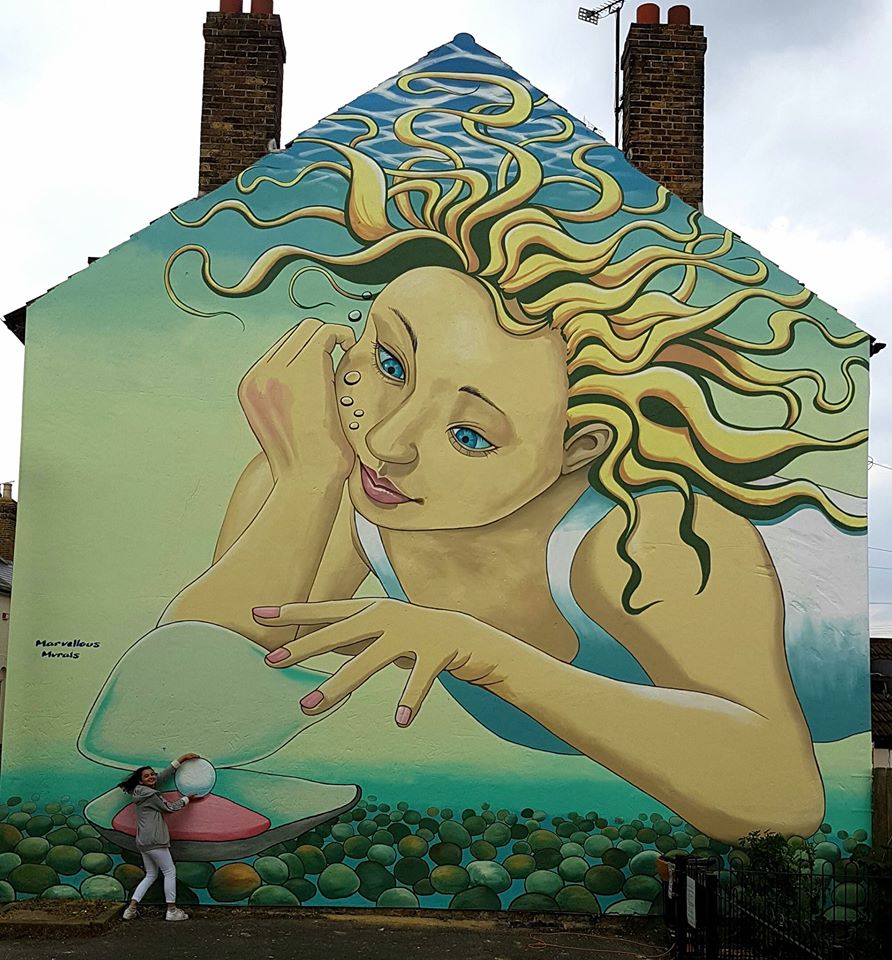 Next was a smaller scale job, painting a youth shelter in Halling. The shelter had seen better days and was rusty, dirty, worn down and covered in graffiti. We started by sweeping and brushing cobwebs and spiders and rubbish out of the shelter and then began rubbing down the whole surface, inside and out, with sand paper and wire brushes. I should have worn my mask, as for the next couple of days I had rust coloured stuff coming out of my nose. Which was a delight. Once this prep was all done, dean started work on the interior of the shelter, spray painting 'Halling' in big graffiti letters with a simple river back ground and I painted the outside of the shelter with black metal paint. We also painted the ceiling, floor and seating with a fresh coat of metal paint. On the Wednesday we held a stencil workshop with some kids from the youth club. They came along with ideas for stencils including things that Halling is known for, local wildlife and landscape and also their hobbies and interests. We then quickly drew up and cut these ideas as simple stencils, and the kids then had the opportunity to spray their design onto the inside of the shelter. This made the shelter something they could be proud of and have some ownership over as well as giving them a reason to prevent further unwanted graffiti and to look after the newly painted shelter. The next day we added some more to the inside of the shelter and also sprayed the outside with a leaf pattern to make it fit in more with the surrounding area and be less of an eye sore. We coated the entire shelter with anti graffiti varnish to protect it from further use and to ensure it looks well looked after for years to come. This project took us four days to complete.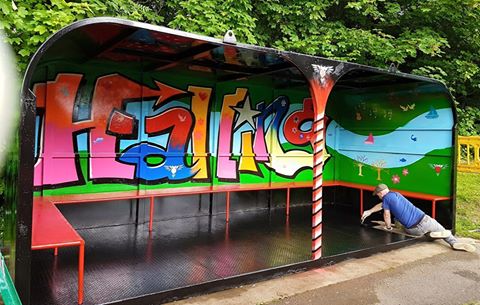 On the Friday we had a nice little job in Essex, painting a fox next to an existing blossom tree mural that we did a few years ago, and painting an abstract colourful owl in the master bedroom. I painted the fox whilst dean focused on the owl. This took us a while to get right as the source image we had wasn't that clear, but the client was happy with both murals after a little tweaking.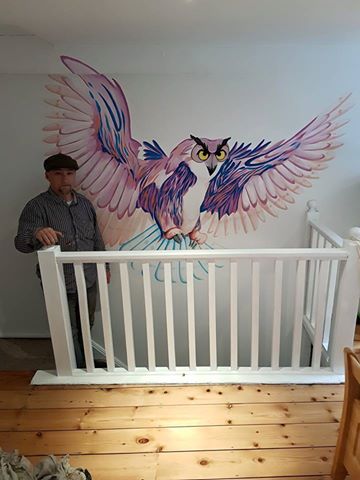 Next we painted a Mickey Mouse themed nursery in Maidstone. This was the entire room, including the ceiling. It was a little difficult due to there being wooden beams throughout the room, but we managed to work around this and still create a good sense of perspective. The ceiling had lots of little LED lights dotted all over it to look like stars. This was a really lovely idea, but not so lovely when you're the person who has to individually paint around each one. Twice. Next we added the Mickey Park arch and the Club house, with all the main characters, and lots of pretty white flowers to finish it off. The whole room took us five days to complete with a little extra help from Adele.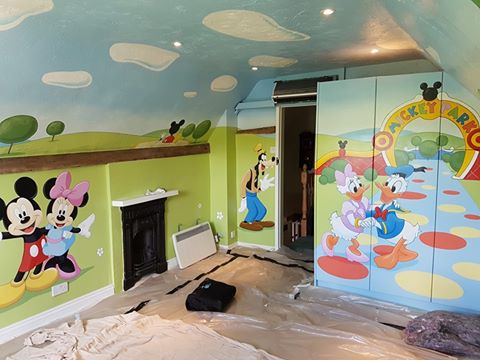 And then... I had a week off! I scurried off the a cabin in the woods with my boyfriend for five days and it was wonderful. Living on a main road in Sittingbourne, I had sort of forgotten what silence was! But the moment we stepped onto the decking of the cabin and heard birdsong and the gentle rustle of leaves, I just didn't want to leave. It did get a little creepy at night though, once all the wildlife had gone to sleep. That's when I really understood the concept of silence! As many of my friends pointed out, the cabin did look like an excellent place for a horror movie, but thankfully we didn't get murdered or harassed by demonic forces. Though on the first night there was a creepy person stumbling through the forest at 2am with a torch who decided to just stop by our cabin and turn off their light. We swiftly went inside and locked all the doors! After five days of reading, eating, walking, hot tubing and film watching, it was sadly back to reality.
But it's not all bad, as the day after our return it was off to Bromley to paint a huge David Bowie tribute for the Intu Bromley Shopping centre fun weekend. David Bowie moved to Bromley in 1953 so he is a local legend and inspiration. We decided to paint three portraits of Bowie, one from the 70's (aladdinsane), one from the 80's (Jareth the Goblin King from the Labyrinth) and a more recent portrait. Dean had made huge stencils of each one so we had an rough guideline. We roughly sprayed these on and then we could begin painting in the starry back ground. I gave this four coats of deep blue paint whilst Dean undercoated the portraits. We then added some texture to the background and lots of stars. The next day Dean work on 70's and recent Bowie and I got to work on Labyrinth Bowie. The Labyrinth was my favourite film as a child, I watched it over and over until the VHS wore out (and then as an adult, I bought it on DVD... twice. One regular and one special edition. I also have countless labyrinth art prints, books, clothing... and a Ludo stuffed toy. I kind of like it.) When David Bowie passed away, Labyrinth was the film I watched that night. It was a tough week for bad news, both in the media and personally, but then, it's been a pretty horrible year for bad news in general I think! I was a huge Bowie fan, not just his movie appearances, but his music was extremely influential and just the way he was was such an inspiration to myself and so many others. To not be afraid of who you are and to let creativeness flow through you in any way that feels natural. So for all of these reasons, it was a great honour to paint this portrait, but also, a great pressure. I wanted it to be perfect, but also, I had never painted a portrait on such a great scale before and of something I cared about so deeply. I finally finished it, but was still unhappy with how it looked, but many passers by said some very encouraging comments which brightened my mood. Deans portraits looked fantastic and we finished the mural off with some text. The mural had such a great reception, within the shopping centre and on social media, which I think is proof of just how loved David Bowie was and how missed he will be.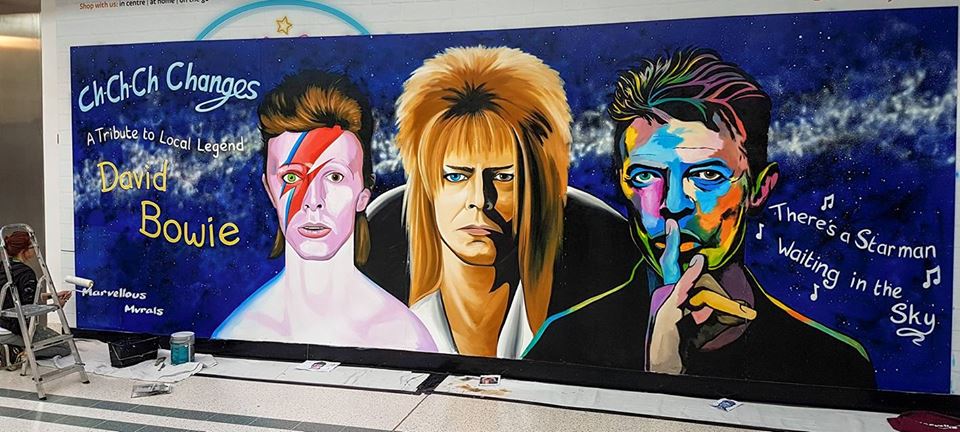 Well... that was a long old blog, wasn't it?! If you've made it this far... well, thank you for sticking with my ramblings! We have lots of projects lined up for the coming weeks and the Chalk It Up Sittingbourne Chalk Art Festival is pending, so keep a lookout for news involving that and other events that we will be appearing at. Until next time, I hope you all have a lovely start to your summer.
Jaime
Categories: None