| | |
| --- | --- |
| Posted on May 10, 2016 at 7:30 PM | |
Hi Everyone,
Last week we finished the Wokingham underpass Mural. It took us around three weeks to complete and for two of the days we had help from Sam which really sped up the preliminary painting. Once we had finished the back ground we started to paint lots of wildlife into the mural. This included a deer, rabbits, a hedgehog, a badger, some squirrels, two owls, lots of birds and some butterflies. The underpass has many people walk through it each day, especially on the morning and afternoon school runs, so lots of children were excited to see what new additions there would be at the end of each day and what new creature they could spot. Whilst painting this mural we had such lovely feedback from the locals, saying how it had brightened up the area and made it seem like a less threatening and children friendly space. We finished off the mural by applying two coats of anti-graffiti varnish, which means that if it does get spray painted or marker penned on, it will just wash off. We even got featured in some local newspapers and news websites!


This week we have painted a pretty white blossom tree in a nursery for a new born baby girl and a decorative 'M' above the cot. This tree will have shelving put up the 'trunk' to really make it a focus of the room. The pale grey background colour works really well with the white branches and pale pink rose shaped blossoms, making the room pretty and contemporary.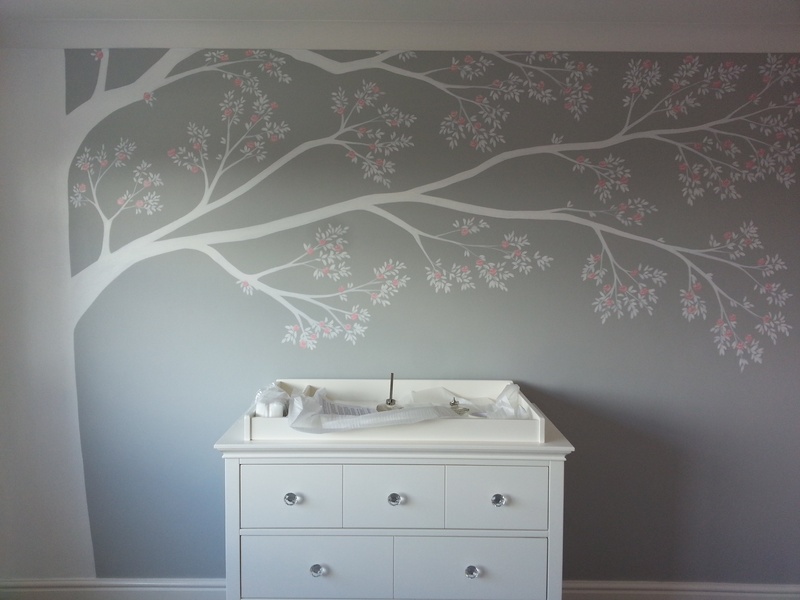 We have also started another tree mural for a lady in Rainham. This time it's a family tree on one of the walls leading up the stairs, but a little more modern that the usual family tree. This time we are painting an elegant grey tree with white and silver accents and many branches and leaves. The owner will then place family photos all over this wall to make it a really interesting and fun feature and a lovely way to remember loved ones and celebrate family. I will add a photo of this to the website once it's completed.
We're starting to get really booked up now for the Summer! So expect to see a lot of exciting projects posted on here in the near future.
Jaime
Categories: None