| | |
| --- | --- |
| Posted on April 15, 2016 at 11:55 AM | |
Hey everyone,
Since last writing the blog we've had a busy couple of months putting murals in a variety of places for a variety of people! Easter has been and gone, Spring is firmly on it's way (I've seen the sun at LEAST two times now), the clocks have gone forward, Batman vs Superman Finally came out (and wasn't as bad as everyone's been saying, Batfleck, in my opinion, did a pretty decent job!) oh, and I have finally reached the ripe old age of thirty. I'm not sure how this happened, it kind of sneaked up on me, but I was throughly spoilt and I felt very lucky and loved to have such wonderful friends and family to share it with.
At the beginning of March we painted some fruit and veg around the canteen serving hatch at Wentworth Primary in Dartford. We tend to do a lot around this theme in school canteens at the moment. It's a great way to make the dining hall brighter and more inviting as well as promoting lots of delicious and healthy fruit and vegetables. The pupils always really enjoy watching us work and seeing the murals progression each lunch time. School work is some of my favourite as the pupils always have some kind and positive things to say about our work and they really do get a lot from seeing working artists within their school.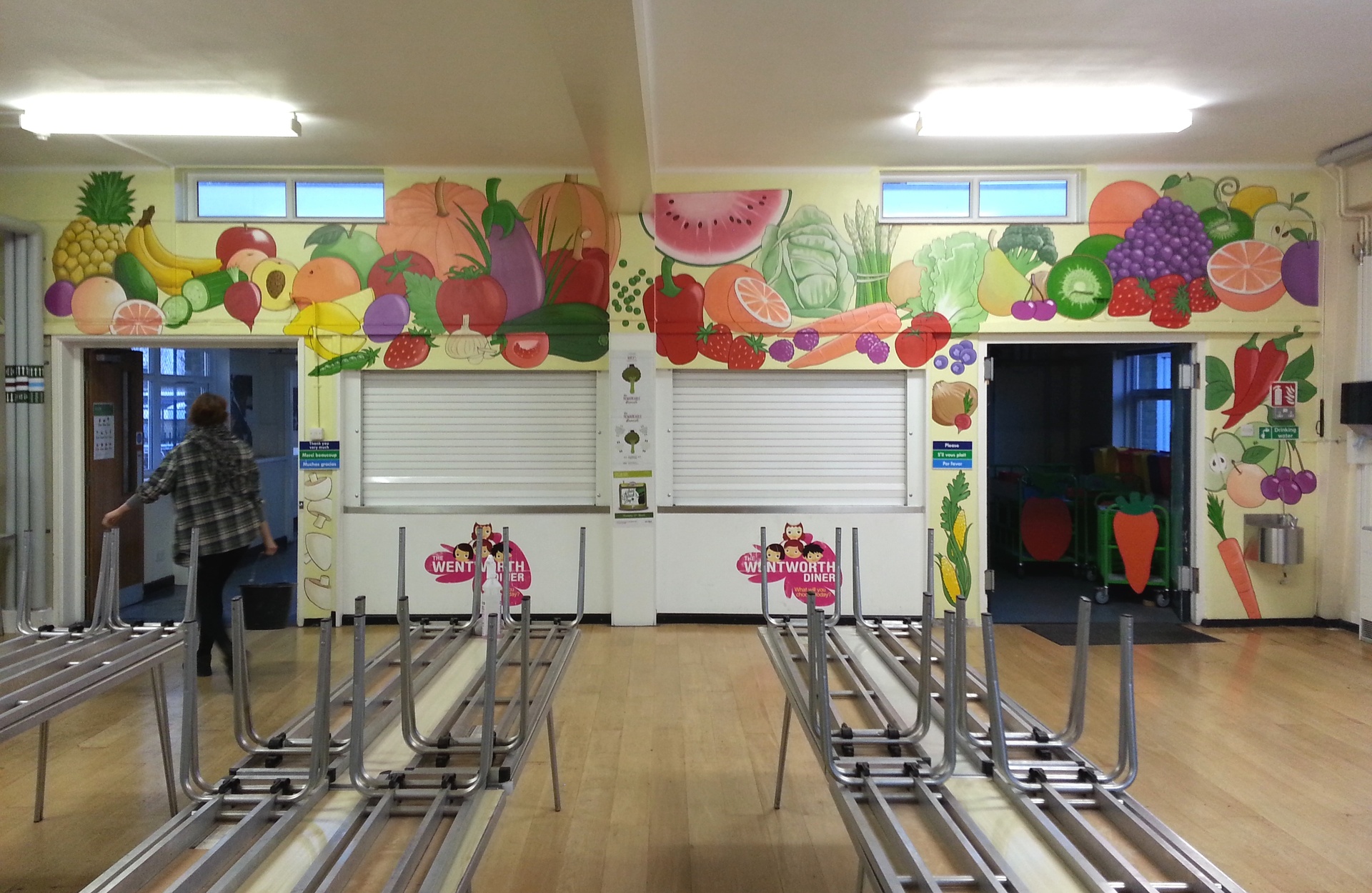 After Wentworth we went to a private home in Gillingham to paint some Minions bursting out of the wall behind a large TV in a children's playroom. We hadn't painted minions before (which is pretty surprising considering just how popular they are!) so both Dean and I were looking forward to it. We started but drawing out where the TV would be going, we could then mark out the brock work and the hole in the wall and then draw the characters. We painted the three minions from the Minion movie, as well as a purple minion and the ambulance minion (who was the little girls favourite). I also added some bananas for good measure. Dean started painting in the brickwork and I made a start on the minions. We had this all finished in about three days.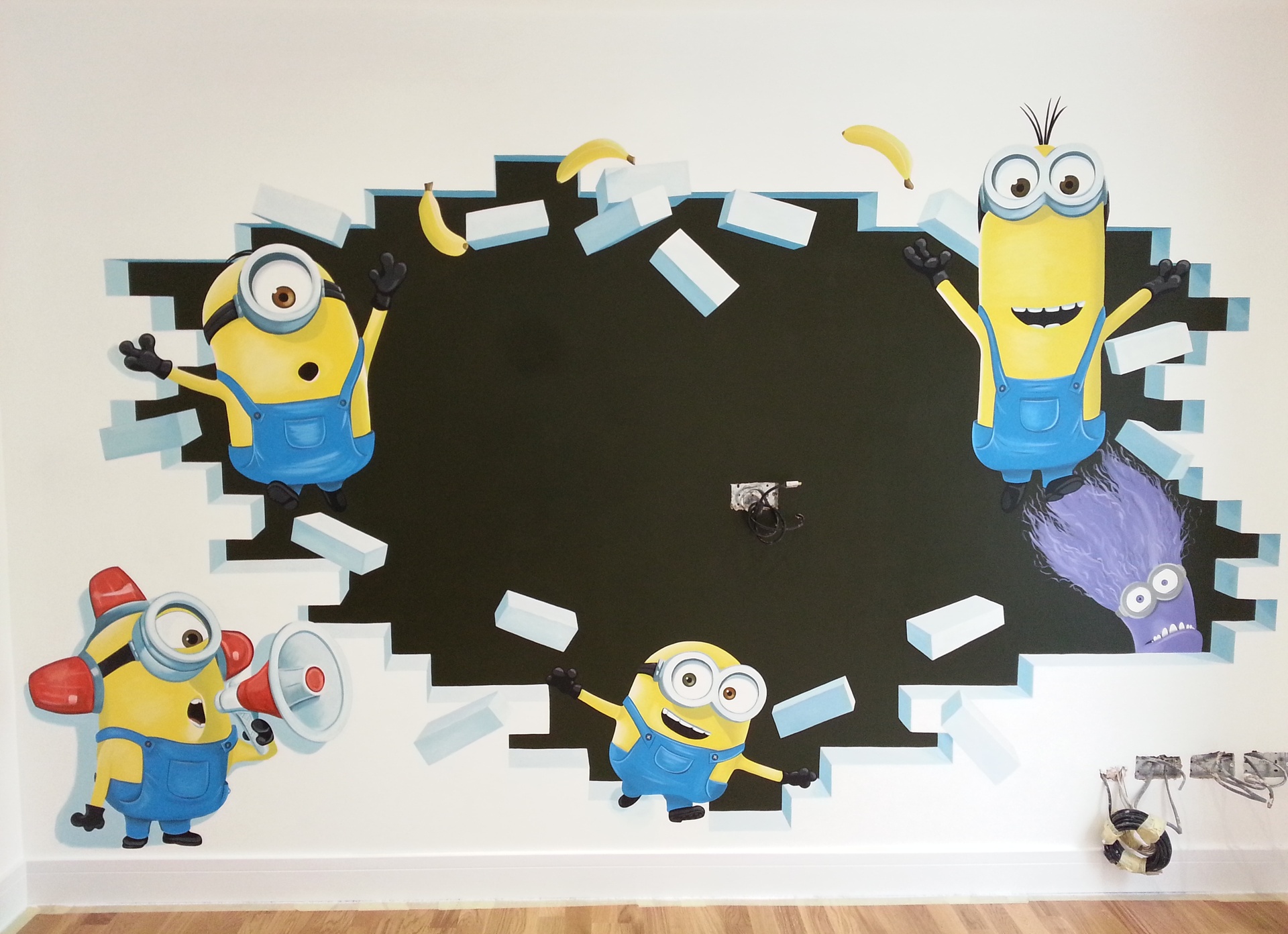 Back in December we painted a snowy winter scene on the side of The Sweet Barrow in Sittingbourne high street to try and brighten up the town and bring a bit of festive cheer. As we are now (hopefully) on our way towards the summer, we thought it best to paint over this mural with something a little more permanent. The owner of the building said he would like something that was reflective of what the building had originally been – Tomsett Fish mongers. Dean came up with an interesting design that involved a large fish, a fishing boat and a play with perspective. For the first couple of days I helped Dean by blocking in the main colours and we drew out the design. After this point, Dean knew how he wanted to paint the mural so rather than getting in his way/standing around a lot, I went and painted a carnival Float for the Sittingbourne carnival, whilst he finished the fish monger mural.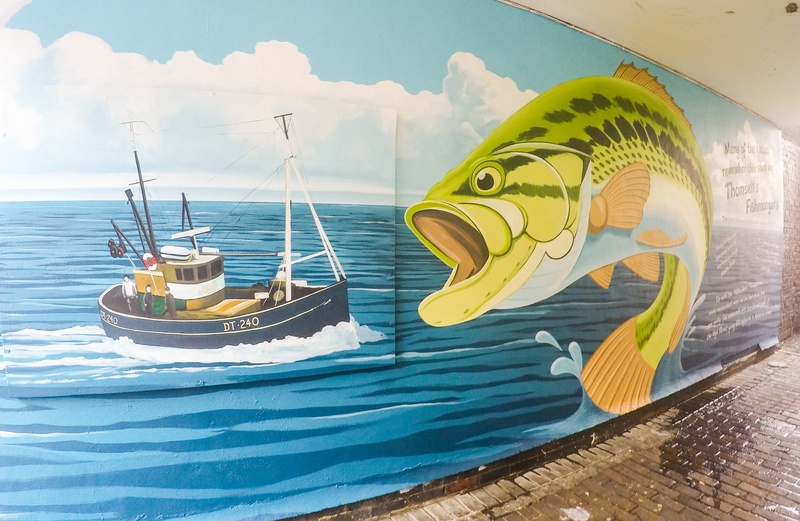 We painted the carnival float a couple of years ago with a teddy bear ice skating theme, but this year they wanted something to work alongside their new theme of Little Bo Peep and Little Boy Blue. The design was quite simple, so I started by roughly painting in the sky and the hills. I then drew a blossom tree, cow and oast house free hand and then started to build up layers and add in details. This mural took me two days to complete. I might have got it finished sooner, but I spent a good amount of time fretting about what I was doing without having Dean to ask for advice, but I got there in the end!
Next we started a trompe l'oeil mural for an older couple in Welling. Their granddaughter Neeha was on her Easter holidays, so they asked if she could help us out as she has an interest in art. They wanted a balcony scene painted viewed through two arches, with the ocean and a hill with houses on in the distance. The wanted the painted balcony to match up with their existing conservatory flooring. Dean roughly drew the mural out by eye and then Neeha and I started to block in the colours. We then painted the ocean whilst Dean concentrated on some details in the distance. This mural took us four days to complete with Neeha's help and I think her grandparents were very pleased with the results.
This week we have started a huge job in Wokingham commissioned by Wokingham council, to paint a large underpass with a woodland theme. We spent most of the first day preparing the wall (brushing, chiselling and washing) and giving everything an undercoat of white masonry paint. This gives us a nice surface to work on and helped fill in any little holes in the wall. We also decided to paint the huge underpass ceiling, as it was really quite grotty, so we brushed and washed this and then gave that an initial coat of white paint. The nest day, dean started drawing out the landscape whilst I gave the ceiling another coat of white paint and started blocking in some colours of the main walls. Painting ceilings is always quite a difficult job as you have to bend your neck at a very unnatural angle. I hadn't ever painted a ceiling quite this big before, so I wasn't prepared for the severe neck and shoulder ache I would have the next day! I was very happy when I could move onto the walls and stand upright. On day three we gave some of the base colours a second coat and began to add in some background details. Luckily the weather has been quite lovely this week, so working outside has been rather nice. It's not so nice having to walk 10 minutes to the nearest café to use their toilets, but at least it means lots of tea!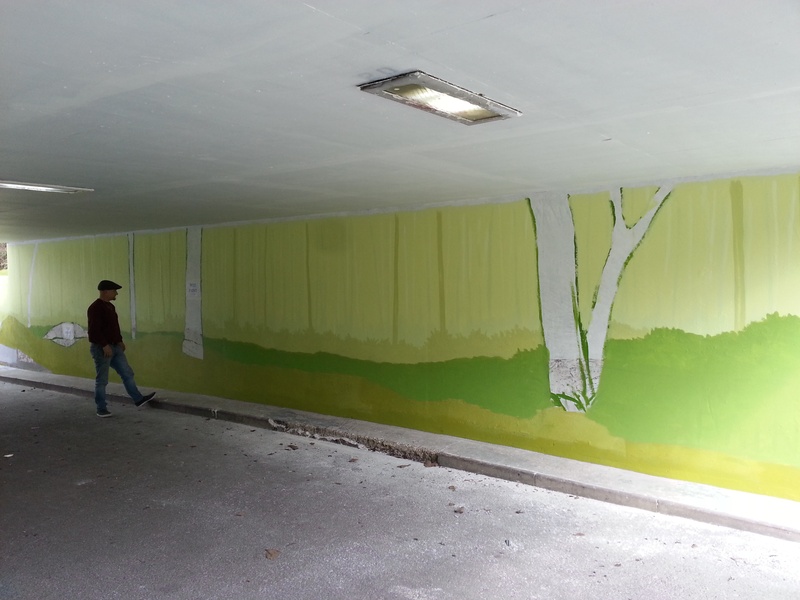 On Thursday we visited an all girls secondary school in Blackfen to give a talk about ourselves and our work, as we are starting a project with one of their year 12 art classes. Over the next six weeks we will be assisting the pupils to come up with ideas for stencils that they can then make with our help, to form a collaborative mural on one of the school's exterior walls, promoting growth mind-set. As well as coming up with ideas to fit their brief, they will learn how to produce stencils and spray stencils as well as become more informed about the commercial art world and the grant application process. This is a really exciting project and will be something a little different from what we normally do. I will keep you updated on our progress!
Next week we're back to Wokingham, which is where we will be until the end of April, painting the underpass. After that, we have some interesting youth work in the pipeline and some more private houses and school work to get stuck into!
Until I ramble at you again, I hope you all have a lovely couple of weeks and that we can start to look forward to the Summer (she says, sat in Deans studio as rain pours down outside…).
Thanks for reading.
Jaime
Categories: None